Lynch backs Gillane to be PwC Hurler of the Year:
By John Harrington
PwC GAA/GPA Hurler of the month for July, Cian Lynch, is backing his Patrickswell and Limerick team-mate, Aaron Gillane, to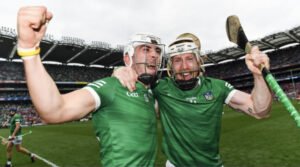 bag the biggest individual hurling award of all in 2023, the PwC GAA/GPA Hurler of the Year.
The powerful attacker scored 3-47 for the Shannonsiders in seven championship matches this year and has picked up with his club where he left off with the county, inspiring them to a first-round championship victory over reigning champions Na Piarsaigh last week.
Were Gillane to win the gong it would be the third year in a row a Patricswell clubman was hurler of the year as Lynch himself won it in 2021 (and also in 2018) and Diarmaid Byrnes did so last year.
"He's been unbelievable and I'm delighted for him the year he's after having with Limerick," said Lynch today.
"To see what he's done each day out, he's grabbed the game with both hands no matter what game it was and pulled it out for us maybe on a few occasions. He's put his hand up when we needed it most, and that's Aaron, he's an absolute monster, an absolute animal when it comes to it.
"We're obviously honoured in Patrickswell and to be able to play alongside him again with the club. And the last day against Na Piarsaigh, to see how he took control of the game, he got a goal when we needed it most. He's unreal, and I'm just delighted for him and absolutely honoured to be able to play beside him.
"We've grown up together and been the same age underage with Patrickswell the whole way up and to be playing with Limerick together and be able to come back to Patrickswell together it's obviously just dream stuff. You'd dream of representing your club and your county and to obviously have Aaron and Diarmaid there is just class.
"I'm delighted for Aaron and please God he can push on and get that award. He's not into the sideshows or the extra awards, but it would be great for him."
Gillane scored 1-6 for Patrickswell in their 2-15 to 1-16 win over Na Piarsaigh, and Lynch himself was hugely influential too, popping up with two points from midfield.
The match pitted many of Limerick's All-Ireland winning stars against one another, and Lynch relished the challenge as friends became foes for a day.
"I was actually marking Conor Boylan the last day. We kind of looked at each other as the ball was thrown in, 'alright, here we go now'. And it was wet and miserable so you're getting belts and you're bouncing off each other. But it was great.
"We're obviously all so close as a result of being in with Limerick but when you go back to the club then you're kind of cutting each other, hitting each other, and belting each other, but you still have that respect and that's why you keep pushing each other on.
"Obviously you want your club to outdo another club no matter who is on the opposition team.
"After the All-Ireland you'd be looking back to getting in with the club and it was great to get Na Piarsaigh in the first game, a massive game for both of us really, so we were delighted to come out on top."
Lynch is really enjoying his hurling at the moment after a frustrating year or so that saw his 2022 season wrecked by hamstring and ankle injuries and then his participation in this year's Munster championship curtailed by another hamstring issue.
"For me, growing up and playing underage and then playing with the Patrickswell and Limerick senior teams, I was lucky never to have many injuries," he says.
"But obviously then I had two last year with the hamstring for the 12 weeks and then the ankle injury I needed to get the operation on. I suppose you don't prepare yourself for that. You're so used to getting up on a Tuesday, going to work, and going out training that evening and being able to tog out and have the craic on the pitch.
"I suppose when you're injured you miss that and you're wondering, 'Jesus, what do I do now, like?' It was the first time in my life I realised, 'God, I need to find something else to fill this void with'. Because it's hard. And it was hard again for the boys who got injured this year and missed out on the All-Ireland as well.
"It's just something that from the outside looking in people don't see what someone goes through when they're injured. You're there on match-day, you're standing up, but at mid-week when everyone is out training and you're standing there watching you're just itching and saying to yourself 'I just cannot wait to get back out there'.
"So, this year's All-Ireland was very enjoyable. We grow up playing a sport because we love it. We play hurling because we cannot wait to come out onto the pitch to play with the lads.
"That's what I mean about perspective. You just love to be back out there playing whether it's back with the club now, you just really enjoy those 60/70 minutes you have on the pitch."