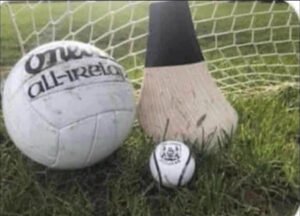 Crecora/Manister GAA Club Notes:
Junior Hurling Championship:
Saturday 5th August saw the commencement of our Junior Hurling campaign. First up for us are Caherline in a game played in windy conditions in Fedamore.
We started against the wind so we were under pressure from the off. Caherline rattled off the first 3 scores of the game but we gradually came into the game and by the mid-way point had reduced the deficit to 0-4 to 0-2 with 2 frees from Cathal O'Neill.
The pace of the game picked up in the second quarter and we had a number of opportunities we didn't take and Caherline capitalised on theirs to leave the score at 0-12 to 0-4 at Half Time.
We turned around with the elements in our favour in the second half and a number of frees from Cathal reduced the deficit. In an uneven and scrappy second half, we were struggling to establish momentum but with 10 minutes to go a swerving run and goal from Chris Shanahan brought us right into the game.
A point from Rian O'Byrne gave us hope of turning the game in our favour. Caherline put on 4 frees in the second half to keep their noses in front and it took a great defensive block by Jack Dalton to prevent what looked like a certain goal from making our task even harder.
Another crucial moment saw Brendan Power round his man and finish to the net but the referee had already signalled a free before the finish. Cormac Flanagan added a point and the game was finely balanced in the closing minutes with just a goal in it.
We had a free from distance which Cathal hit with a sweet strike and was unlucky to see his shot rebound from the crossbar. The final whistle went soon after to leave the final score at 0-16 to 1-10.
Next up for is in Round 2 is Claughan in Rathbane on Saturday 12th August at 7pm.
Team : Gerard Kennedy, David Power, Jack Dalton, Tim Moloney, Mark Shanahan, Paraic O'Neill, James Conheady, Shane Moloney, Rian O'Byrne, Darach Skelly, Cathal O'Neill, Conor Kirby, Rob Henehan, Cormac Flanagan, Rory Hannan. Subs Brendan Power, Richard Murphy, Chris Shanahan, Tomas Connolly, Donnacha Connolly, Damien Kearney, Ciaran Heagney, Ciaran Kennedy, Cian Leahy, Fergal Egan, Ciaran Humphreys, Shane O'Connor, Sean Malone, Sean Keyes, Ciaran Cusack, Fegal Carey, Conor Hannan.
Intermediate Football Championship Round 2:
Opposition: St Senan's GAA club
Venue: Rathkeale GAA Club
Date: Sunday July 30th 2023 19.30 kick off
A rainy Sunday evening was the setting for our 2nd championship game, where we were drawn against St Senan's GAA club, who have been aiming for Senior status for the last several years.
The match started with a very strong start from St Senan's which Crecora matched with their speed and fitness.
Both teams were very quickly in their stride with a more or less equal exchange of points in the first half.
St Senan's put together a set piece play near the end of the first half which left the score at 1-6 to 4 points.
In response Crecora Manister scored an equally good goal leaving the score at the half time whistle at 1-6 to 1-4.
St Senan's started fast and strong in the second half racking up the points and scoring their second goal against the run of play.
Our lads scored two further points but St Senan's continued to score points at every opportunity leaving the final score at 1-20 to 1-6 in favour of St Senan's.
Team: Ciaran Heagney, Dave Macken, Jack Dalton, Tim Moloney (Captain), Darach Skelly, Cormac Flanagan, Mark Shanahan, Cathal Monaghan, Evan Moloney, Karl Moloney, Pat Dolphin, Conor Kirby, Mike Mc Cormack, Conor Burke and Rob Henehan.
Replacements, Mike McCormack for Ciaran Cusack, Colm Cassidy for Sean Malone
Killian Scanlon for Conor Kirby, Shane O'Connor for Darragh Skelly. Subs Shane O'Connell, Killian Scanlon, Ciaran Cusack, Sean Malone, Peter Boohan, Colm Cassidy, Shane O'Connor, Cathal O'Neill, Francis McAuliffe, Michael Lawlor, Rob Sweeney, Sam Riordan, Richard Murphy, Donnacha Connolly and Thomas Connolly
Upcoming matches:
Galbally on Thursday August 17th Venue and time TBC
Castlemahon on Thursday August 24th Venue and time TBC
Intermediate Football Championship Round 1:
Opposition: St Patricks GAA club
Venue: Fedamore GAA Club
Date: Wednesday July 26th 2023 1930 kick off,
On a brisk late July Wednesday, we faced St Patricks GAA club in Fedamore GAA Club.
In what was a very close game for most of the encounter, Crecora Manister matched St Patricks in every facet of the game which was evidenced by a point for point exchange from both teams.
Our lads put in a fantastic performance compared to our last outing against St Patricks.
Unfortunately, as the game was drawing to a close, with both teams level on 6 points apiece, St Patricks were awarded a penalty which they scored leaving the scoreline 1-6 to 0-6 in their favour.
St Patricks went on to score another point before the final whistle, leaving the final score at 1-7 to 0-6 points and a St Patricks win.
The next round of the Intermediate Championship is set for Sunday July 30th at 1930 against St Senan's in Rathkeale.
Team: Ciaran Heagney, Tim Moloney (Capt) and Evan Moloney, Jack Dalton, Darach Skelly, Cormac Flanagan, Mark Shanahan, Cathal Monaghan, Sean Malone, Ciaran Cusack, Pat Dolphin, Conor Kirby,
Karl Moloney, Rob Henehan, Conor Burke.
Subs, Mike Mc Cormac came on for Shane O'Connor, Dave Macken came on for Rob Heneghan, Peter Boohan came on for Dave Macken, Other subs: Shane O'Connor, Shane O'Connell, Kilian Scanlon, Colm Cassidy
All Ireland Champions:
Congratulations to Limerick Senior Hurling Manager John Kiely, all the management team and the players on winning the All Ireland Senior Hurling Championship for the 4th year in a row.
A huge congratulations too to our own Cathal O'Neill on winning another All Ireland Senior Hurling Medal.
Well done Cathal on your involvement in the county team this year and we have to mention your invaluable impact from the bench in the All Ireland Final.
Your spectacular point from the side-line showed great determination, strength and skill.
CLUB Limerick Draw:
The CLUB Limerick Draw for July took place on Saturday 29th July.
We had a winner, with Catherine Hogan winning 10th Prize and receiving €300.
Congratulations Catherine and thank you supporting your Club and county through your membership of this draw.
Golf Classic:
Crecora Manister GAA will be holding a Fundraising Golf Classic at Limerick Golf Club on Friday 8th September 2023.
This is always a great event, not only as a fundraiser but as a social occasion with an opportunity for Club Supporters, Club Members, Club Players and members of the community to meet.
The format is Teams of 3 in a Champagne Scramble.
The cost per team is €180 which includes an on course burger for each Team member.
An alternative way to support this Fundraiser is to Sponsor a Tee Box at a cost of €100.
Tee Time are available from 9am to 4:30pm.
To confirm Tee Time booking please contact Tom O'Keeffe or Noel Murphy.
Payments for Teams and Tee Sponsorship can be conveniently made online via Klubfunder at the following link:
https://www.klubfunder.com/Clubs/Crecora_Manister_GAA/EventRegistration#EventRegistrationOptions
Upcoming Fixtures:
Griffin Coaches County Intermediate Football Championship
Crecora Manister vs Galbally
Thursday 17th August time TBC
Venue: tbc
Junior C Hurling Championship
Crecora Manister vs Ballybrown
Thursday 10th August 2023 at 7pm
Venue: Mungret
Woodlands House Hotel County Junior A Hurling Championship Group 2
Crecora Manister vs Claughaun
Saturday 12th August 2023 7pm
Venue: Croagh
Mr. Binman Under 17 Hurling Division 3B
Crecora Manister / South Liberties vs Ballybrown
Wednesday 16th August 2023 at 7pm
Venue: Ballybrown
Mr. Binman Under 17 Football League Division 2B
Crecora Manister / South Liberties vs Mungret St. Pauls
Wednesday 9th August 2023 at 7pm
Venue: Crecora