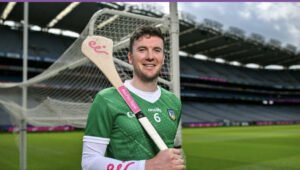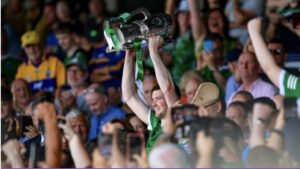 Hannon unsure on injury comeback date:
By John Harrington
Limerick captain, Declan Hannon, is hopeful he'd be fit to play in the All-Ireland SHC Hurling Final if the Shannonsiders make it that far, but he isn't sure.
He's definitely resigned to miss the All-Ireland Hurling semi-final due to the knee injury he picked up in the Munster SHC Final.
"You'd be hopeful," said Hannon when asked would he be fit for a prospective All-Ireland Final. "It's just kind of day by day and see how the rehab goes. I don't know, I couldn't answer the question at the minute.
"I just got a bit of a knock in the Munster Final to the knee obviously. I'm rehabbing that at the minute and trying to get back performing on the pitch as quickly as possible. I'm just taking it day by day and week by week.
"I'd play on one leg if I could, but the All-Ireland semi-final will come too soon, they think. That's just the way it is. We've had plenty of injuries down through the years, even this year with Seanie Finn earlier on in the year. We're well used to these kind of things, we just have to get on with it.
"Our full focus is on the semi-final and seeing how we get on. I'll just do whatever I can to support the boys over the next few weeks. Try and have a bit of fun with them as well and knock out the tension that might be there at times."
With Sean Finn already ruled out for the rest of the season, now losing another lynchpin of their defence is a blow for the reigning All-Ireland champions, but Hannon is confident they have the panel to cope.
"Absolutely, 100 per cent. A couple of injuries always come up and there might be suspensions, things like that, but, again, these are things we've dealt over the last few years. It's good to have that experience as well.
"We're very happy with the panel of players we have at the minute. We'd have every confidence in them going out onto the pitch the next day."
Four weeks will have elapsed since the Munster Final win over Clare by the time Limerick contest the All-Ireland semi-final, but Hannon believes the rest will do Limerick good rather than dull their edge.
"Yeah, 100 per cent," he says. "That was definitely the narrative a few years ago when the team that won Munster would then more often than not lose the All-Ireland semi-final.
"I suppose we have a bit of experience of that in the last number of years coming through the front door and it has worked out well, thank God.
"But, definitely, I think the nature of the championship how competitive it is, a lot of the games go to the 75th minute without anybody knowing what the result is going to be. That's tough on bodies, so to get the extra few weeks is definitely a bonus in my opinion."