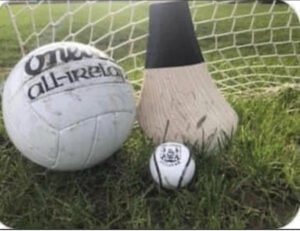 Dromcollogher/Broadford GAA Club Notes:
Result:
U13 All County Hurling Championship Division 3B Round 2
It was a cool Saturday morning for the U13 Hurling Division 3B Round 2 back match encounter between Dromcollogher/Broadford and Monagea, in Monagea, at 11.30am. Our first score of the game came after 6 minutes from a Ciaran O'Callaghan point, that was followed a minute later a point for Micheál O'Kelly. There was two more scores in the first half both of which were goals the first from Callum Curtin after 9 minutes and that was followed by the second goal from Conor McGarry after 13 minutes. Half time score Dromcollogher/Broadford 2-02 Monagea 0-05. Our first score of the second half was a goal from Micheál O'Kelly, that was followed by a further 2 points from Micheál O'Kelly one from play and 1 from a free. Then Ben Lenihan scored a fantastic from a big distance out after 6 minutes. The final score of the game came from another Ben Lenihan goal with 6 minutes left in the game. Final Score was: Monagea 0-07 Dromcollogher/Broadford 5-04. This was a fantastic result for our boys as they continued their unbeaten run in hurling this season. The team were as follows: Cian O'Donovan, Liam Wright, Tiernan O'Flynn, Darragh O'Reilly, 5. Ben Lenihan (2-0) 6. Callum Curtin (1-0), Tom Clarson, Conor McGarry (1-0), Stephan Pierce, Micheál O' Kelly (1-3), Ciaran O'Callaghan (0-1), Paddy O'Sullivan, Anthony Pierce, Caolan Boyce, Alex O' Connor. Used Subs were: Cian Jefferies and Aaron Sheehan both came on at half-time.
On behalf of the club, I would like to thank the supporters for coming to the game and Kieran Guina for reefing the game.
Hard Luck:
To Limerick Senior Footballers Management Team led by Mark Fitzgerald and especially to club players Cillian Fahy, Jack Ryan and James Molyneaux, against Laois, Laois defeated Limerick on a scoreline 1-14 to 0-14, Cillian was named at midfield and the played the whole game, in the Tailteann Cup Quarter Final.
Dromcollogher/ Broadford GAA Club Lotto Draw:
The following are the Results of the Lotto Draw that took place on the 19-06-23, and the numbers were: 3, 6, 21, 31 There was no winner of Jackpot at €2,800 and there was two winners match three at €100 and they each got €50 and they were: Ann Buckley, Dromcollogher and Eamonn Villers, Milford and the two lucky dips at €50 each were: Donnacha O'Carroll and Kathleen Barry, Broadford and the next draw will take place on this coming Monday 26-06-2023, in the GAA Clubhouse, Dromcollogher, at 9.30pm and the Jackpot is going up to €2,900 and the Match Three will be stayed at €100.
Lotto tickets are available in local shops in the area where the boxes are provided and available for sale in the local square on Friday and Saturday mornings from 9am to 1pm or online by following the link below: https://play.clubforce.com/play_newa.asp?ll_id=2076&fbclid=IwAR3KJ9x58dsVg7yQZbzTaodJ0KAYP7aGTPmLEfXxzrKOnzFYmH7FrHLZRSY#Anchor.
Fixtures:
U13 All County Hurling Championship Division 3B Round 5 VS Killacola Gaels, on tomorrow Thursday June 22nd, in Ballyagran, at 7pm, Referee: Paddy Lyons (Staker Wallace). Please Support your local club team.
U15 All County Football Championship Division 1A Round 4 VS Monaleen, on this coming Monday June 26th, in Dromcollogher, at 7pm, Referee: Kieran Guina (Feohanagh/ Castlemahon). Please Support your local club team.
U13 All County Football Championship Division 1A Round 5 VS Adare, on this coming Thursday June 28th, in Adare, at 7pm, Referee: Tom McGlinchey (Newport). Please Support your local club team.
County Intermediate Football Championship Group 1 Round 1 VS Mungret/ St. Paul's, on Saturday July 1st, in Croagh, at 7.30pm, Referee to be announced. Please Support your local club team.