BrandToggle navigation
Home
Fixtures & Results
GAA NOW
Tickets
News
Features
The GAA
My GAA
The Allianz Leagues return at the weekend:
After a six-month hiatus, inter-county action returns with the first round of the Allianz Football League, this weekend. Allianz Insurance, today, teamed up with players from last year's Allianz Leagues Division 1/1A finals, Mayo footballer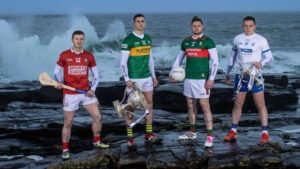 Padraig O'Hora, Kerry footballer Paul Geaney, Cork hurler Patrick Horgan and Waterford hurler Stephen Bennett, to preview this year's Allianz Leagues.
The Allianz Leagues, for all players and the 67 teams competing, represents an opportunity, after a five-month break from competitive action and the January pre-season, to set the tone for the upcoming season. As with all beginnings, the start of the Allianz Leagues provides a sense of new opportunities with relegation, promotion and ultimately, the possibility of silverware on offer for all competing teams.
This together with the fact that, for only the second time ever, the outcome of the Allianz Football League has a direct impact on qualification for the GAA All Ireland Football Championship, has heightened interest in the competition. The Allianz Leagues will showcase not only the rivalries between teams, but often the opportunity for players themselves to claim their spot in the county panel.
Round 1 of the Allianz Football League takes place this weekend with Mayo taking on provincial rivals Galway on Saturday, 28 January, while last year's Allianz Football League Division 1 winners, Kerry, face Donegal the following day. Cork will play Limerick in the first round of the Allianz Hurling League on Saturday 4 February while last year's Allianz Hurling League Division 1 winners, Waterford, will play host to Dublin on Sunday 5 February.
Speaking at today's launch, CEO of Allianz Insurance, Seán McGrath, said: "All of us at Allianz are delighted to be a long-term supporter of the Allianz Leagues. Our purpose at Allianz is to secure our customers futures. As we embark on our 31st year as sponsors of the Allianz Leagues, we, like GAA communities in every county in Ireland, are looking forward to witnessing the players and teams seek to realise the hopes and dreams of the communities they represent as they pursue on-field success. We wish each of the players and the 67 County Teams taking part in the Allianz Leagues all the very best for this year's competition."
Uachtarán CLG, Larry McCarthy, added: "We are delighted that the Allianz Leagues are starting again, as they signal the onset of a new GAA intercounty season. Allianz's sponsorship of the National Leagues is one of the longest-standing sports sponsorships in Ireland – a testament to their commitment to supporting the GAA and communities in every county in Ireland and beyond. We look forward to many fascinating matches and wish the best of luck to all involved."