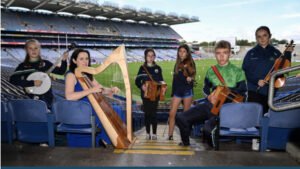 Scór Sinsir 2023 season on the horizon:
Le Jamie Ó Tuama
Tá Scór Sinsir ar ais! Scór Sinsir is back! The time has come for GAA clubs and members from up and down the country and further afield to dust down the bróga damhsa and the uirlisí ceoil, to start rehearsing their songs and recitations and to polish up their novelty act skills.
Many, many great days of entertainment lie ahead and the aim for many, as well as entertaining their fellow GAA friends, family and neighbours, will be to reach a county, provincial or All-Ireland final and to bring and showcase their talents on bigger stages.
In the meantime, in order to help and support any club members, clubs or counties wanting to take part, 'Get Into Scór' online webinars will take place over the next two weeks. These webinars will give great opportunities to those looking to learn more about Scór and what is needed to take part.
Cathaoirleach Choiste Náisiúnta Scór, Tomás Ó Muirí, will be attending these meetings and he feels that they will help encourage GAA members up and down the country to take part.
'We hope to give clarity as well as encouragement to clubs and members in regards to what is needed to take part in Scór. There are talented musicians, dancers, singers, actors, storytellers and reciters in GAA clubs throughout the country and we hope these webinars will help give those talented people an opportunity to showcase their talents.
'I would ask anyone even remotely curious to learn more about Scór, to log into their county webinar and to ask questions and share ideas.'
This year's Scór Sinsir All-Ireland Finals will take place in Killarney's INEC on Saturday, November 18th. Provincial finals will take place over the weekends of 22nd and 29th of October.
'Tá an-áthas orm go bhfuil séasúr Scór Sinsir 2023 buailte linn agus tá sceitimíní orm go mbeidh muid ag filleadh ar an INEC agus ar Chill Airne an athuair', a deir Ó Muirí. 'We are delighted to be returning to Killarney's INEC this year for the Scór Sinsir All-Ireland Finals and I am delighted that Scór Sinsir is up and running again.
'I would like to wish all participants, organisers, adjudicators and supporters all the very best of luck in the months ahead. Guím gach rath ar chuile dhuine a bheidh ag glacadh páirte i Scór Sinsir i mbliana. Tá mé cinnte go bhfuil féastaí móra ceoil, damhsa, scéalaíochta, aisteoireachta agus amhránaíochta amach romhainn. Beirigí bua agus beannacht.'
Meanwhile, following an entensive consultation process it has been decided that Scór Sinsir 2024 will take place in spring of 2024 while Scór na nÓg 2024 will take place in the autumn of 2024.
Tomás Ó Muirí explained the decision;
'During Covid, the traditional Scór season was interrupted significantly due to the uncertainty surrounding the pandemic and the fact that no effective planning could take place as a result of the lockdowns. In order to complete Scór activity in 2021 we had to take any window of opportunity afforded to us. This led to the Scór Sinsir 2020 finals being drawn to a close in November 2021.
'Since then, it has proven very difficult to realign to traditional Scór dates. One possible solution was to cancel one full Scór competition – or to organise three full competitions – in a given year to realign, but we felt that there was no appetite for this among members and organisers.
'Other factors that influenced the decision were the lack of availability of suitable venues to host the finals, the new hurling and football split season as well as the decision at the youth forum held in 2019 to organise Scór Sinsir in the spring and Scór na nÓg in the winter to accommodate school exams among other things.
'I am sure these new Scór dates will have a positive effect on Scór and that they will help Scór grow in the years ahead.'
Scór is a GAA competition that combines all the colour and rivalry of Gaelic Games with the social/fun element of Ireland's traditional past-times. There are eight events/disciplines in Scór that cover all aspects of Irish culture: Figure/Céilí Dancing, Solo Singing, Ballad Group, Recitation/Scéalaíocht, Nuachleas/Novelty Act, Instrumental Music, Set Dancing and Table Quiz. The competition is divided into two age levels, Scór na nÓg, for young people under 17 and Scór Sinsir, for those over 17.
Eagraítear Scór go dátheangach – i nGaeilge agus i mBéarla – agus fáiltítear roimh iontrálacha sa dá theanga.
You can keep up to date with all Scór activity and dates for the 'Get Into Scór' webinars on Facebook @GAAScórOifigiúil and on other official GAA platforms.