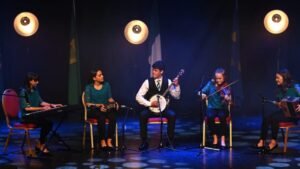 Scór na nÓg 2023 – Dates for the diary:
Le Jamie Ó Tuama
Tá Scór na nÓg ar ais! Scór na nÓg is back! The time has come for GAA clubs and members from up and down the country and further afield to dust down the bróga damhsa and the uirlisí ceoil, to start rehearsing their songs and recitations and to polish up their novelty act skills.
Many, many days entertainment lie ahead, with some having already taken place, and the aim for many, as well as entertaining their fellow GAA friends, family and neighbours, will be to reach a county, provincial or All-Ireland final and to bring and showcase their talents on bigger stages.
Dúirt Cathaoirleach Choiste Náisiúnta Scór, Tomás Ó Muirí;
'Tá an-áthas orm go bhfuil séasúr Scór 2023 buailte linn agus tá sceitimíní orm go mbeidh muid ag filleadh ar an INEC agus ar Chill Airne an athuair! We are delighted to be returning to Killarney's INEC this year for the Scór na nÓg All-Ireland Finals and I am delighted that Scór na nÓg is up and running again.
'I would like to wish all participants, organisers, adjudicators and supporters all the very best of luck in the months ahead. Guím gach rath ar chuile dhuine a bheidh ag glacadh páirte i Scór na nÓg i mbliana. Tá mé cinnte go bhfuil féasta mór ceoil, damhsa, scéalaíochta, aisteoireachta agus amhránaíochta amach romhainn. Beirigí bua agus beannacht.'
Scór is a GAA competition that combines all the colour and rivalry of Gaelic Games with the social/fun element of Ireland's traditional past-times. The competition was established by the GAA in 1969 with the aim of promoting Ireland's traditional pastimes and culture while offering club members the chance to meet up, have fun and represent their club during the winter months while Football and Hurling had ceased.
There are eight events/disciplines in Scór that cover all aspects of Irish culture: Figure/Céilí Dancing, Solo Singing, Ballad Group, Recitation/Scéalaíocht, Nuachleas/Novelty Act, Instrumental Music, Set Dancing and Table Quiz. The competition is divided into two age levels, Scór na nÓg, for young people under 17 and Scór Sinsir, for those over 17.
Eagraítear Scór go dátheangach – i nGaeilge agus i mBéarla – agus fáiltítear roimh iontrálacha sa dá theanga.
You can keep up to date with all Scór activity on Facebook @GAAScórOifigiúil.
Dátaí don Dialann / Dates for the Diary
Connachta
Babhtaí Ceannais Ros Comáin, Dé Sathairn, 25 Márta
Babhtaí Ceannais Mhaigh Eo, Dé Sathairn, 25 Márta
Babhtaí Ceannais Liatroma, Dé Domhnaigh, 26 Márta
Babhtaí Ceannais na Gaillimhe, Dé Domhnaigh, 2 Aibreán
Babhtaí Ceannais Shligigh, Dé Domhnaigh, 2 Aibreán
Babhtaí Ceannais Chonnacht, Dé Domhnaigh, 16 Aibreán
An Mhumhain
Babhtaí Ceannais an Chláir, Dé hAoine, 10 Márta
Babhtaí Ceannais Chorcaí, Dé Sathairn, 25 Márta
Babhtaí Ceannais Thiobraid Árann, Dé Sathairn, 25 Márta
Babhtaí Ceannais Luimnigh, Dé Sathairn, 25 Márta
Babhtaí Ceannais Phort Láirge, Dé Sathairn, 25 Márta
Babhtaí Ceannais Chiarraí, Dé Sathairn, 25 Márta
Babhtaí Ceannais na Mumhan, Dé Sathairn, 15 Aibreán
Laighin
Babhtaí Ceannais na Mí, Dé Sathairn, 11 Feabhra
Babhtaí Ceannais Chill Mhantáin, Dé hAoine, 10 Márta
Babhtaí Ceannais Laoise, Dé hAoine, 10 Márta
Babhtaí Ceannais Lú, Dé Sathairn, 12 Márta
Babhtaí Ceannais Loch Garman, Dé Sathairn, 18 Márta
Babhtaí Ceannais Chill Dara, Dé hAoine, 24 Márta
Babhtaí Ceannais an Longfoirt, Dé Sathairn, 25 Márta
Babhtaí Ceannais Uíbh Fhailí, Dé Sathairn, 25 Márta
Babhtaí Ceannais Átha Cliath, Dé Domhnaigh, 26 Márta
Babhtaí Ceannais na hIarmhí, Dé Domhnaigh, 26 Márta
Babhtaí Ceannais Cheatharlach TBC
Babhtaí Ceannais Chill Chainnigh TBC
Babhtaí Ceannais Laighean, Dé Domhnaigh, 16 Aibreán
Ulaidh
Babhtaí Ceannais Aontroma, Dé Domhnaigh, 5 Márta
Babhtaí Ceannais Dhoire, Dé Domhnaigh, 5 Márta
Babhtaí Ceannais Mhuineacháin, 10-12 Márta
Babhtaí Ceannais Fhear Manach, Dé Sathairn, 11 Márta
Babhtaí Ceannais an Dúin, Dé Sathairn, 11 Márta
Babhtaí Ceannais Ard Mhacha, Dé Domhnaigh, 12 Márta
Babhtaí Ceannais an Chabháin, Dé Domhnaigh, 12 Márta
Babhtaí Ceannais Thír Eoghain, Dé Domhnaigh 19 Márta
Babhtaí Ceannais Dhún na nGall, TBC
Babhtaí Ceannais Uladh, Dé Sathairn, 15 Aibreán
Babhtaí Ceannais na hÉireann, Dé Sathairn, 6 Bealtaine