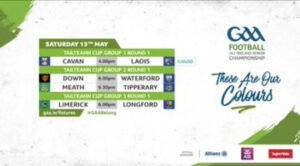 Preview: Tailteann Cup Round 1
Tailteann Cup Round 1
Saturday 13th May
Cavan v Laois, Kingspan Breffni, 4pm (GAAGO)
Ref: Anthony Nolan (Wicklow)
Defeated in last year's Tailteann Cup Final by Westmeath, you can be sure that Cavan will be keen to go one better this year.
They're one of the pre-competition favourites on the strength of winning the Division 3 Allianz Football League Final.
Players like Paddy Lynch, Gearoid McKiernan, Oisin Brady, and Gerard Smith give them a good cutting edge in attack, proven performers like Padraig Faulkner, Dara McVeety, and Killian Clarke anchor an experienced defence, and Raymond Galligan is one of the best goalkeepers in the business.
A Laois team with forwards like Eoin Lowry, Paul Kingston, Evan O'Carroll and Mark Barry have obvious potential, but they're struggling to play to it and may have some mental scars from their 27-point defeat to Dublin in the Leinster SFC.
CAVAN: Raymond Galligan; Killian Clarke, Padraig Faulkner, Niall Carolan; Ciarán Brady, Oisin Kiernan, Cian Madden; Conor Brady, James Smith; Gerard Smith, Gearóid McKiernan, Tiarnán Madden; Ryan O' Neill, Paddy Lynch, Oisin Brady. Subs: Liam Brady, Conor Rehill, Jonathan McCabe, Brandon Boylan, Ryan Donohoe, Martin Reilly, Evan Finnegan, Oisin Kiernan, Conor Smith, Cian Reilly, Tristan Noack Hofmann.
LAOIS: Scott Osborne; Sean Greene, Trevor Collins, Robert Pigott; Sean O'Flynn, Mark Timmons, Padraig Kirwan; Kieran Lillis, Damon Larkin; Kevin Swayne, Paul Kingston, Patrick O' Sullivan; Eoin Lowry, Evan O'Carroll, Mark Barry. Subs: Killian Roche, Seamus Lacey, Alex Mohan, Ciaran Burke, James Finn, Cathal Doyle, Dylan Kavanagh, Darragh Carolan, Niall Corbet, Brian Daly, Colm Murphy.
Limerick v Longford, TUS Gaelic Grounds, 6pm
Ref: Sean Lonergan (Tipperary)
Limerick suffered a disappointing relegation from Division 2 of the Allianz Football League but they'll take some encouragement from how they really put it up to Clare in the Munster SFC semi-final three weeks ago.
When they play to their full potential the Shannonsiders are a hard nut to crack as they proved in the League when drawing with Meath and only losing to Leinster finalists Louth by two points.
Iain Corbett calls the shots in a well-organised defence, and while they have no real marquee forwards in attack, they work well together as a unit.
Longford also had a disappointing League campaign, suffering relegation from Division 3, but showed signs of life in the final few rounds of that campaign, defeating Antrim and giving Down and Offaly tough tests.
They also produced a decent performance against Offaly in the first round of the Leinster Championship, losing out in the end by only one point.
There won't be much between the teams, but home advantage and the experience of having played at a higher level in the League should stand to Limerick.
LIMERICK: Donal O'Sullivan; Mike Donovan, Sean O'Dea, Brian Fanning; Barry Coleman, Jim Liston, Paul Maher; Cillian Fahy, Cathal Downes; Cian Sheehan, Brian Donovan, Adrian Enright; James Naughton, Colm McSweeney, Peter Nash. Subs: Aaron O Sullivan, Hugh Bourke, Gordon Brown, David Connolly, Tommy Griffin, Davey Lyons, Tony McCarthy, Darragh Murray, Ruadhan O'Connor, Eoin O'Shea, Cormac Woulfe.
LONGFORD: Patrick Collum; Patrick Fox, Andrew Farrell, Bryan Masterson; Iarla O'Sullivan, Michael Quinn, Peter Lynn; Ryan Moffett, Darren Gallagher; Joe Hagan, Dessie Reynolds, Aaron Farrell; Liam Connerton, Dylan Farrell, Oran Kenny. Subs: Mícheál Hughes, Peter Foy, Fergal Sheridan, Keelin McGann, Daire O Brien, Jack Macken, Daniel Reynolds, Barry O'Farrell, Ruairí Harkin, Matt Duffy, Tadhg McNevin
Dermot Ryan of Waterford, left, and Niall McParland of Down during the Tailteann Cup launch at Croke Park in Dublin. Photo by David Fitzgerald/Sportsfile.
Dermot Ryan of Waterford, left, and Niall McParland of Down during the Tailteann Cup launch at Croke Park in Dublin. Photo by David Fitzgerald/Sportsfile.
Down v Waterford, Pairc Esler, 6pm
Ref: Barry Cassidy (Derry)
Down are a resurgent force under new manager Conor Laverty. They came close to winning promotion from Division 3 of the League and were very impressive when beating Donegal in the Ulster SFC Quarter-Final.
They very much play with the same template that has brought so much success to Laverty's club, Kilcoo, as they defend in numbers and then also attack in numbers and with great pace when they win back possession.
Players like Ryan Johnston, Pat Havern, and Liam Kerr give them plenty of attacking punch, but they need to learn some defensive lessons from the four goals they conceded against Armagh in the Ulster SFC semi-final.
Waterford are a hard-working team that will give their all, but it would be a major shock were they to come away with any sort of result from Pairc Esler.
They only won one of their seven matches in Division 4 this year, and though they played quite well in the Munster quarter-final against Tipperary, they still came up short.
DOWN: Charlie Smyth; Finn McElroy, Pierce Laverty, Conor Fitzpatrick; Ceilum Doherty, Anthony Doherty, Danny Magill; Ross Carr, Patrick Branagan; Gerard Collins, Shealan Johnston, Ryan Johnston; Eugene Branagan, Pat Havern, Eamon Brown. Subs: John O'Hare, Ryan McEvoy, Miceal Rooney, Anthony Morgan, Conor Poland, Conor Francis, Andrew Gilmore, Shane Annett, Donach McAleenan, Jerome Johnston, Daniel Guinness
WATERFORD: Aaron Beresford; Liam Fennell, Darragh Ó Cathasaigh, Conor Ó Cuirrín; Dermot Ryan, Brian Looby, Jordan O'Sullivan; Michael Curry, Brian Lynch; Conor Murray, Darragh Corcoran, Jason Curry; Eoghan McGrath-Butler, Sean Whelan-Barrett, Michael Kiel. Subs; Ben Kirwan, Jason Gleeson, Tom O'Connell, Mark Cummins, Josh Veale, Donal Fitzgerald, John Devine, Niall McSweeney, Jack Keane, Dean Reidy, Caoimhín Maguire
Meath v Tipperary, Pairc Tailteann, 6.30pm
Ref: Brendan Griffin (Kerry)
Meath are the highest ranked team in this year's Tailteann Cup based on League placings, having finished sixth in Division 2.
That campaign provided more questions than answers though about just how good they are, as an encouraging start that saw them defeat Clare and Cork quickly petered out into a series of disappointing and often heavy defeats.
Under new manager Colm O'Rourke they haven't as of yet got the balance right between defence and attack, and are still searching for an identity.
They were outworked by Offaly when exiting the Leinster SFC at the quarter-final stage, and will need to bring much more energy to this Tailteann Cup campaign.
If they do, there's no doubting they have talented forwards like Matthew Costello, Cillian O'Sullivan, Jordan Morris, and Donal Lenihan who will trouble any defence, but they need to be given a platform to do so.
Tipperary have struggled this year. They were relegated from Division 3 of the League and then fell to a heavy 20-point defeat to Kerry in the Munster SFC semi-final.
Without injured captain Conor Sweeney they lack a cutting edge in attack, so coming away from Pairc Tailteann with a result looks like a tall order for the Premier County.
MEATH: Seán Brennan; Adam O'Neill, Ronan Ryan, Michael Flood; Donal Keogan, Padraic Harnan, Seán Coffey; Ronan Jones, Conor Gray; Cillian O'Sullivan, Jack Flynn, Jack O'Connor; Jordan Morris, Matthew Costello, Aaron Lynch. Subs: Harry Hogan, Harry O'Higgins, Daithí McGowan; James McEntee, John O'Regan, Thomas O'Reilly, Diarmuid Moriarty, Cathal Hickey, Keith Curtis, Donal Lenihan, Ben Wyer
TIPPERARY: Michael O'Reilly; Shane O'Connell, Jimmy Feehan, Willie Eviston; Kevin Fahey, Colm O'Shaughnessy, Keith Ryan; Paudie Feehan, Colman Kennedy; Teddy Doyle, Jack Kennedy, Cathal Deely; Mikey O'Shea, Stephen Quirke, Stephen O' Brien. Subs: Kuba Beben, Luke Boland, Mark Russell, Conall Kennedy, Sean O'Connor, Liam McGrath, Riain Quigley, Conor Cadell, Donough Leahy, Rory Collins, Joseph Lawernce
Sunday 14th May
Fermanagh v Wexford, Brewster Park, 1pm
Ref: Barry Judge (Sligo)
Based on their promotion from Division 3 of the Allianz Football League, Fermanagh have to be considered as one of the Tailteann Cup favourites this year.
They failed to perform to their potential in their last two matches, though – a six-point defeat to Cavan in the Division 3 League Final and a 12-point reverse against Derry in the Ulster SFC Quarter-Final.
At their best though they're a formidable side. Defensively very well organised, and with a decent attacking punch provided by players like Ultan Kelm, Ryan Lyons, Ryan Jones, and super-sub Sean Quigley.
Wexford played a division below Fermanagh this year but have shown that on their day they can be really tricky opponents.
Manager John Hegarty has them well-organised tactically, but an attack that is still very reliant on veteran Ben Brosnan may lack the necessary cutting edge to take down Fermanagh.
FERMANAGH: Sean McNally; Jonathan Cassidy, Che Cullen, Luke Flanagan; Shane McGullion, Lee Cullen, Cian McManus; Ryan Jones, Brandon Horan; Conor McShea, Ryan Lyons, Ronan McCaffrey; Aidan Breen, Garvan Jones, Ultan Kelm. Subs: Jack Kelly, Declan McCusker, Conor McGee, Sean Quigley, Garrett Cavanagh, Josh Largo Ellis, Conal Jones, Oisin Kelm, Oisin Smyth, Tommy McCaffrey, Jack McCann
WEXFORD: Craig McCabe; Brian Cushe, Páraic Hughes, Michael Furlong; Darragh Lyons, Brian Molloy, Cathal Walsh; Glen Malone, Niall Hughes; Robbie Brooks, Eoghan Nolan, Kevin O Grady; Conor Kinsella, Mark Rossiter, Ben Brosnan. Subs: Darragh Brooks, Conor Carty, Liam Coleman, Rioghan Crosbie, Cian Hughes, Liam O'Connor, Dean O Toole, Eoin Porter, Alan Tobin, John Tubritt, Richard Waters
Antrim v Leitrim, Corrigan Park, 1pm
Ref: Barry Tiernan (Dublin)
How this match pans out largely depends on which Antrim team turns up.
In this year's Division 3 League campaign they produced some decent displays such as a two-point win over eventual champions Cavan and one-point defeats to Fermanagh and Down.
But they were also hammered by 31 points against Westmeath and in their final game of the campaign lost to relegated Longford by five.
They were well-beaten in the preliminary round of the Ulster championship by Armagh, but you still wouldn't rule them out producing a big performance at home in Corrigan Park on Sunday if they can get a decent supply of ball into forwards like Ruairi McCann, Pat Shivers, Ryan Murray, and Odhran Eastwood.
Leitrim will have a point to prove after their historic Connacht Championship defeat to the New York. They had a decent campaign in Division 4 of the League this year and are a better side than they showed in the Big Apple.
Much depends on how much ball they can get into star forward Keith Beirne who scored more than any other player in the Allianz League this year.
ANTRIM: Michael Byrne; Ronan Boyle, Peter Healy, James McAuley; Patrick McBride, Joseph Finnegan, Marc Jordan; Jack Dowling, Conor Stewart; Patrick Finnegan, Adam Loughran, Ruairí McCann; Pat Shivers, Ruairi McCann, Dominic McEnhill. Subs: Luke Mulholland, Dermot McAleese, Patrick McCormick, Barry McCormick, Cormac McGettigan, Conall McGirr, Cathal Hynds, Calum Higgins, Odhran Eastwood, Conhuir Johnston, Oisin Doherty.
LEITRIM: Nevin O Donnell; Paddy Maguire, Mark Diffley, Conor Farrell; James Rooney, Shane Quinn, Aidan Flynn; Pearce Dolan, Donal Wrynn; Tom Prior, Keith Beirne, Mark Plunkett; Jack Heslin, Paul Keaney, Domhnaill Flynn. Subs: Darren Maxwell, Ciallian McGloin, Barry McNulty, Darragh Rooney, Diarmuid Kelleher, Paul Moran, Radek Oberwan, Oisin McLoughlin, Stephen McLoughlin, Michael McKiernan, Jack Casey
Offaly v London, Glenisk O'Connor Park, 2pm
Ref: David Murnane (Cork)
After an up and down League campaign in Division 3, Offaly put together an impressive body of work in the Leinster SFC beating Longford and Meath before being edged out by Louth in the semi-final after extra-time.
A very hard-working and honest team, if they bring the same level of organisation and spirit into the Tailteann Cup campaign they'll be genuine contenders.
Defensive anchor Peter Cunningham has been inspirational at centre-back, and they have some good finishers like Dylan Hyland, Cian Farrell, Nigel Dunne, and Anton Sullivan in a nicely balanced attack.
London's form-line this year hasn't been quite so impressive. They failed to win a game in Division 4 of the Allianz Football League and were well-beaten by Sligo in the Connacht SFC Quarter-Final.
Christopher Farley is a reliable free-taker, but they just don't possess enough of a scoring threat from play.
OFFALY: Ian Duffy; Lee Pearson, Declan Hogan, David Dempsey; Jack O'Brien, Peter Cunningham, Ciaran Donnelly; Aaron Leavy, Jack McEvoy; Dylan Hyland, Ruairi McNamee, Joe Maher; Cian Farrell, Nigel Dunne, Anton Sullivan. Subs: Corey White, Conor McNamee, Cian Donohoe, Morgan Tynan, Cormac Delaney, Ed Cullen, Shane O'Toole Greeene, Nigel Bracken, Shane Tierney, Ruairi O'Neil, Luke Egan
LONDON: Andrew Walsh; Eoin Flanagan, Michael Clarke, Nathan McElwaine; Ronan Slone, Eoin Walsh, Aidan McLoughlin; Fionn Gallagher, Joshua Obahor; Conal Gallagher, Ruadhan McCarthy, Fiontan Eastwood; Christopher Farley, Liam Gavaghan, James Hynes. Subs: Kevin Mullan, Cahir Healy, Liam Gallagher, Daniel Clarke, Stephen Dornan, Joseph McGill, Ryan Tohill, Conor O'Neill, Eunan Curran, Henry Walsh, Daire Rooney
Wicklow v Carlow, Aughrim, 4pm
Ref: Seamus Mulhare (Laois)
When these two teams met in the preliminary round of the Leinster SFC five weeks ago, Wicklow triumphed comfortably enough by a margin of eight points.
The Garden County have made good strides this year under manager Oisin McConville, with promotion from Division 4 a very notable achievement.
They're well-organised defensively and play a nice brand of attacking football that gets the best from inside-forwards like Eoin Darcy, Kevin Quinn, and Mark Kenny.
A Carlow team overly reliant on veteran forward Darragh Foley just don't pose the same attacking threat, and it's difficult to see how they'll have improved sufficiently to turn the tables on that Leinster SFC result.
WICKLOW: Mark Jackson; Eoin Murtagh, Paul McLoughlin, Malachy Stone; Cillian Mc Donald, Patrick O Keane, Fintan O Shea; Dean Healy, Pádraig O'Toole; Arran Murphy, John Paul Hurley, Jack Kirwan; Mark Kenny, Kevin Quinn, Eoin Darcy. Subs: Peter Byrne, Conor Fee, Joe Prendergast, John Paul Nolan, Jaques Mc Call, Jack Gilligan, John Keogh, Cian O Sulivan, Matt Nolan, Craig Maguire, Arun Daly Danne
CARLOW: Ciaran Cunningham; Shane Buggy, Mikey Bambrick, Dara Curran; Shane Clarke, Mark Furey, Jonah Dunne; Conor Doyle, Jordan Morrissey; Seanie Bambrick, Ciarán Moran, Ross Dunphy; Colm Hulton, Darragh Foley, Jamie Clarke. Subs: Johnny Furey, Liam Roberts, Liam Brennan, Niall Hickey, Aaron Amond, Eric Molloy, Paddy Regan, Finbarr Kavanagh, Cathal Kelly,Conor Crowley, Bryan McMahon