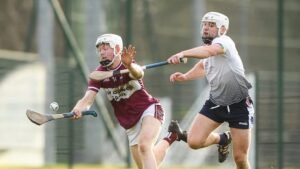 Preview: Electric Ireland Fitzgibbon Cup
Final – UG v UL
Saturday 18th February
Electric Ireland Fitzgibbon Cup final
University of Galway v UL, SETU Waterford Arena, 1pm (TG4)
Referee: Colm Lyons (Cork)
By Paul Keane
Jeff Lynskey has insisted that revenge isn't the motivation as University of Galway find themselves on the cusp of Electric Ireland Fitzgibbon Cup glory again.
Lynskey will manage the University of Galway against UL in the third level final for the second season running.
Previously known as NUI Galway, Lynskey's side lost out 12 months ago to a dramatic late Mikey Kiely goal for UL.
A red card shown to Limerick superstar Cian Lynch – which was later rescinded upon appeal – didn't help the University of Galway.
But Lynskey says he won't be opening up that hurt locker for motivation as he has a largely new team this term.
Just four players that lined out in Thursday night's extra-time semi-final win over UCC – Liam Reilly, Eoin Lawless, Ian McGlynn and top scorer Evan Niland – started last season's final.
"Last year is done and dusted for us," said Lynskey. "It's a new group. We have only probably eight or nine of the lads left over on the panel.
"It's like anything else in life, it was hard to take at the time, it was a bitter pill to swallow but you move on and we showed a huge amount of resolve again against UCC, last puck of the ball in the game, to put ourselves in this position again.
"It's about us as a group now, our own resolve as a group, as a team, as a panel."
University of Galway beat UCC after extra-time in Clare on Thursday evening, Tiernan Killeen hitting the long-range score that forced extra-time. There was a scare at the death when UCC took a pot shot at goal in search of an equaliser but the ball flew wide.
The University of Galway players went to Ennis afterwards for food and some recovery work in the pool. Team captain Darren O'Brien knew the area well as he hails from the local Eire Og club in Ennis.
"We're not just Galway players, the likes of Darren, Ben West from Tipperary, it's about the college and all the lads who have represented the college so well over the last couple of years," said Lynskey.
The Galway underage guru, who guided his county to three All-Ireland minor titles, will be familiar with UL from the 2022 encounter. Nine of the UL players that lined out in Thursday's semi-final win over SETU Waterford also started that final last year.
Waterford goal poacher Kiely remains a key figure as is free-taker Gearoid O'Connor who has blasted 0-41 so far in this year's tournament. Another Tipp star, Bryan O'Mara, Offaly's Killian Sampson and Galway defender TJ Brennan will be familiar figures to Lynskey too.
"At this stage, it's all about what we do as a panel, as opposed to what they'll do," maintained Lynskey. "And against UCC, in fairness to our lads, when the pressure was on in the last few minutes, a few points down, they showed a huge amount of courage and resilience to put themselves back in a position to get the equaliser.
"Then obviously in extra-time we put ourselves three points up and in a really good position and we held firm."
University of Galway last lifted the Electric Ireland Fitzgibbon Cup when hosting the event in 2010, beating Waterford IT. This time around it's SETU Waterford, formerly Waterford IT, that will host the showpiece.
UL blasted eight goals in their first three games in the competition before seeing off SETU Waterford 0-19 to 0-16 and are final favourites.
"Look, it's about putting our own influence on the game, putting a game plan together that the players understand and implementing what we want to do," said Lynskey. "We can only worry about ourselves on any given day."