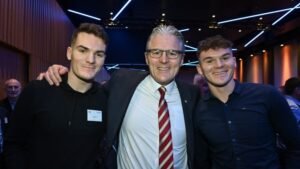 Jarlath Burns elected Uachtarán Tofa of the GAA at Annual Congress:
By John Harrington
Jarlath Burns was elected as Uachtarán Tofa of the GAA at Annual Congress on the first count this evening.
He received 158 of the 277 ballots cast, which put him ahead of fellow candidates Pat Teehan (70), and Niall Erskine (49)
Armagh native Burns, who is principal of St John's High School in Bessbrook, has had a stellar career as both a GAA player and administrator.
He captained Armagh to the 1999 Ulster Senior Football title, served as chairperson of his club, Silverbridge Harps, from 2012 to 2015, and is currently Armagh's delegate to the Ulster Council.
He's also served on an number of GAA committees over the years, including chairing the Standing Committee on Playing Rules from 2015 to 2018.
In his acceptance speech tonight he paid a warm tribute to the ability of his fellow candidates Teehan and Erskine, and spoke emotionally about all those who supported his bid for the GAA Presidency, particularly his family.
He also briefly outlined what his vision will be for the Association during his three-year term.
"It's an enormous privilege but it carries with it an immense responsibility," said Burns. "Particularly if you're from the six counties. I will exercise that as responsibly as I possibly can in everything I say and everything I do.
"We have six very important values in our Association. Community, amateur status, respect, player welfare, inclusion, and keeping all our volunteers. It will be my job to defend those values. I will do so to the best of my ability.
"Leadership is exhilarating and it can be very frustrating. Particularly when the organisation you're leading is called the Gaelic Athletic Association.
"I will need your help to do it, I will need your support to do it, because you all know what my very clear agenda is and I will do my best to pursue it in the three years I have in this incredible organisation, the GAA, where we all belong."