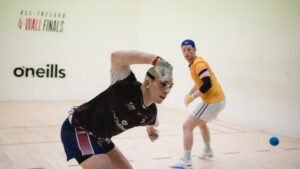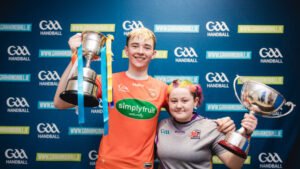 Plenty of handball drama in Cavan:
By Paul Fitzpatrick
The biggest day in the handball calendar always produces plenty of drama and that was the case again yesterday in Kingscourt, Co Cavan as a new ladies champion was crowned while the men's Gael Linn Cup will reside in a familiar setting.
The new name on the GAA Handball All-Ireland Ladies Senior Singles roll of honour after Galway's Ciana Ní Churaoin stunned defending champion Catriona Casey of Cork.
Meanwhile, in the Men's final, Westmeath's Robbie McCarthy wrestled back the crown from holder Diarmaid Nash of Clare. In winning his fifth title, McCarthy was always on top, running out a 21-10, 21-12 winner.
Playing powerful, aggressive handball, former county footballer and camóg Ní Churaoin won the first 21-12, dropped game two 21-19 and came through the tiebreaker 11-3 to take the cup west for the first time.
The winner started on the front foot, opening a 4-0 lead as she set the tone, but when Casey raced to an 8-4 lead, it appeared the Ballydesmond woman would kick on.
But Micheál Breathnachs star Ní Churaoin caught Casey at 12 with a great pass shot and played superbly to close it out, sealing the first game with a long-range kill from shoulder height.
Game two saw the 26-year-old Connemara right-hander race into a 7-1 advantage. Casey surged ahead to lead 18-12, Ní Churraoin clawed it back to lead 19-18 but Casey snagged game two 21-19.
At 3-1 down in the tiebreaker, Casey was forced to take an injury time-out due to a calf issue but the momentum was with the Galway woman regardless and she finished out the match 11-3.
Mullingar man McCarthy had shown stellar form all season and continued in that vein in the Men's decider, pinning Nash in the back court with a very impressive display.
McCarthy started brilliantly, racing into a 5-1 lead. In one awesome passage, he showcased his repertoire of skills. He went 6-1 up with a perfect two-wall pass shot, made it seven with a dummy serve down the left, had a flat kill for eight, another ace serve for nine and reached 10 with a fly kill, at which point Nash called his second time-out.
Nash rallied to 6-10 but McCarthy moved to 13, then 15-8 and closed it out 21-10.
In game two, Nash opened a 4-0 lead but McCarthy reeled off 11 points unanswered to build the foundation for the victory, ultimately sealing the title with a rare tomahawk kill.
Earlier, Armagh's Fiachra Ó Dhúill came through 11-0 in a tiebreaker against Roscommon footballer Rory Carthy in the Minor Singles decider. Ó Dhúill, displaying impressive shot selection, dropped the first game but found his rhythm and was well on top in the third.
Wexford's Jodie Keeling claimed the corresponding ladies title in straight games against Hannah Grace of Tipperary, 21-16, 21-15, to take the title to Wexford for the first time and continue her excellent run of form over the last 12 months.
Monaghan's Gavin Coyle won the Intermediate Singles in an 11-2 tiebreaker after dropping the first against Kevin Diggins (Kildare), with former Cavan footballer Joe Dillon winning the Junior Singles title against Galway's Peter Donohue.
The U21 Singles went to Rory Grace of Tipperary, who had an impressive win over last year's Minor champion, Sligo's Cormac Finn.