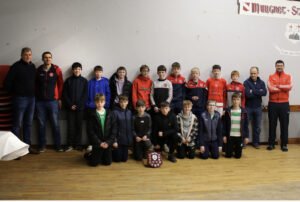 Mungret St Paul's GAA Club Notes:
Limerck Players:
A draw for the Limerick Footballers against Meath on Sunday 5 March 2023. Mungret St Pauls is delighted to have Killian Ryan on the panel.
Well done to Katie O Mahony, Emma O Rourke and Pat Galvin (management) who took on Cork in round 2 of the Munster Minor Football Championship. Unfortunately the result didn't go Limericks way.
Sarah Horgan, Grace Morgan, Jillian Buckley, Anna Coughlan, Anna Nealon, Rachel Somers and Liz Morgan (management) who beat Cork in the u16 B Munster Championship. Cameryn Moloney and Molly O Mahony were on the u16 A team that went down to Cork.
Well done to our U20 Footballers in their win over Offaly yesterday, on the day Mungret St. Pauls had Frank Corcoran, Jack McCarthy, Ciaran Uwatse and Oisin Moss on the panel with Dara Bridgeman and James Killian unavailable.
Well done to all our players who wore the Green Jersey in matches over the weekend.
Dates for your Diary:
Easter Camp (boys and girls) Tuesday 4 April to Thursday 6 April
Camogie Easter Camp Tuesday 11 April to Thursday 13 April
Club Limerick Draw:
Limerick GAA & Mungret St. Pauls Need Your Help for 2023!
Let's give our Club and our County hurlers & footballers the best chance possible in preparing for future success.
Sign up to the 2023 CLUB Limerick Draw today.
For only €100 (with €50 going back to Mungret St. Pauls), be in with a chance of winning a top prize of €10,000; PLUS 29 additional cash prizes each month!
You'll also get the chance to win an exclusive STAR PRIZE each month. Starting in March be in with a chance of winning A 2 night stay at An Grianan Hotel Donegal PLUS A €250 One4All Voucher.
Log onto clublimerick.ie/draw to join today or contact Noreen Moriarty on 087 622 8396
CLUB Limerick Draw 2023 – 'Supporting the Future Success of our Clubs & County Team'.
U-10 Camogie:
We were delighted to welcome our U10s back to camogie training last Thursday night! They kicked off the season with a fantastic session, where there were reports of loud "Wouuuuuuuuuuuuuuuuu" ing coming from the dock road area! Back with a bang!
Camogie:
From Monday 27th February you will find our Junior Camogie Team Training in the UL North Campus from 7-8pm.
New Members welcome! Contact: 086 780 1548 or email secretary.mungret.limerick@camogie.ie with any queries.
Ladies Football:
Gaelic4Mothers&Others training continues every Tuesday evening at 8pm in the Village Pitch. New members always welcome.
U-13 Hurling:
Mungret St. Pauls U-13 hurlers had an early start on Sunday 26 March 2023 when they travelled to Clarinbridge in Co. Galway where they were greeted to two very good matches, having only recently gone back training it was great to get the players back into action. The teams were split into U-13 and U-12 and both teams gave a great account of themselves on the pitch. Clairnbridge's hospitality was brilliant as they made sure the players, coaches and parents were fed and watered before heading out the road again to Pearse Stadium, this time to attend the Limerick V. Galway hurling match. There was great atmosphere in the stadium as the players got their chance to go out onto the pitch at half time and after the match to meet the players. A day trip would not be the same with out a stop off to supermacs before they all headed back home. We would like to Thank Clarinbridge for accommodating us and to our coaches for organising and looking after the players on the day.
Medals Presentation:
On Friday evening, 3 March 2023 our Juvenile club held their medal presentation. It was great to get the teams together on the night, the U-13 Hurlers were first up to collect their medals from coach Brian Tobin. The second team up won their shield in 2022 but it was a 2021 final for U-16 Football and the players collected their medals from coach Dave Foley. To finish out the night the U-17 Premier Hurling champions from 2022 were there in force to accept their medals from manager Denis Moloney. The video of the U-17 match was played for all who attended while enjoying pizza, a great way to close out the night. Thank you to Kevin O'Hagan for organising and to all who attended on the night.