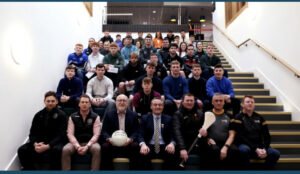 National Student Bursary Scheme a great financial support:
By John Harrington
The GAA's commitment to the educational development of its players and members is underlined by the National Student Bursary scheme.
Now in its 14th year, the initiative has invested more than €2.2M in members who are attending a full-time undergraduate course at a university or third level college, and who are active participants in their Higher Education club.
The schemes are administered by the respective Provincial Councils and recipients are selected based on a range of criteria, including their playing, coaching or administrative commitments.
Connacht GAA and Munster GAA, are currently inviting applications for the National Student Bursary Initiative, and Leinster GAA and Ulster GAA will do so later in the year.
"The National Studenet Bursary Initiative been around for many years now and thousands of people have benefited from them," says Higher Education GAA Chairperson, Michael Hyland.
"I think a big positive of it is that it benefits those who get involved in the administrative side of third-level clubs as well as players.
"From our point of view it's a great investment to make in people as it encourages people to become club officers and learn what's involved in those roles. And then when they leave college it's likely they'll have the confidence and experience to stay involved as club officers in their own clubs or wherever they move on to.
"For what's a relatively small financial investment the returns can be huge, because the people who benefit from these grants go on to give decades of service to the Association.
"Grants are often perceived to be for players and maybe elite players, but these grants can benefit those who do a lot of very worthwhile and often unseen work as club officers in the colleges."
Aoibhín Conlon from Pomeroy in Tyrone is typical of the sort of student who has benefited from the National Student Bursary initative.
Chairperson of the Ulster University Magee LGFA club as well as a player herself, she was one of 60 students who received a bursary of €500 each from Ulster GAA earlier this year.
"The bursary is hugely helpful and I benefited a lot from it," Conlon told GAA.ie "I've had a few injuries and the bursary helped me to go and get physio and get back playing.
"It was helpful for a lot of things I needed to purchase for college such as a new ipad and there were other small things too that it helped to make so much easier. It was great to get it and I felt like my hard work with the club had been recognised.
"Rent and transport are obviously big costs for students as well, and for us in Magee we don't currently have our own facilities to train on campus so we're training in a local club that's 20 minutes outside the city so even being able to use the money from the bursary to be able to drive my car to training and things like that was a big help.
"I think students might not always know that there's grants like this available, and I only found out myself because someone asked me for the contact email for our Development Officer so they could apply for the bursary.
"So I'd really encourage students to apply because there's a grant there that can help you develop not just as a student, but as a Gaelic games club officer or player."
Students in all four provinces who are interested in applying for the National Student Bursaries Scheme should contact their third level institution's GAA Development Officer.