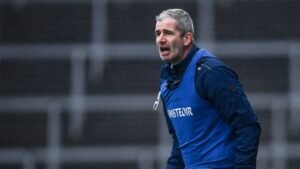 Mark Fitzgerald looking forward to Limerick's 'free shot' against Clare:
By John Harrington
Mark Fitzgerald simply hasn't had the time to dwell on his sudden elevation to the ranks of inter-county management.
Today marks six weeks since he took over the top job in Limerick following Ray Dempsey's resignation, with his Championship bow to come tomorrow in a Munster semi-final against Clare.
Tralee-native Fitzgerald had come on board this year as coach alongside Dempsey upon the recommendation of Maurice Horan, who worked in the same role under previous manager Billy Lee.
His prior inter-county experience came working with former Kerry minor manager James Costello, while he has also been involved with his own club Kerins O'Rahillys.
When the Treaty vacancy unexpectedly needed to be filled, Fitzgerald didn't take long to think about it.
"I'd worked closely with Ray and Ray was very good but if you thought about it, you'd probably come up with a thousand reasons not to do it.
"I thought the group probably needed a little bit of continuity so I decided to do it.
"It is a huge honour, ultimately, when you're coaching up against the likes of Colm O'Rourke, Glenn Ryan, Mickey Harte, John Cleary, Colm Collins, all these guys. It's taking you out of your comfort zone but I suppose we need to develop as well."
Four of Dempsey's original management team stayed on, with a couple more new additions since then. Their knowledge of the dressing room made the transition easier for all parties.
"It would be a lot more difficult if I wasn't involved previously. But being the coach there's that little bit of knowledge there in that I was very familiar with the players.
"It's a different dynamic from coaching to managing but it is what it is and you just got on with it."
It's been a step up in more ways than one: from coach to manager, and from minor to senior. The level of preparation involved with the Kerry underage set-up, though, provides a strong grounding.
"The Kerry minor setup was so well-run and so professional that it does prep you well for inter-county but obviously this is a different animal altogether.
"The biggest difference is just the whole physicality and athleticism of the players that you're up against. We got to see that this year in its rawest form."
They couldn't possibly have endured a tougher start to life in Division 2 in any other year than that visited upon them by fixtures against Derry and Dublin first up. But it was the triple-scores defeat to Cork that provided the low point as they shipped six goals to the Rebels.
"Nobody wants to get relegated but I suppose when you haven't been up here for a while and it is as competitive as it is, you need to experience that, you need to play these teams to get that experience to try to use that going forward.
"Morale is fine now at the moment because obviously, it is what it is. The league is done and dusted, we've drawn a line on the sand and tried to move on.
"The beauty of it is that you've a free shot here. If you win, you're back to the level which you were last year and if you lose, there is another competition.
"Obviously, we're not even thinking about that. We're solely focused on trying to beat Clare and whatever comes after that, we'll deal with it."