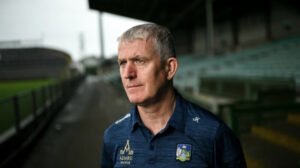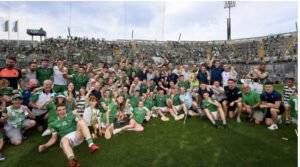 John Kiely eager to maintain standards:
By Cian O'Connell
In 2018 Limerick ended a 45 year wait to hoist the Liam MacCarthy Cup at Croke Park.
Four All-Ireland SHC titles have been captured in five years, every Munster campaign since 2019 has culminated in a Limerick win, while three Allianz Hurling League crowns were gathered too.
It is a staggering success story during a glorious time for the green and white county. John Kiely and his backroom team continue to plan and plot ahead of Sunday's eagerly anticipated showpiece against Kilkenny.
Standards have been set, but also maintained. What are the key ingredients to attain such a level of consistency? "Listen, Paul (Kinnerk) as a coach is just world class at what he does," Kiely replies.
"I believe he could coach any sport and do so at the very highest level. His planning, his attention to detail, his communication skills, innovation, creativity, what he has brought to the group over the last seven years in that context has set the bar extremely high for all other aspects of the group.
"That is first and foremost, the most important part is the coaching. Paul leads that out, he does an extraordinary job with it."
Kiely is in full flow documenting the qualities being brought to the Limerick set-up by talented people. "You look at the other parts of the group, Caroline (Currid) is there from a sports psychology perspective," he adds. "Again you couldn't have someone that would drive standards any more than what Caroline would.
"That is her hallmark – standards. Doing things right, making the right decisions, doing stuff for the right reasons regardless of what needs to be done. There is no excuses whatsoever for not doing it the right way."
Ultimately it means that everybody involved must deliver. "That challenges everybody else in the group in terms of logistics, medical team, the statistics team," Kiely says.
"Seánie O'Donnell, obviously, is our statistical guy, he runs that team. Again they are always driving forward with innovative approaches and developments right across the last six years he has been involved."
Principal of the Abbey School in Tipperary, Kiely knows the relevance of values and respect. "So the challenge is on me then after that to make sure my standards are at the highest possible level," Kiely says.
"I think when the players are in an environment with those types of scenarios playing off around them, they then are challenged to bring the highest possible standards to their preparations on and off the pitch and their contribution to the group as a whole.
"If you're talking about standards, that is what standards are. Those are the things that matter, that is really, I think, why we have put ourselves in the positions to have opportunities like we've had for the last few years."
Undoubtedly it takes courage and commitment to operate at senior inter-county level. Is it difficult to park different parts of life when getting ready for sporting battles? "I know leaving school in the evenings, I usually leave around the five mark to be there for six, that would be my routine, I find it gives great balance," Kiely responds.
"That you can just park it there, that you can just leave it. Obviously there are times when stuff happens, be it in Limerick or outside of Limerick that are going to impact on you. I think being involved there is a lot of support for you – for whatever – in the group.
"When you are together for such a long time there are going to be bereavements or illnesses, all sorts of challenges that people in the group are experiencing. We know each other so well, it is a community within itself. We are there to support each other, that support is a great thing to have."
That element is vital according to Kiely. Does the experience gained offer any further help? "I don't know, I think being a player first and foremost every player when they go into a car to go to a match or training, they come at it in their own way," he says.
"It is only a continuation of doing that. I know I enjoy being in the car, just making the phone calls, chatting through bits and pieces.
"For the players, I know they love just picking up one or two of their colleagues, having a coffee across the road, having a chat before training.
"Just spending time together – that is all. They are very good, they are great friends on and off the pitch. They love spending time together, that is part and parcel of it."