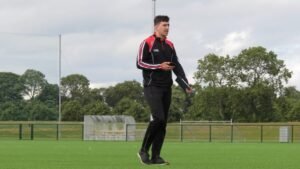 Inter-county referees working hard to keep up to speed:
By John Harrington
The phrase 'wintered well' has pretty much disappeared from the GAA lexicon.
Such is the high standard fitness required at inter-county and senior club football and hurling now, that players can't afford to let themselves go during the off-season.
The same is true for inter-county referees. The split season means most of them have very little of a break from officiating anyway, but away from match-days they also put in the hard yards to ensure they're in tip-top condition by the time the inter-county season swings around again.
The man who oversees the fitness regime of the inter-county referees panel is Dr. Aidan Brady, who last year completed a PhD in DCU which focused on understanding the physical demands of the game and the fitness levels required to officiate at the highest level, with the ultimate aim of improving decision making.
To prepare inter-county referees for the 2023 season, he oversees a 12-week training plan consisting of three sessions a week that begins in October.
"We try to put a lot more structure around the work the referees now do in the offseason," Brady told GAA.ie
"Because of the understanding we have of what they will experience when they go out onto the field, we're now better able structure their training so that the sessions that they're doing are more specific to the physical attributes that they ultimately need to referee.
"Before I started, Prof. Niall Moyna did a lot of great work with the referees for six or seven years and moved them away from some of that traditional long distance running type training where they're going out for a 5/10 km run that is all covered at the one speed.
"Now we've got a lot more diversity of sessions. Some are obviously at low speeds to build their endurance capacity or that stamina that they'll need for the 60 or 70 minutes on the field.
"And then the other sessions are high intensity sessions where they complete intervals consistin gof a range of different distances for various durations."
(Aidan Brady pictured at a referee training session in the GAA's National Development Centre in Abbotstown)
Since Brady began working with inter-county referees in 2016, he's helped them keep pace with the steadily increasing speed of inter-county football and hurling.
The GPS data he collected between 2016 and 2019 shows that referees are completing an average of 1.2 kilometres of high-speed running during a match, classified as a speed greater than or equal to 17 km/h.
Inter-county referees are also covering an average of 9.5 kilometres during a match which is higher than the average distance covered by the players themselves in hurling (7.6km) and Gaelic football (8.8km).
The GPS data also highlights just how intense the opening quarter of inter-county championships matches are compared to the rest of the game, and how well referees maintain the athletic output from first whistle until last.
"With GPS one of the things we have found is how much more intense the first quarter is, particularly the opening 5 minute period of a game, compared to the other quarters," says Brady.
"Sometimes when we think about performance during the game, just from a physical standpoint now, you might expect to see the referee begin to fatigue as the game goes on.
"Obviously context is important, but the second, third and fourth quarter, just from a physical standpoint are almost identical.
"There doesn't seem to be any drop off in the referees performance as the game progresses, which is another testament to the level that they are operating at physically. Their fitness levels allow them to continue or keep up with the pace of the game no matter the time."
In January, the national panel of referees are require to pass the Yo-Yo intermittent recovery test if they want to officiate in the Allianz Leagues.
The Yo-Yo test is a measure of endurance capacity that consists of a series of intermittent shuttle runs, 20 metres forward and 20 metres back, with a ten second break in between.
The time you have to complete the run gets progressively shorter as the levels increase and the current pass-mark is 16.8 for the Allianz Leagues and 17.4 for the championship.
The average score for referees is much higher, around 17.4 prior to the league and 18.1 prior to the championship, while one inter-county hurling referee has hit 20.2, which is a remarkably good score for what's a real lung-shredder of a test.
Throughout the season referees will come together for regular training fitness sessions in the GAA's National Games Development Centre in Abbotstown.
These are followed by a debrief where referees review recent matches and their decisions are analysed and critiqued.
During the season referees will also have blood samples taken before, at half-time, and after some matches so their lactic acid can be measured.
Lactic acid in the blood is a good indicator of the intensity of effort being put in by referees during a game and a high level can impede a referee's ability to perform repeated sprints throughout the game.
During the season referees will also visit the high-performance lab in DCU's School of Health and Human Performance where they have an ECG to check their heart and undergo a VO2 max test which is regarded as the gold-standard measure of cardiorespiratory fitness. Every referee on the inter-county panel has scored in the top five per cent for their age-group.
Clearly it takes a lot of dedication to be an inter-county referee in much the same way it does to be an inter-county player, and Brady has huge respect for their dedication to self-improvement.
"They've been very, very supportive of everything we've wanted to do," he says.
"The buy in from them is central to everything that we do and they've been nothing but supportive. They've tried their utmost to embrace all of the changes that we've come with.
"The one thing that has changed with a more condensed calendar is we now meet up more frequently. We have more group sessions, which happen once a month, for both the hurling and football panels.
"We'll have a training session and afterwards as a group they will go through some of the refereeing decisions, anything contentious that's come up, or anything that needs to be addressed going forward.
"What's important for us is that just because the standard is met in January of 16.8 that that standard doesn't then begin to slip throughout the campaign.
"We're going to have a lot more games coming into the championship and we'll need a lot more referees.
"Those collective sessions that we have more frequently now allow us to make sure that everybody is doing okay first and foremost, and that everybody is able to maintain their standards and maintain their fitness levels as we go on.
"They're a great bunch, they really are, and they put in a lot of hard work. We can give them all the support, the best presentations, the best plans but they are ultimately the ones that have to go out on the cold winter nights in December and January and do the training.
"And, in fairness to them, they maintain an excellent standard and should be commended massively for what they do."
Dr Aidan Brady's research articles on the fitness levels required to officiate at the highest levels can be found here:
https://doi.org/10.1080/24748668.2021.1942659
https://doi.org/10.1080/24733938.2022.2049456