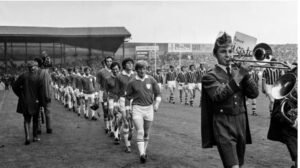 Flashback: 1973 All-Ireland SHC Final – Limerick v Kilkenny:
By John Harrington
In the summer of 2018 when Limerick's championship journey brought them closer and closer to a first All-Ireland SHC in 45 years, Eamonn 'Ned' Rea fielded numerous phone-calls from GAA journalists.
He was happy to chat to them on one proviso – there would be no mention of Limerick's All-Ireland win of 1973 – which was always the last thing the enquiring journalist wanted to hear.
Long before that summer of 2018, veterans of the '73 Final win like Rea were sick and tired of talking about it.
It was almost like a millstone around their necks rather than a memory to be celebrated because when it was brought up it was usually as a reference point for Limerick's lack of success in the interim.
So when Limerick finally ended their long famine in 2018 it was celebrated with a sense of relief as much as joy by those like Rea who had been part of that '73 side.
I could have cried all night," Rea said in an interview with GAA.ie in 2019.
"I didn't, but, I mean, I could have. You'd have to be from Limerick to appreciate and be waiting as long as we were waiting to appreciate.
"I stood where I was down there and I didn't leave until the cup was gone. I wanted to absorb it and savour it for as long as possible. It was fantastic."
(Photo 1)
The Limerick team, led by captain Eamonn Grimes, parade behind the Artane Band ahead All Ireland Hurling Final match between Kilkenny and Limerick at Croke Park, in Dublin.
Rea sadly passed away in 2021, and as time marches on and the current generation of Limerick players amass more and more silverware, '73 will be talked about less and less.
For those that were there, though, the memories remain undimmed.
Limerick full-back on the day, Pat Hartigan, vividly remembers the excitement he felt when the Limerick players were given new socks in training a couple of days before the All-Ireland Final.
"These socks were very unique," he told the Limerick Leader in 2013. "We got them on the last night of training so we could try them on.
"They were so nice you didn't want to have them down around your ankles. I generally wore them around my ankles but these socks looked so modern we said we might as well maximise them!"
(Photo 2)
Resplendent in their new socks, the 1973 Limerick All-Ireland winning team – back row, left to right, Richie Bennis, Liam O'Donoghue, Jim O'Brien, Pat Hartigan, Joe McKenna, Eamonn Cregan, Willie Moore, Ned Rea, front row, left to right, Seán Foley, Mossy Dowling, Bernie Hartigan, Eamonn Grimes, Phil Bennis, Frankie Nolan, and Séamus Horgan.
Limerick came into that '73 Final against Kilkenny in a very good place both mentally and physically.
Their trainer Mickey Cregan, an army man, had them fit as fleas, and a mature group of players were determined to finally fulfil their potential after previous disappointments, most notably a one-point Munster Final defeat to eventual All-Ireland champions Tipperary in 1971.
"My recollection is that we were six points ahead at half-time in that match which would have been a huge lead in those days," says Richie Bennis, a star of that Limerick team of the '70s.
"Then all the ex-hurlers of 1940s Limerick team jumped on the bandwagon and came into the dressing-room at half-time telling us how great we were instead of keeping out of it.
"We got complacent then and the rest is history.
"In '73 we had a very good trainer in Mickey Cregan. The panel was very dedicated, there were no problems with training.
"People talk about hard training now, but we trained fierce hard in '73. Mickey was only two or three years older than me at the time so he was young, and he really knew his stuff in terms of physical fitness.
"We trained for an hour and a half of constant going at every training session."
(Photo 3)
Limerick captain Éamonn Grimes lifts the Liam MacCarthy cup for Limerick in 1973. Also in the picture is President Erskine Childers, far left, and Taoiseach Liam Cosgrave, far right.
Limerick were so keyed up for the match that when Eamonn Cregan returned to the dressing-room after a quick trip to the toilet before the match, he found the place deserted.
They'd ran out onto the pitch without him so he missed the All-Ireland Final roar from the Limerick supporters, but it clearly did him no harm.
Regarded as one of the best forwards in the game, Limerick pulled a rabbit out of the hat in that '73 Final by positioning him at centre-back where he did a great job nullifying the influence of Kilkenny danger-man Pat Delaney.
"We were very well prepared," said Bennis. "Believe it or not, I don't think there was any nerves worth talking about before the match.
"That's because we were so well prepared. We had confidence in what we were doing and we felt that we were well capable of winning regardless of what Kilkenny team was fielded that day because we had beaten them in League matches prior to that.
Bennis scored 10 points as Limerick stormed to a 1-21 to 1-14 victory, and it was only when the final whistle blew that the enormity of what they had just achieved really dawned on the Patrickswell man.
"It was unreal, the relief," he says. "I'd say Mick Slattery blew up the game a few seconds early because the crowd had all around the pitch invaded and it was only a matter of time before they ran on to it.
"When the whistle went the celebrations were unreal. Everyone was wearing paper hats and it was an awful wet day so you could see all the dye running down people's faces, but they didn't care."