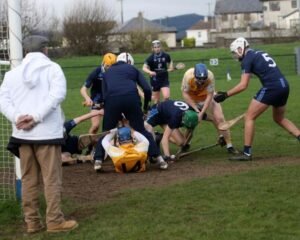 Extra-time heartbreak for Limerick's Castletroy College in Munster final:
By Tom Clancy Limerick Leader Sport
CASTLETROY College suffered a heartbreaking extra-time loss to Hamilton Highschool Bandon in the U19 Munster 'B' Hurling Final in Kildorrery this afternoon.
Edged out by just a point, the Limerick side had fought back in normal time to force an extra 20 minutes. Bandon take home the Corn Thomáis Mhic Choilm, with their leading light Michéal Maguire chipping in with 2-4 in a high-quality individual display.
Played in a dry but windswept Kildorrery, both sides brought bus loads of support from their respective schools. Castletroy were chasing a first Munster hurling title at this age group. They led at the half-way point, 0-12 to 2-5, albeit after having the strong wind at their backs.
Maguire found the net for the first time after 90 seconds and Bandon's ability to target goals was further highlighted when Kevin Dart-O'Flynn arrowed to the net after good passing on 13 minutes. By this stage it was 2-1 to 0-4 with Conall O'Duinn, Robert O'Farrell (two) and Ben Hayes all accurate.
O'Farrell was joined in the starting lineup by 12 Monaleen men, with the Kildimo-Pallaskenry man showing plenty of skill during this contest. His point from a free had them ahead at half-time with six of the final eight first half points going to the Limerick-men.
But just one point in the next 25 minutes almost ruled out any hope of the silverware returning to Limerick. Bandon had scores from Maguire and the impressive Evan O'Shea, and were four clear, 2-11 to 0-13, with just five minutes remaining.
But three points, including efforts from Mark Field, O'Farrell, Dara Ferland brought the game back to one. The final puck, a free from half-way was superbly scored by O'Farrell to send the game into extra-time.
The first period saw Maguire net his second goal with Castletroy wasteful in attack. They trailed by three for most of the remainder and despite no more Bandon scores they held on. Matthew Fitzgerald and Mark Field brought this game back to a point, but the clock ran out for Liam Reale's young charges.
Scorers for Castletroy College: Robert O'Farrell 0-6 (4 frees); Dara Ferland 0-4 (3 frees); Mark Field 0-3; Matthew Fitzgerald, Conall O'Duinn 0-2 each; Ben Hayes, Will McCormack, David Carr 0-1 each.
Scorers for Hamilton Highschool Bandon: Michéal Maguire 2-4; Evan O'Shea 0-5 (3 frees); Kevin Dart-O'Flynn 1-0; Ronan Crowley, Niall Kelly, Conor O'Sullivan 0-1 each.
CASTLETROY COLLEGE: (Monaleen unless stated): Muiris O'Dalaigh, Jack Doyle, Darragh Clifford, Tom McCarthy; Sean McKeon, Darragh Langan ©, Cian Scully; Robert O'Farrell (Kildimo Pallaskenry), Conall O'Duinn; Will McCormack (Ahane), Ben Hayes, Matthew Fitzgerald; Dara Ferland, Mark Field, David Carr (Ahane)
Subs: Luke Ryan for Carr (54 mins); Darragh Humphrires for McCormack (58 mins); Tom D'Arcy for McKeon (74 mins).
Hamilton Highschool Bandon: Aaron White (Valley Rovers); Fionn Ustianowski (Kilbrittain); Charlie O'Sullivan (Valley Rovers), Jack Cullinane (Bandon); Kevin Dart-O'Flynn (Valley Rovers), Cian Johnson (Valley Rovers), Séan Ahern (Bandon); Ronan Crowley (Kilbrittain), Niall Kelly (Newcestown); Darragh McCarthy (St. Oliver Plunketts), Eoin Guinane (Valley Rovers), Evan O'Shea (Valley Rovers); Michéal Maguire (Courcey Rovers); Conor O'Sullivan ©; Jonathan O'Leary (Valley Rovers).
Subs: Sean McEntee (Valley Rovers) for McCarthy (42 mins); Josh Woods (Valley Rovers) for O'Leary (47 mins); Harry O'Sullivan (Valley Rovers) for Crowley (54 mins); James Burrows (Newcestown) for Ahern (75 mins).
Referee: Sean Everard (Tipperary)