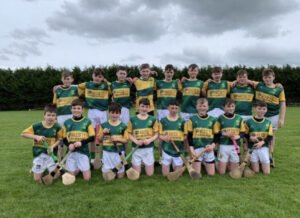 Crecora/Manister GAA Club Notes:
Intermediate Hurling League:
Our Adult hurlers were away to St Patricks in the second round of the City East Intermediate League on Saturday 8th April.
We started with the benefit of a strong breeze.
Both teams were evenly matched in the opening exchanges with the sides trading points but then a succession of scores saw us in arrears by 5 points midway through the half.
From there to the end of the first half we had our best period of the game.
Darach Skelly led the scoring with 3 fine scores from play.
He was helped with braces for Brendan Power, Rian O'Byrne and Richard Murphy to add to points by Mike McCormack and Cormac Flanagan which helped us to overcome the deficit and by half time we had taken the lead on a scoreline of 0-11 to 0-9.
We started the second half facing the breeze but points from Rian O'Byrne and Fergal Egan kept us in contention in the early stages.
However, St Patricks started to make use of the elements in their favour and established a strong lead heading into the closing stages.
They continued to add to their total and also raised a green flag in the closing minutes to leave the final score of 0-13 to 1-23.
Squad Ger Kennedy, Rory Hannan, Shane Moloney, Evan Moloney, David Wixted, Cormac Flanagan, Thomas Shanahan, Darach Skelly, Rian O'Byrne, Brendan Power, Mike McCormack, Richard Murphy, Sam Riordan, Shane O'Connor, Fergal Egan, Sean Malone, Sean Keyes, Jack Dalton, Rob Henehan.
U15 Féile na nGael:
Crecora Manister under 15 Hurlers got the Féile na nGael campaign off to a good start with a fine win against na Piarsaigh at a dry but windswept Croagh on the morning of Saturday 8th April.
Next up at the same venue were Askeaton/ Ballysteen/ Kilcornan where after another good performance Crecora Manister came out on top on a scoreline of 2 – 6 to 0 – 2.
Our final game in the blitz was against Croagh/ Kilfinny/ Rathkeale. These opponents had put up huge scores in their previous matches and at half time in this match Crecora Manister were up a goal on a scoreline of 1 – 5 to 0 – 5.
The second half was a huge battle with Crecora Manister playing into a strong wind. However after some sustained pressure for the last 7 minutes Crecora Manister prevailed on a scoreline of 1 -7 to 0 – 9.
Great credit is due to all the players who stepped up at various times to see us through to a semi-final on Monday 10th April.
Thanks to all the ladies who provided the well-earned refreshments
Unfortunately our Féile na nGale campaign came to an end at the semi-final stage when we were beaten by a very strong and physically much bigger Pallasgreen team.
A couple of early goals for the opposition set them up for their win.
Crecora Manister battled hard and outscored Pallasgreen in the second half but just couldn't overturn the big gap from half time.
Final score was Pallasgreen 4 – 8 to Crecora Manister 1 – 3.
Our Coaches are well pleased with Saturday's performances and the second half in the semi-final and this form should carry in to the Championship.
Online Sports Shop:
The Crecora Manister GAA COBI sports online shop opened on 4th April and will stay open for 2 weeks only.
The shop has 4 GAA Packs to cover all players, coaches, parents, members and supporters.
All items in the packs can be purchased individually.
To manage the processing of orders the shop will be open for a period of 2 weeks only, closing on April 18th.
Expect delivery of you orders during the last 2 weeks of May.
Orders will be delivered direct to the address specified when placing the order.
Please note that our Club will not be handling any payments or deliveries.
Go to our Club website for the link to the online shop where you can place your order.
CLUB Limerick Draw:
The first Draw of the 2023 CLUB Limerick draw will take place on Saturday 29th April.
Entrants will have the chance to win €10,000 and 28 Other Cash Prizes each month.
The STAR PRIZE for April is a Two Night Stay in An Grianan, set in the blissful village of Burt in the rolling Donegal Countryside. Renowned for its warm, Irish Welcome and friendly staff!
PLUS A €250 One For All Voucher
Members of our Club Committee will be calling to houses and contacting residents in the Crecora Manister area over the coming weeks asking for support for this vital source of annual funding.
Every year our club supporters enter this draw and we have had many winners over the years. Thanks to all for your continued support.
The Draw can be entered online by going to the CLUB Limerick Draw website and choosing Crecora/Manister in the select your club section.
Team Limerick Clean Up:
Crecora Manister GAA and Crecora Camogie Clubs came together again on Good Friday to organise the picking up of rubbish from along the roadsides in our locality.
On Friday morning pickers, bags etc were distributed from the pitch and roads were assigned to volunteers along with directions regarding the collection of the bags of rubbish and transporting them to the pitch for pick up by Mr. Binman.
As with previous years this event was greatly supported with many volunteers coming out on Good Friday to clean up the roads in our local area.
Club Fixtures:
Bons Secours South Senior Football League
Oola vs Crecora Manister
Venue: Crecora
Saturday 15th April 2023 6pm
Bon Secours City Junior B Hurling League
Ballybrown vs Crecora Manister
Venue: Ballybrown
Wednesday 5th April 7pm
Mr. Binman Under 13 Hurling Division 3A
Crecora Manister vs Patrickswell
Friday 14th April 2023 6:45pm
Venue: Crecora
Mr. Binman Under 17 Hurling League Division 3B
South Liberties \ Crecora Manister vs Croagh \ Kilfinny \ Rathkeale
Wednesday 12th April 2023 7:00pm
Venue: South Liberties Dooley Park
Attached photograph of the Crecora Manister U15 Féile na nGael squad