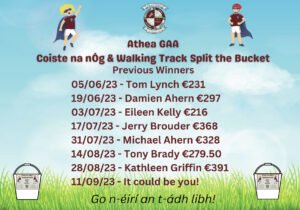 Athea GAA Club Notes:
Split the Bucket:
Congratulations to Kathleen Griffin who was this week's Split the Bucket winner, going home with €391.00, the largest pot to date! The next draw will take place on Monday September 11th. Envelopes can be purchased at Brown Joes, Dick Whites, Collins Shop, O' Riordan's Pharmacy, Batts , Athea Credit Union, Bingo at Con Colbert Hall on Friday nights, Moloney's Daybreak, Carrigkerry, and during events at Pairc na nGael. Thanks to everyone for your continued support.
Club Development Draw:
Thanks to everyone who has purchased tickets for the 2023 Club Development Draw. The first draw will take place within the next two weeks, watch this space for updates. The first prize this year is €1,000. Best of luck to everyone
Athea Junior Men's:
Round 4 V Newcastle West
In Ballyhahill 25/08/23
It was a disappointing evening in Ballyhahill when we needed a good result. Newcastle West started strong with the first score. We responded very well however with Jack O'Connor and Kevin Murphy combining to set Sean Ryan up. Sean scored from a very tight angle, and it looked like we could have a great game on the cards. Micheal Dalton and Martin Chawke in particular performing well at the back. Newcastle West would retake and then stretch the lead however, leaving it at four points to one after twenty minutes. We made a couple of changes and two points from Mark Reidy had us just two points behind at half time. 0-05 to 0-03. An early goal in the second half seemed to take the wind out of our sales after a good finish to the first half. Newcastle West stretching the lead to 1-08 to 0-03 before we would get our next scores through Kevin Murphy and then Jonathan Fitzgerald. Mark Reidy again got on the scoresheet before
Newcastle West pulled away eventually winning the game on a scoreline of 1-13 to 0-06. This confirmed that we are now in a relegation battle. Our next game is against Cappagh where Seamus and the team will be hoping to turn the tide. Numbers and attitude to training has been excellent so hopefully they will get the support needed at the next two games.
Team: Colin Brouder, Michael Dalton, Martin Chawke, Tommy Quaid, David O'Connor, Alan Kelly, Eoin O'Shea, Michael Tierney, T.J Hunt, Darren Murphy, Kevin Murphy, Jack O'Connor, Denis Greaney, Andrew O'Riordan and Sean Ryan. Subs used: Mark Reidy, Jonathan Fitzgerald, Gerard Ahern and Eoin Sheehan.
U13 Girls PDP
Well done to our club girls Eimear Hunt, Aoibhin O' Riordan, Kayla Sheehy and Erin O' Rourke who participated in the Limerick U13 Player development programme over the last 10 weeks. This accumulated in the festival of football on Saturday where they played teams from Cork and Clare in Banteer .
The girls had a wonderful experience, made new friends and it was great to see them wear the green of Limerick. Many thanks also to Mary Hunt and Stephen O' Rourke who were part of the management team.
U14 Girls:
Well done to our U14s after a fine display against Drom / Broadford on Monday night, coming away with a well earned win. We now wait and see who they play in the knockout stages. Well done to all the girls and management.
Upcoming Athea Ladies Fixtures:
Tuesday 29th August
Junior Championship Round 2
Athea V Groody Gaels
In Athea
At 7.15
Sunday 3rd September
Junior Championship Round 3
Athea V Gerald Griffins
In Ballyhahill
At 11 am
Wednesday 30th August
U8's V Fr Casey's
In Athea
At 6.30
Thursday 31st August
U16 Semi Final V Mungret
In Mungret
At 7
Áth an tSléibhe – Coiste na nÓg –29ú Lúnasa 2023
Torthaí
Results:
U11 Boys & Girls Football:
Our U11 footballers travel to Glin this Tuesday evening August 29th to play Shannon Gaels at 6:45 in the next round of the go-games league.
U13 Boys Football:
Athea 2:13 v Monagea 3:05
We played our Division 3A championship playoff against Monagea on Thursday last in Athea to establish who finished 1st & 2nd in the group. We played with the wind in the first half and scored directly from the throw-in with an excellent point from Tom Mullane however we struggled to take advantage of the wind and Monagea who were very strong around the middle were the better team in the first half leading 1:03 to 0:04 at half time. Against the wind in the second half Athea started to get a foothold in the game and kicked some great points from Aaron Hunt, Shane Ahern and Aaron Broderick. Monagea to their credit kept the pressure on and Athea never led by more than a goal. A late goal by Monagea and an even later pointed free from Mark Collins meant the sides were level at the end of normal time, Athea 1:09 to Monagea 3:03. Extra time was played and Athea were lucky to get an all important goal from Tom Mullane in the first period of extra time which allowed Athea to see out the win after what was an exciting game between two very evenly matched teams. Final score Athea 2:13 to Monagea 3:05. Both teams now progress to the County Semi Final where Monaleen and Oola await with fixtures to be confirmed.
U7 Boys & Girls Hurling:
We had 14 boys and girls take part in a blitz Saturday morning in Monagea. It was fantastic performance and great to see skills we have been practicing at training coming to the fore. Keep up the good work.
U13 Boys Hurling:
Athea 2:7 v Knockainey 2:8
Knockainey travelled to Athea Sunday morning in a play off to determine who we play in the semi-final. It took extra time to decide this brilliant game of hurling and unfortunately Athea lost by the smallest of margins. It was great to see such support for this fantastic team who have given hundred percent in every match. We have now reached the semi final of the Shield and play Claughaun @ 7pm Thursday 31 st August in Athea. Panel: Eoin Ahern, Tadhg Hunt, Kane Brouder, Nathan Ambrose, Cathal Fitzgerald, Paddy O'Connor, Daniel Hunt, Mark Collins, Jayden Kiely, Se Ahern, Jamie Brosnan, Tony Ambrose, Shane Ahern, Jack Leahy , Liam Og Reidy, Tom Mullane, Edward Kelly. Next match is at home to Claughaun on Thursday 31st August @ 7 pm
Cluichí Coiste na seachtaine seo:
This week's Coiste fixtures:
Tuesday 29th August U11 Boys & Girls Football – Shannon Gaels V Athea @ 6.45pm
Thursday 31st August U13 Boys Hurling – Athea V Claughaun @ 7pm