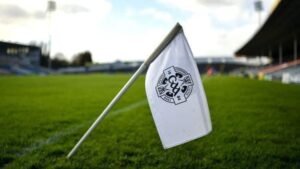 Happy New Year:
Happy New Year from all in Ahane GAA Club! We hope 2023 is a happy, healthy and successful one for you all. Thank you to all our players, coaches, volunteers, supporters and sponsors for all their continued support and contributions to our club! We are lucky to be surrounded by such fantastic people! Bring on 2023!
Lotto:
Numbers Drawn: 3,18,32,35
Jackpot: €10,000
No jackpot winner
€200 Peter & Mary Ryan
€150 Eamon McQuaid
€120 Claire Sloan
€120 Hugh & Eleanor McMahon
€120 Ann Gray
€120 Kevin O'Sullivan
€120 Cormac Hilliard
€120 Sean McGrath
€120 Willie O'Brien
€120 Natalie Stapleton
Well done to all our winners! Huge thank you to everyone who supported our lotto this year your support is greatly appreciated.