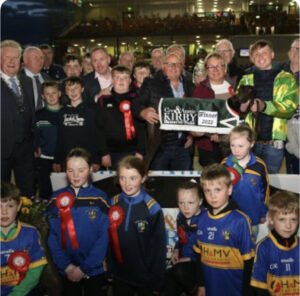 Treaty can sign off in style in Con & Annie Kirby Decider:
Peter Farrell
Kindly sponsored by the McManus Family, the final of the 2023 Con & Annie Kirby Memorial reaches its conclusion later tonight and all eyes will be drawn to Limerick Greyhound Stadium as the latest batch of future stars bid to land the prestigious €80,000 feature.
A competition which is known worldwide in greyhound circles, the Con & Annie Kirby Memorial never fails in producing the most incredible racing action and the 2023 renewal has proved no exception. A quick glance over the previous nine winners of the Kirby will display names such as Roxholme Bully, Cable Bay, Droopys Davy, Droopys Roddick and of course Swords Rex, and the 10th running of the richest Juvenile is arguably the most open yet.
HOW IT UNFOLDED…
Graham Holland may boast 50% of the final line-up later tonight but it was his ace card in the Kirby, Clona Duke, who set the competition alight in the earlier rounds. The RPGTV Juvenile Derby winner went quickest in round one when clocking 28.07 and he raised the bar further in round two as he recorded the fastest time ever in a Con & Annie Kirby Memorial. His 27.95 effort was simply stunning and he firmly established himself as the one to beat going forward. However, as with greyhound racing, Clona Duke made an unlikely exit one week later after a disappointing performance and instead, it was Ryhope Beach, his outright competitor at the top of the betting market, who showed his hand with an impressive 28.05 display. Indeed, some of the times recorded in this year's Kirby have been mouth-watering and the semi finals didn't disappoint. The three market leaders in Ryhope Beach, Bens Teddy and Terezas Mendoza all contested a red-hot opening semi but it was Gaytime Hugo who landed a 10/1 shock as the Pat Buckley-trained duo fell at the final hurdle in their attempts to provide their trainer with a fourth Kirby triumph. Graham Holland also accounted for the second semi final victor as Clonbrien Treaty, who has been a major eye-catcher throughout the Classic, put together back-to-back wins as he posted 28.15 from the front. All in all, the standard of the 2023 renewal has been a level above previous years and tonight's final will no doubt cap off what has been an unbelievable few weeks at Limerick Greyhound Stadium.
A LOOK AT THE FINALISTS
T1 – CLONBRIEN TREATY (Owner: James & Muireann Murphy – Trainer: Graham Holland). The youngster of the line-up and a revelation is this year's Con & Annie Kirby Memorial. The son of Pestana and Clonbrien Millie caught the eye in the earlier rounds as he displayed phenomenal back straight pace to recover from a couple of tardy starts and he has duly brushed up on that inconsistency since the quarter finals. The blue absolutely flew from boxes in last week's semi finals as he posted a rapid 1.25 opening sectional on route to a 15.88 third-bend split and any reproduction of those figures will see him hand Graham Holland back-to-back Kirby triumphs after Swords Rex prevailed in the Classic twelve months prior. Drawn in one, Clonbrien Treaty will definitely make a beeline from the outside early on so it is imperative that he traps in front and if doing so, he could well make the race for himself on the run to the opening bend. *****
T2 – HOVEX TOMMY (Owner: Graham Ashe & Shaun Gresham– Trainer: Graham Holland). The second of the Graham Holland representatives and a pup that has performed admirably throughout the Kirby. The son of Laughil Blake and Emers Velvet was first seen at Clonmel as he contested the Rural Kennel Unraced and he came into that event with a big reputation after posting 28.43 around Shelbourne Park in a qualifying trial. He has since however, gone on to greater things. His best performance in Limerick came in round two as he led home Clonbrien Treaty in 28.27 but he was forced to play second fiddle to his kennel companion last weekend. Drawn in trap two, Hovex Tommy faces a very tricky assignment later tonight with his inside rival certain to move off at traprise and as a result, he will need to produce a flying start and defend the rail if he is to prevail. **
T3 – SCAGLIETTI (Owner: Cheryl Sutcliffe – Trainer: Patrick Guilfoyle). Representing the same connections as the incredible Explosive Boy, Scaglietti is a sensational tracker and crucially, is the most experienced in the line-up with fourteen starts under his belt. The son of Magical Bale and Outdoor Roller recorded victory in the opening round from trap one as he stopped the clock in a brisk 28.21 but trap draws haven't been his ally since. That said, Scaglietti has shown huge ability in behind and this was evident when coming from well off-the-pace to go down by just two lengths in a time of 28.07 at the quarter final stages. However, he too must negotiate the same issue as Hovex Tommy in that he needs to clear Clonbrien Treaty early on. If doing so, make no mistake he is a huge player as he bids to hand his trainer a first Kirby success. ***
T4 – GAYTIME HUGO (Owner: Stephanie O'Connell – Trainer: Graham Holland). The final Graham Holland representative produced a scarcely believable display in last week's semi finals. There is little doubt that the son of Gaytime Hawk and Gaytime Derval has bags of ability but it's fair to say he has been known more so for his strong running attributes rather than his tendency to ping the lids and make-all. Gaytime Hugo defied that logic last time out as he posted a 1.27 opening sectional before stopping the clock in a sensational 28.09. Could this be the catalyst of things to come? If so, he perhaps has enough runners on his inside to avoid the wide-running Clonbrien Treaty and if so, is a leading player from the black jacket later tonight. ***
T5 – RYHOPE BEACH (Owner: Alison Bandurak – Trainer: Michael O'Donovan). Representing last year's winning trainer who guided Stonepark Leo to victory, Ryhope Beach set tongues wagging in Tralee as he clocked 28.12 on debut in the Juvenile Classic. Since then, he has gone from strength to strength and is the joint favourite heading into tonight's decider. His 28.05 quarter final victory is surprisingly his only victory throughout the Classic, however, he up there with the very best when given a clear passage. His trapping has been suspect thus far, but if the son of Droopys Sydney and Calzaghe Jan can put his very best foot forward, he represents a major threat to his rivals. Drawn in trap five, which shouldn't cause him any concerns, should he turn the opener with only a couple of lengths to make up, strap yourself in for a power-packed finish from a greyhound we will be hearing plenty of going forward. ****
T6 – BOGGER LUCKY (Owner: Liam Peacock). A most popular finalist for Liam Peacock, who has produced some of the fastest greyhounds in training over the past couple of years. Callaway Pro Am, Bogger Hunter and Cryptopunk are just some of the offspring that have hailed from the Peacock kennel and it's great to see hard work pay off for an up and coming handler. The son of Run Happy and Bogger Bonnie has sizzling early gears and his chances rest on whether he can produce one of his ping starts and get clear on the outside. Last week's performance was a lot better than the time may have suggested given he was forced to shoot for the inside early on and any slip-ups from the inside runners could see Bogger Lucky dictate. Should this be the case, it will be a case of catch me if you can thereafter. ****
VERDICT – As mentioned, this is arguably the most open Con & Annie Kirby decider since its inception in 2013. In terms if brute pace, Ryhope Beach would be take the vote to come home in front. Michael O'Donovan's charge has unbelievable pace and he looks tailor made for Shelbourne Park's Derby trip later this year. However, on the draw, I feel Clonbrien Treaty will take some stopping. He moved viciously wide from the red jacket last weekend and in turn, he could ultimately make the race for himself should he trap in a similar manner. The penny looks to have dropped in terms of his trapping ability and given his sensational early gears, he represents the most likely winner for Graham Holland and the Murphy Family. In terms of how the race could pan out however, don't be surprised if Bogger Lucky gets involved. He has yet to produce his very best break in this competition but he certainly has that within his armory and has an excellent make-up on the outside. Also selected to make the podium is Ryhope Beach. Despite what looks a tricky draw in five, his talent cannot be ignored and with any type of a clear passage looks certain to get involved. Prediction: 1-5-6
KELLS TO MAKE ALL IN SEAN O'CONNOR MEMORIAL
There is a brilliant €5,000 on offer for the winner of the Sean O'Connor Memorial A1 525 and Kells Dynamo gets the nod to build on his impressive semi final win.
Trained by Thomas Leahy for Seamus Martin, Kells Dynamo is all about early pace and it will attribute he will rely upon once more in this valuable decider tonight. Drawn in trap three, the son of Crash is consistently clocking mid 1.20 sectionals and that alone, will see him round the opening corner in full control. As I Say however, is a threat. Brendan Matthews' charge is arguably the fastest greyhound in the line-up but he has a tendency to leave himself with plenty to do as a result of poor starts. That said, he is much better housed this time around in trap one and he will hold strong claims ahead of the final. Others of interest are Ballymac Samuel, who is the youngster of the line-up as a September whelp, while Old Bill is another who, although facing a tricky draw in five, will be flying from the halfway mark.
GLORIOUS CAN BE BEST IN LIMERICK & CLARE GOBA
There is another €1,500 up for grabs in the final of the Limerick & Clare GOBA A3 525 and Glorious Best looks certain to go close.
Glorious Best was a really impressive winner of his semi final assignment and the Pat O'Connell-trained tracker is the likely favourite ahead of the event. The son of Ballymac Best showed serious pace when taking control at the midway point last time out and he has a lovely make-up in trap two to boot. Of his rivals, Portdrine Magic looks the most likely to cause an upset. Owned by Liam Carroll, the sectional clock suggests that he will lead on the outside and should this be the case, he will look to play catch me if you can in his bid to make it five wins from just thirteen starts. Another of interest is Not Today, who came from last to first in his semi final outing, and he will look to take advantage of any possible trouble in the contest.
SPECTACULAR SUPPORTING CARD
Aside from the final action, there is a sensational card on display at Limerick Greyhound Stadium later tonight and the Knocklong Open 350 is particularly mouth-watering in race three.
All of Ireland's finest speedsters are amongst this field and it's difficult to even predict who will go off favourite. Flashing Willow is fresh off winning the Super Sprint down at Cork and the Tralee record holder is likely to take a bit of stopping from a brilliant draw in six. The Pat Buckley-trained star is far enough away from the abundance of early pace that occupies the three inside traps but he must trap on terms, something which is much easier said than done. Gizmo Cash is multiple track record holder over the sprint trip and he too will carry plenty of support later tonight. In his last outing he absolutely blew the lids down on what was a very slow track and that run alone stands him in good stead ahead of tonight's outing in trap three. The third record breaker in the line-up is Corbrack Prince in one. He produced a stunning effort for Robert Gleeson at Lifford in recent weeks and he is the best drawn animal in the race in trap one. As a result, it is the son of Laughil Blake who gets the narrow vote to prevail. This is however, a real spectacle and the Limerick track record could get quite a fright if any of these greyhounds ping out.
BENS TO BOUNCE BACK
The very next race is an Open 525 contest and Bens Teddy gets the vote to bounce back from his Kirby exit last time out.
Trained by Pat Buckley for Kim Pritchard, Bens Teddy was one of the standout runners in this year's Kirby and his 28.10 performance in round two of that competition outlines his prospects in this contest. Drawn in four, Bens Teddy has a lot of early pacers on his inside, however, he has the pace from the second bend on to pick his rivals off. Of those rivals, the likes of Romeo Hanzo and Deadly Showtime are the likely leaders. Both have stunning gears when on-song and it will be interesting to say how things progress in the early yards. Droopys Nice One also makes her return in this contest for trainer Murt Leahy. A 2022 Irish Greyhound Derby finalist, the daughter of Droopys Sydney is one of the fastest females in training, however, she may need this run in order to shake off any cobwebs on what his first start since December of last year.
CAN BOBSLEIGH DOWN MAGICO?
The Talking Dogs Open 550 is next up in race six and all eyes will be on the 2022 Matchbook Irish St. Leger winner, Bobsleigh Dream.
Bobsleigh Dream set Limerick alight in late 2022 after a series of stunning performances when she looked dead and buried on a number of starts. Her phenomenal power from halfway was a joy to watch and she has continued her fantastic form since, picking up another Classic in the shape of the Irish Cesarewitch at Mullingar in recent weeks. Pat Buckley's bitch clocked a brilliant 28.10 in a trial last weekend at Limerick and she is leading player from trap one later tonight. She will face stiff opposition however, and English Derby Champion Romeo Magico will have other ideas. Graham Holland's tracker is one of the fastest in the land and retains all of his ability despite approaching his fourth birthday. The son of Magical Bale is brilliantly housed in trap two and if getting loose early on, even the power of Bobsleigh Dream will struggle to peg back Romeo Magico.
CRYSTAL TO PREVAIL IN OPEN BITCH 525
With Bobsleigh Dream contesting the Open 550, the Open Bitch race has the look of a match between Bockos Crystal and Raha Mofo.
Bockos Crystal has been one of the most consistent greyhounds in recent months and regardless of whether she is racing against bitches or dogs, she is always contesting at the top of the betting market given her huge talent. That said, she is a different animal when drawn in red and that advantage alone can see her prevail later tonight. The Easter Cup finalist starts and stays, and she is tipped to make every yard from her favoured red jacket tonight. Raha Mofo is without doubt her biggest threat in trap five. Marissa Molloy's bitch, trained by Murt Leahy, is an Oaks Champion and a Galway track record breaker, who is more than capable of stringing this field out. A fast start is essential however, and she must lead Bockos Crystal if she is to come out on top in this contest.
BELLA TO BLOOM IN OPEN 750
The final Open on the card is over the six-bend trip and many of those within the line-up will be more than familiar with one another.
Jacktavern Bella was a recent runner-up in the Irish Cesarewitch at Mullingar behind Bobsleigh Dream and she returns to the six-bend trip as a big player. Graham Holland's bitch recently came from last to first in a 725 at Kilkenny, beating several of these rivals on that occasion, and looks cherry ripe for another strong performance at Limerick tonight. Of her rivals, Pablo Escobark is the most likely to stake a claim. The Karol Ramsbottom-trained tracker is a hugely fast individual but he will need to dictate in this contest if he is to turn the tables on Jacktavern Bella in trap one.