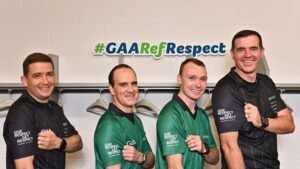 Those who can't respect match officials urged to 'stay away' from Gaelic games:
By John Harrington
GAA Director General, Tom Ryan, has warned there is no place in the Association for those who believe it is acceptable to abuse match officials.
Writing in his Annual Report he admitted that 2022 was a challenging year for match officials and has made it a priority to actively promote a culture of greater respect.
He believes ever member of the Association has a part to play in this, and anyone not willing to make the effort should find different sports to follow.
"The broader challenges we face around match officials are those concerning culture, attitudes and behaviours," said Ryan.
"These are the responsibility of all units of the Association, and dare I say all of us individual members.
"Abusive behaviour – whether in person or online – is unacceptable and it needs to be called out by all members of the Association.
"Any player, supporter, official or member who still believes that the interest of their team is best served by abusive behaviour towards a referee, or indeed anybody, is sadly mistaken.
"If that's the way you think, and if we can't convince you otherwise, then please just stay away."
A review of how serious infractions against match officials are processed has been completed and the fruit of this work will be seen in a number of motions that will go forward to Congress.
Ryan hopes that if those motions are passed they will have a positive impact, but also made the point strongly that individuals and teams must also show more responsibility if the prevailing culture around field discipline is to become a healthier one.
"We still struggle at all levels to accept responsibility for on-field actions, and a culture of challenging proposed penalties around disciplinary matters, often based on technicalities, prevails," said Ryan.
"While we all accept that referees, like players or managers, make mistakes, and that the Disciplinary system should allow for this, it is much harder to accept proposed suspensions being overturned on procedural technicalities, as is so often the case.
"Our rules provide that 'A Referee's Report, including any Clarification thereto, shall be presumed to be correct in all factual matters and may only be rebutted where unedited video or other compelling evidence contradicts it'.
"Case law as established through the DRA concurs: 'The player must provide compelling evidence which contradicts the referee's report, not just provide an 'alternative' or 'reasonable' explanation of what has occurred, but rather must be so convincing as to 'compel' the conclusion that the Referee's Report is factually wrong.'
"I am not convinced this bar is being met in some of the cases I am aware of in recent years. Indeed, the number of Hearing requests at all levels has increased in recent years and the pressure that is being put on the Disciplinary system will become unsustainable unless this changes. We must therefore try to change the culture within the Association."