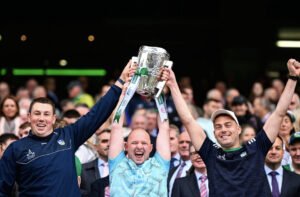 Stats the way you do it… Limerick mastermind Seán O'Donnell taking data and analysis to another level:
Treaty performance analyst continues to underpin their dominance on the hurling landscape with no end in sight
By Michael Verney Independent.ie
He has a mere 371 followers on Twitter/X (@odonnellsod) and very little is known about him but anyone in the Limerick hurling set-up will quickly tell you that their dominance couldn't have manifested without Seán O'Donnell.
Much like Paul Kinnerk is a coaching trendsetter, O'Donnell has taken data and analysis to another level in the GAA en route to building a stunning CV that keeps growing legs every season.
He is far away from the spotlight, perched up high with a bird's-eye view of games behind state-of-the-art cameras, but his fingerprints are all over the all-conquering Treaty.
Limerick stand atop the county hurling landscape while it's no coincidence that Waterford giants Ballygunner are among the best on the club scene, given O'Donnell's involvement.
Frank Flannery, currently with Cork side Carrigtwohill, doesn't take over any team without O'Donnell in his corner and they have formed a successful double act for more than a decade with the likes of Milford (camogie), Oulart–The Ballagh, Ardfert, Duhallow (football), Ardmore and Ballysaggart.
"The first thing is to get rid of the whole stats idea. He's more of an analyst and the difference for me with Seánie compared to all of the rest of them is that he is really a coach behind the camera," Flannery says.
"That's his biggest thing. People would be on about Limerick and the third quarter and I'm telling you, that third quarter comes from him.
"He's able to adjust the whole thing and I'd be lost without him. I often left him do the team talk at half-time. I let him off because he's so good at it and he's very cool, desperate cool. There's a fierce bite to him as well, he'd burst you in two seconds, in a good way.
"He'd have a fair say and I'd be mic'd to him during games. He's gone everywhere with me and anywhere I've had success, he was there."
Flannery hails O'Donnell's game sense and his insatiable thirst for improvement – he recently completed a Masters in Performance Analysis at SETU Carlow and unsurprisingly walked away with first-class honours.
A corner-back as a player with Limerick club Garryspillane – only 10 minutes over the road from John Kiely's Galbally – O'Donnell is a secondary school teacher with geography and history his specialities in Kilfinnane's Scoil Pól.
The 46-year-old also manages the Kildorrery hurlers, where he lives in Cork, as well as juggling many performance analysis roles with other clubs.
A glittering GAA journey started when he was enlisted by Cork senior hurling boss Denis Walsh in 2011, before his talents were utilised by subsequent managers Jimmy Barry-Murphy and Kieran Kingston.
Limerick had been knocking on his door for some time before he eventually answered Kiely's call at the end of 2017 and the rest is history, with five All-Ireland SHC successes in six years.
Cork legend Diarmuid O'Sullivan worked under Kingston and he knew exactly the type of impact which O'Donnell could have in enemy territory, as referenced before the Rebels' 2018 All-Ireland semi-final against Limerick.
"He's excellent at his job. I don't think you could find a better guy in the game of hurling to provide you with the kind of detailed information he can provide you with, and real-time information at that," O'Sullivan said of his talents.
Anthony Nash, the then Cork goalkeeper, hated seeing O'Donnell leave and rued his "massive loss" to their set-up.
"Seán O'Donnell is the GOAT stats man. He is not just that, he gets the game. Seán is going to be an excellent manager or coach of a team eventually," Nash said last year.
"He brought game plans. He brought ideas. They were all based on figures that were correct. it was not that he'd bore you to death. He would pull you away for a minute and a half, show you ten clips that would reinforce it. Job done.
"He understands hurling. He was with us in Kanturk when we won an All-Ireland intermediate (club title).
"He was with Cork, now with Limerick and Ballygunner. I would love to know if there is a medal he doesn't have!"
Another intermediate club All-Ireland title was added earlier this year through his involvement with Limerick city club Monaleen and their manager Eoin Brislane is effusive in his praise of the leader in his field.
"He's top class, he's incredible. I totally look at hurling differently now in the last four years compared to years ago. I'm a totally different manager and coach, we all are since Seánie came on board," Brislane says.
"We look at the game totally differently. There's no rocket science about it, it's common sense, but it's common sense when it's pointed out to you and you see it. We wouldn't be All-Ireland champions without him.
"I've often said this to people: I knew nothing about hurling until I met him"
Brislane highlights his expertise on the set-up for puck-outs, both for and against, as one of his pillars of success as it can be 60 plays or more within a club game, let alone county, and that's something Flannery also pinpoints.
"The big thing for him is the restart. He'll set you up in such a way that you will win the majority of them, for and against. He makes you very organised and very hard to beat," Flannery outlines.
"He concentrates on creating more shots than the opposition and having your forwards tackling more than your backs. That will win you most matches."
O'Donnell is not one for courting any media attention but a 2019 GAA Performance Analysis Seminar in Carlow offered a rare glimpse into his methodologies and how numbers shape Limerick's place at the game's summit.
"When we look at the games that we played last year, in the games that we lost the opposition tackled more than us, and in the games we won we tackled more than the opposition," he said.
"And critically, this difference in numbers was even more evident in the tackles made in the attacking half of the field. Contact tackles in the offensive area of the pitch should be higher than the defensive area.
O'Donnell added: "The average playing time in a game will be between 37 and 41 minutes. If we have the ball for half of that time, then we are going to be without the ball for 19 or 20 minutes.
"What are we doing in that period of time? And this is really important when planning because really, we should be looking at designing half of our training sessions around not having the ball. I'm not sure if coaches always do that."
Flannery should have seen and heard it all from O'Donnell at this stage, but that's far from the case.
"We were there for two hours last night and it only felt like half an hour. I'm with him for 13 years and I'm still learning a bit every night. I trust him with my life, if he says something I'll normally go with it," he says.
Those who place their trust in O'Donnell and are lucky enough to work with him only go in one direction and that's a worrying thought, as challengers try to wrestle Limerick from their throne in 2024.
Photo shows Limerick analysts Kieran Hickey (left), Seán O'Donnell (centre) and Ruairí Maher lift the MacCarthy Cup after the All-Ireland SHC final.