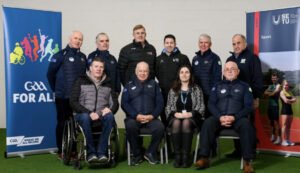 SETU Carlow to host GAA M. Donnelly Wheelchair Hurling/Camogie All Ireland Finals:
By Cian O'Connell
SETU Carlow will host the GAA M. Donnelly Wheelchair Hurling / Camogie All Ireland Finals for the next four years.
This Saturday, October 21, will be the first instalment in the new arrangement with SETU Carlow Director of Sport, Donal McNally, acknowledging the importance of the competition.
"We are delighted to host the event, we have hosted some wheelchair hurling/camogie blitzes back in 2015," McNally says.
"They were really exciting games, they were brilliant to be a part of it. We got a call earlier in the year about the possibility of hosting the All-Ireland Finals for the next four years from '23-26.
"It was something we were really delighted to be asked and we are excited now. The time has come around so quickly it is hard to believe we are at the All-Ireland Final stages. We are really excited.
"In terms of sport here in the university over the last number of years we have developed a good sporting tradition.
"We do a lot of work with the Irish Wheelchair Association, we do a lot of para-athletics and basketball. When the opportunity for the wheelchair hurling and camogie finals came about, we were really excited to get on board to support it."
Photo attached
The GAA Wheelchair Sports Development Day at Croke Park took place in March. Back row: GAA Games for ALL Connacht representative Denis O'Boyle, GAA Games for ALL Connacht representative Tim Hynes, Ulster regional development officer Paul O'Callaghan, SETU Carlow sports director Donal McNally, GAA Games for ALL Leinster representative Brian Carberry, and GAA Games for ALL Leinster representative Pat Lynagh. Front row: GAA Games for ALL players representative Pat Carty, GAA Games for ALL chairperson Brian Armitage, GAA diversity and inclusion officer Geraldine McTavish, and GAA Games for ALL Munster representative Gerry McNamara.
As a third level institution SETU Carlow remains eager to develop academic sporting programmes and players in a plethora of games. "There has been significant investment from what was IT Carlow and is now the university," McNally responds.
"Certainly in the last 14 years, year on year there has been new developments, you couple that with excellent academic programmes, we've really found a lot of sporting talent are making their way to study on the Carlow campus here at SETU and the Waterford campus too.
"We've been fortunate that our stock has risen a little bit. We have been quite competitive in terms of the Sigerson and Fitzgibbon, but we have been making great strides with our Ladies Football and Camogie too. It is probably a result of investment in facilities and also obviously a fantastic academic programme."
Occasions such as the GAA M. Donnelly Wheelchair Hurling / Camogie All Ireland Finals are helpful for students too according to McNally. "This is an opportunity for us to engage with the community in initiatives and events like these," he says.
"We can provide opportunities for our students coming through the sports programme, in particular. You have opportunities to get involved, volunteering.
"It gives them an opportunity to build their CVs so when they go out after post graduation they have got a skillset and experiences built up during their time in college that has made them more employable.
"Hopefully we can continue to support external groups that come in. It is also providing us opportunities to give students opportunities they will need when they go into the workplace. Hopefully we can continue to do that and the students continue to get good opportunities."