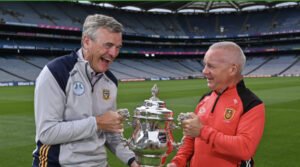 Preview: Tailteann Cup Final – Meath v Down
Saturday 15th July
Tailteann Cup final
Down v Meath, Croke Park, 3pm (RTE)
Meath have made two changes to their semi-final winning teams for Saturday's Tailteann Cup Final.
Meath manager, Colm O'Rourke, has drafted in midfielder Ronan Jones and wing-forward Daithí McGown into his XV in place of Cathal Hickey and Jack Flynn.
Meanwhile, Down have unsurprisingly kept faith with the team that were so impressive in their big semi-final win over Laois.
When these two teams met in the group phase of the competition, Meath won a tight match courtesy of two late points.
Down simply weren't clinical enough that day, kicking 17 wides, but you couldn't fault their finishing in the Tailteann semi-final when they banged eight goals past Laois.
"We'd take somewhere in the middle on Saturday," Down assistant manager Mickey Donnelly told GAA.ie this week.
"If we could score four goals and eight wides, that would be alright. If only life was that simple. I just think credit to Meath on the day, they were really well set up.
"They defended in numbers and they made it really, really difficult for us to penetrate. I think Parnell Park plays fairly narrow as well. The lads also lost the U-20 semi-final at Parnell Park so there's maybe a correlation there in terms of the way we want to play football and maybe Parnell Park doesn't make it that easy to a certain extent.
"I think people were a wee bit disparaging about Meath after that, we kicked 17 wides but Meath had 11 or 12 wides as well.
"So we have a huge challenge on Saturday. We've got to be a lot more efficient and we've got to do an awful lot more to close out Meath's full-forward line as well."
After an inconsistent League campaign and early exit from the Leinster Championship after defeat to Offaly, Meath have used to Tailteann Cup to build a new-look team.
They've blooded a host of championship newcomers, and team manager Colm O'Rourke is enthused by the progress they've made on the way to Saturday's Final.
"These players needed time and more and more games, that's what the Tailteann Cup has given us," he says.
"They have definitely improved significantly, the five or six lads that are going to start on Saturday have improved a lot since the first day that they played against Tipperary.
"We obviously defensively got caught a lot during the League but we have tried and tried and worked hard and hard on that but if you have three or four new players in your backline, you're going to struggle to cement it as a group.
"But we're getting there and things are working better. We weren't being naive in the beginning and thinking that we were going to play a rollercoaster like game where we were going to all pour forward, it wasn't like that.
"It's just that it's taken quite a while for our defensive structure to cement in but it is getting better. We do want to play a fairly fast-moving kicking game if at all possible but it doesn't always work like that. If there's 15 men behind the ball, we're not going to be kicking it in high and hoping for the best.
"We weren't great on turnovers during the League. We were poor on that, which showed we weren't tackling well. We have improved on that. We weren't great on opposition kick-outs during the League, we would hope to have improved on that. They're the fundamentals."
DOWN: Niall Kane; Patrick McCarthy, Pierce Laverty, Anthony Doherty; Miceal Rooney, Ceilum Doherty, Daniel Magill; Daniel Guinness, Odhran Murdock; Shealan Johnston, Liam Kerr, Rory Mason; Eugene Branagan, Pat Havern, Ryan Johnston. Subs: John O'Hare, Shane Annett, Ryan McEvoyRoss Carr, Patrick Branagan, Donach McAleenan, Gerard Collins, Andrew Gilmore, Conor Poland, Peter Fegan, Ryan Magill
MEATH: Seán Brennan; Adam O'Neill, Ronan Ryan, Harry O'Higgins; Donal Keogan, Padraic Harnan, Seán Coffey; Ronan Jones, Conor Gray; Daithí McGowan, James McEntee, Jack O'Connor; Jordan Morris, Mathew Costello, Aaron Lynch. Subs: Harry Hogan, Ciarán Caulfield, Cillian O'Sullivan, Cathal Hickey, Jack Flynn, Eoghan Frayne, Michael Flood, Donal Lenihan, Diarmuid Moriarty, Keith Curtis, Ben Wyer