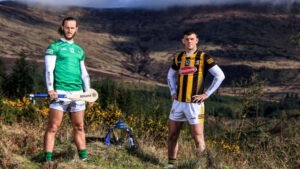 Preview: Allianz Hurling League D1 Final – Kilkenny v Limerick
Sunday 7th April
Allianz Hurling League Final
Kilkenny v Limerick, Páirc Uí Chaoimh,
Kilkenny and Limerick have named strong selections for tomorrow's Allianz Hurling League Final in Páirc Uí Chaoimh.
Both teams have named 11 starters from last year's All-Ireland Final, though Limerick will arguably field a more dangerous looking team on Sunday than they did then because both Cian Lynch and Peter Casey are fit to start.
Adrian Mullen makes his first start of the year for the Cats while TJ Reid is included on the subs bench and also in line for his first appearance of the season.
Kilkenny should be pleased with themselves for making it to this League Final because the expectation was that it might take some time for new manager Derek Lyng to comfortably fill brian Cody's sizeable shoes.
Instead he's done a sterling job so far in his first season. Not only have they made it to the last two in the League, they've done so without their Ballyhale Shamrocks contingent for most of the competition.
It's tempting to say this game is bonus territory, but Kilkenny captain Eoin Cody isn't inclined to agree.
"I don't know if you'd call it bonus territory, it's a League Final," says Cody. "I wouldn't say bonus territory, I'd say we've hurled and hurled well.
"Maybe a lot of media outlets think we haven't hurled well, but we're after winning every game except one. Even in that Tipp game Tipp dominated, but Kilkenny were so close to come back and winning that game.
"It's not about how you win them, it's just about winning them. That's what we do in Kilkenny, we got out and it doesn't matter how good we play or how good the other team plays, at the end of the day it's the team that has the most points on the scoreboard.
"I think we're deservedly where we are. It's another game and we'll give it a crack again."
As for Limerick, you just know they'll be up for this challenge because that's their default mindset.
They've won four All-Irelands in the last five years, but players like Tom Morrissey are still ravenous for success despite all they've already achieved.
"It is a national title and there aren't that many competitions that we play in," says Morrissey. "There is only an opportunity to get four medals a year. My view would always be to get as much as you can while you can. We're competitors. Whatever competition you are in, you want to win it.
"If you're picked to play you're going to go out to win. Managers are going to have that rotation element, that they want to get as much of the squad sufficient game time and get a look at lads.
"That's going to be there but I know John has a policy that you're only getting game time on merit, you have to be playing well in training or with your college team. So when you're selected you want to make the most of that time you have, so you get to put in a proper claim for a position come the latter stages of competitions."
Kilkenny: Eoin Murphy; Mikey Butler, Tommy Walsh, Padraig Walsh; Richie Reid, Huw Lawlor, David Blanchfield; Conor Fogarty, Paddy Deegan; John Donnolly, Adrian Mullen, Billy Ryan, Billy Drennan, Martin Keoghan, Eoin Cody.
Limerick: Nickie Quaid; Sean Finn, Dan Morrissey, Barry Nash; Diarmaid Byrnes, Declan Hannon, Kyle Hayes; Darragh O'Donovan, Barry Murphy; Gearoid Hegarty, Cian Lynch, Cathal O'Neill, Aaron Gillane, Seamus Flanagan, Peter Casey.
HOW THEY REACHED THE FINAL:
KILKENNY
Kilkenny 1-18 Antrim 0-15
Tipperary 2-24 Kilkenny 1-21
Kilkenny 0-34 Laois 1-18
Kilkenny 2-25 Dublin 1-17
Kilkenny 0-18 Waterford 0-16
Kilkenny 2-22 Cork 0-22 (semi-final)
Played 6, Won 5, Lost 1.
Average For: 1-23 Average Against: 1-18
Top Scorers
Billy Drennan……2-65 (0-47 frees, 1-0 pen, 0-5 '65s')
Martin Keoghan…..2-10
Eoin Cody………..2-7 (0-2 frees)
John Donnelly……0-12
Paddy Deegan……..0-6
Billy Ryan…….0-6
LIMERICK
Cork 2-17 Limerick 0-22
Limerick 1-27 Clare 2-18
Limerick 0-24.Galway 0-19
Limerick 1-27 Westmeath 1-15
Limerick 2-20 Wexford 0-15
Limerick 1-28 Tipperary 0-25 (semi-final)
Played 6, Win 5, Lost 1
Average For: 1-25 Average Against 1-18
TOP SCORERS
Tom Morrissey….0-24 (8 frees)
Micheál Houlihan ..0-17 (12 frees)
Aaron Gillane…….1-13 (11 frees)
Donnacha O Dalaigh….1-10
Diarmaid Byrnes………0-12 (8 frees, 1 '45')
ALLIANZ GAA HURLING LEAGUE ROLL OF HONOUR (DIV 1)
19*KILKENNY(1933-62-66-76-82-83-86-90-95-2002-2003-2005-2006-2009-2012-2013-2014-2018-2021*)
19 – Tipperary (1928-49-50-52-54-55-57-59-60-61-64-65-68-79-88-94-99-2001-2008)
14 – Cork (1926-30-40-41-48-53-69-70-72-74-80-81-93-98)
13 – LIMERICK (1934-35-36-37-38-47-71-84-85-92-97-2019-2020)
11* – Galway (1932-51-75-87-89-96-2000-2004-2010-2018-2021*)
4 – Wexford (1956-58-67-73)
4 – Clare (1946-77-78-2016)
4 – Waterford(1963-2007-2015-2022)
2 – Dublin (1929-39-2011)
1 – Offaly (1991)
*Galway and Kilkenny shared the title in 2021
PREVIOUS KILKENNY-LIMERICK LEAGUE FINALS
Kilkenny and Limerick have met in five previous League finals, with Kilkenny winning three to Limerick's one while one was drawn. Their most recent meeting was 17 years ago when Kilkenny won by six points.
2006: Kilkenny 3-11 Limerick 0-14
1983: Kilkenny 2-14 Limerick 2-12
1947: Limerick 3-8 Kilkenny 1-7 (replay)
1947: Limerick 4-5 Kilkenny 2-11
1