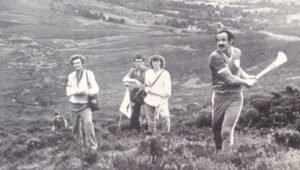 Pat Hartigan recalls Poc Fada heyday:
By John Harrington
The 2023 M. Donnelly All-Ireland Poc Fada Finals take place in the Cooley Mountains on Monday.
Limerick hurling legend, Pat Hartigan, will take a keen interest in the competition as he always does since his own heyday when he won All-Ireland titles in 1981 and 1983.
Those achievements saw him inducted in the Poc Fada Hall of Fame this year, along with Stephanie Gannon who won the inaugural women's Poc Fada back in 2004.
The every-enthusiastic Hartigan has crystal clear recollections of what he regards as two of the most special days in his sporting life.
What made Hartigan's wins all the more notable was that the five-time All-Star was no longer playing hurling due to injury, so the Poc Fada gave him a competitive outlet that he relished.
He prepared assiduously for the challenge, doing all he could to mimic the difficult conditions he'd encounter in the Cooley mountains.
"Two weeks before the '81 final I came up to Dundalk and I went around the mountain for a practice," recalls Hartigan. "I wasn't sure of where the markings would be for the All-Ireland Final so I needed a caddy for all intents and purposes to mark my ball ahead.
"What I learned at that practice session was that a lot of my shots had to be hit from a standing position. You couldn't run and hit the ball because of the height of the heather and furze on the mountain.
"So, for the two weeks before the final itself we had a field at home which was full of felestrums.
"I used to go down to that wet land and go into it and hit the ball there. I had only one sliotar and I'd stand inside in that wet field with a pair of wellington boots and I'd hit out of that for maybe two hours a day. An older brother of mine would hit the ball back to me.
"If you don't know what felstrums are, they're a high growing weed that you'll find in boggy, wet land. So, I spent many hours every day for 10 days before that All-Ireland Final, hitting the ball out of that.
"Whatever about hitting the ball well, it was very important you never missed a shot. Because missing a shot would drop 70 or 80 yards. So I really always focused on the contact when striking from a standing position and I took that to the mountain with me.
"I would honestly say that preparation in those two weeks was the groundwork for winning the All-Ireland in '81."
Hartigan won convincingly in '81, completing the course in 85 pocs which was two less than his nearest competitor. The joy he felt at the achievement is still with him today.
"I couldn't say how great a feeling it was," he says. "It was a fine day on the mountain and I had been staying with an uncle of mine who was a parish priest, Fr. Henry Devlin, in Faughart just outside Dundalk.
"I remember at the function that night getting the Corn Setanta, and it was such a great feeling coming homethat night with my beautiful All-Ireland medal. I was an All-Ireland champion and nobody could take that from me.
"I remember staying with Fr Henry and going up to the north. My mother was with me as well, she was from Ardboe in Tyrone, and we spent a few days around there meeting my uncles and aunts, and they were all intrigued that their nephew had gone up to the Cooley mountains and captured it.
"Even to this day whenever I'm going north, anytime I'm coming through Dundalk and I look across at the Cooley mountains it brings tears to my eyes, the memories that I have, and the pleasure and enjoyment and utter joy of winning an All-Ireland. I won an All-Ireland with Limerick in 1973 but I don't think I had the same elation as when I won the Poc Fada."
Hartigan won the title again in '83 and was runner up on two more occasions, so is a very worthy recipient of the Hall of Fame award which means a lot to the South Liberties club-man.
"You have no idea the honour I feel for receiving the Hall of Fame," says Hartigan.
"To be invited to Croke Park by the Poc Fada committee and be presented with it 42 years after winning the Poc Fada for the first time is an incredible feeling.
"I'm so honoured to be a Poc Fada Hall of fame recipient, I just cannot put it into words, and I tend to be a quite expressive person! But whatever I could say just couldn't sum up the feelings I have. It's beyond my wildest dreams."