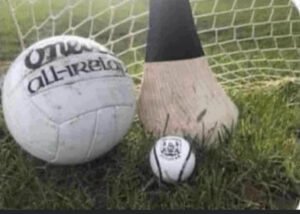 Pallasgreen GAA Club Notes:
U13 Footballers Brave in Co Final:
That rare co final double eluded this brave and gallant U13 Footballers last Saturday morning in Rathkeale. Playing city side St Patricks who looked physically stronger proved too much to handle on the day. We had our moments but found it difficult to breach a stubborn defence. With the elements favouring St Patrick's in the first half they raced into a 3-5 to nil lead. The deficit proved too much to peg back against a formidable side, but the team never gave up and battled all the way to the final whistle to leave the scoreline St Patrick's 3-7 Pallas 1-0. Team; J Stokes, J O'Dwyer, O Gleeson, B Bohan, P Blackwell, P Bourke, P Hourigan, N Deere, S McNamara, C Hanley, E Stokes, N Cosgrave, S Hourigan, J Foley, JM Ryan; Subs; C Hourigan, D Kennedy, D Lane, A Smalle, E Erskine, E Foley, J Kirby, L Hourigan, M Dillon, M O'Dwyer, D Flanagan, J Bohan, B Erskine.
Ladies Footballers:
The Pallasgreen ladies footballers had a comprehensive win over Oola last Saturday evening in Cappamore. Playing some nice brand of football they raced into a 3-9 to 0-4 lead at half time. The second half they added another 1-7 to finish winning by 4-16 to 0-5; Team; L Butler, L McGuinness, C McNamara, A Connolly, A Rodahan, A Looby, N Mulcahy, S Dillon(0-4), A Dillon(1-0), G Layden(1-1), C Butler(0-4), E Hourigan(1-4), R McCarthy, C Ryan(1-1), S McGuinness. Subs; R O'Connell, L Franklin(0-1), K Ryan(0-1), S Roche, H Ryan, E Connolly.
All Ireland Hurling Final on Big Screen:
Re-live the 2023 All Ireland Hurling Final on a big screen Limerick's historic 4 in a row in the refurbished community centre on Friday September 29th at 7pm. Liam MacCarthy Cup will be there along with some members the of Limerick team. Also on the night there will be an exhibition of Limerick's incredible journey in-conjunction with the Limerick County Library. Wear your colours again to experience the magical day of Sunday July 23rd 2023. All are welcome.
Intermediate Hurling:
Difficult conditions made the last round of the Intermediate hurling championship a battle, but Bruree adapted better to win on a scoreline of 2-14 to 0-4. Team; C Roche, D O'Dea, L O'Dea, A Moloney, K O'Donnell, C Ryan, P Franklin, T Franklin, C O'Dwyer, T Hourigan, K Barry, R Corbett, S McCormack, PJ Butler, O Roche. Subs; P O'Dwyer, A Greene, A O'Sullivan, S Pearce.
Pallasgreen LGFC:
Pallasgreen LGFC on going clothes recycling collection. Clean dry reusable clothing, handbags, paired shoes, belts & linen. Drop outside dressing room in GAA pitch any Monday evening before 7pm otherwise drop to Noreen Kennedy (087 3124396) in Brackile or contact Noreen for any large collection.
Pallasgreen GAA Lotto Results:
No winner Monday September 11th draw. Numbers drawn were: 10,19,24,25. Lucky Dips; Dick Ryan, Gerry Gammell, Eight C/o Bridie Greene, Cameron McCoy, Mattie O'Connor. Lotto is now, online, please see Facebook page for further details.
Knockane GAA Lotto Results:
No winner Monday Monday September 11th draw. Numbers drawn were; 5,19,22,27. Lucky Dips: PJ Quirke, Marie Ryan, Brian O'Connell, Kath McCarthy. Sellers Prize. William Ryan