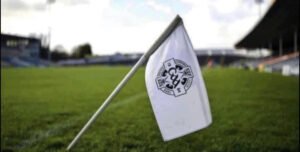 Pallasgreen GAA Club Notes:
All Ireland Ladies Football Final:
Wishing Sarah Dillon and the Limerick ladies football team and management the very best of luck when they compete in the All Ireland Junior Football final this Sunday in Croke Park at 11.45am against Down.
Intermediate Hurling Championship:
This first round tie versus Croagh/Kilfinny in Mungret last Thursday evening will remembered for the last ten minutes. Pallas were in the game with four points behind but suddenly the game imploded and lost on a scoreline of 2-19 to 0-12. Infairness the scoreline didn't reflect the closeness of the game but with a lot of chances that went a begging the game could have been a lot closer. Team; C Roche, L O'Dwyer, L O'Dea, D O'Dea, C O'Dwyer, K O'Donnell, P O'Dwyer, C Ryan, P Franklin, R O'Donnell, T Franklin, T Hourigan, K Barry, PJ Butler, C McCormack. Subs; P Roche, A Greene, R Corbett.
2nd round V Hospital/Herberstown in Kilteely this Friday 11th at 7pm.
Golf Classic:
The club will hold its third annual Golf Classic in Ballykisteen Golf Club, Monard Co Tipperary on Friday 18th August. The format will be a Champagne Scramble. With some fabulous prizes on offer including Fourballs at some of Ireland's leading golf courses. Team of 4 €200 which includes Golf and 2 course meal in the Pallas Bar & Bistro. For timesheet please contact Jonathon Deere 086-3722601, Gillian Deere 087-2246877 or email; pallasgreengaagolfclassic@gmail.com. Facebook Pallasgreen GAA Golf Classic. Payment can be made by Revolut R 087 2843693.
Pallasgreen LGFC:
Pallasgreen LGFC on going clothes recycling collection. Clean dry reusable clothing, handbags, paired shoes, belts & linen. Drop outside dressing room in GAA pitch any Monday evening before 7pm otherwise drop to Noreen Kennedy (087 3124396) in Brackile or contact Noreen for any large collection.
Pallasgreen GAA Lotto Results:
No winner Monday July 31st draw. Numbers drawn were: 5,12,12,18 . Lucky Dips; Lucky Dips; Mary Hourigan, Michael Hally, Shane Ryan, Kate O'Dwyer, Marie Gammell. Lotto is now, online, please see Facebook page for further details.
Knockane GAA Lotto Results:
No winner Monday July 31st draw. Numbers drawn were; 3,12,20,26. Lucky Dips: Geraldine Burke, Catherine Gammell, Fr Joe Tynan, Joe Barry. Sellers Prize. Noreen Ahern.
CLUB Limerick Draw:
The club are promoting the Club Limerick Draw for 2023, for €10 you have a chance of winning the top prize each month of €10,000 plus exclusive prizes and other valuable prizes. For register and more details please contact club secretary Margo Greene.