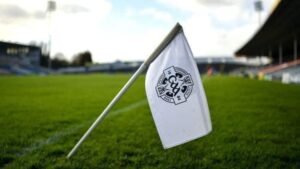 Pallasgreen GAA Club Notes:
Christ McMahon RIP:
When news filtered through of the passing of Christy McMahon a sense of shock vibrated around this great community. Christy was one of these characters, natural warmth and affectionate, he was appreciated by his immense experience and integrity. The GAA was his life and he left an indelible mark in Pallasgreen. He was a proud Pallasgreen man. You could say he had two families one at Linfield and the other at Pallasgreen GAA
In terms of contribution to the GAA both on and off the fields, few can equal the contribution of Christy. Christy played all levels up to 21. However, it is at administration level that Christy will be remembered. He became treasurer of the juvenile club that was inaugurated in Centenary year of 1984, alongside chairman the late Maurice O' Brien. He held that positon for eight years 1984 to 1991. From there he graduated to the senior club where he became chairman for three years 1990 to 1992. Other positions followed within the club registrar and vice chairman for six years.
Christy married Hannah Long of Herberstown and reared five children, Jimmy, Martin (RIP), Chris, Trevor and Lorraine, it was no surprise that the boys followed their father's example and became immersed in the club.
Before all his administration work, he was the driving force behind the dressing room development under the leadership of Pat Cronin that was built by voluntary labour. Whenever there is hard work to be done around the field, Christy is always first there to lend a hand. The unselfish work he put in can never be quantified.
Christy is one of the best known and most regarded personalities anywhere gaelic games are played within the county. He is a man who seldom seemed never to be in bad form despite being sorely provoked at times by the antics of some errant referee. Still when the game is over Christy would inevitably be in forgiving form. On the playing fields, he had the midas touch as Pallasgreen under his selectorship were very successful. After a lapse of twenty years Pallasgreen had won the 1988 county junior hurling championship defeating Dromcollogher/Broadford in Killmallock, his fellow selectors were Mike O' Grady, Willie Shanahan and trainer John Stokes of Oola. The following year in 1989, he was a selector with the Limerick Junior hurling team. Millennium year in 2000 was another crowning year for Pallasgreen when they captured their first ever-premier minor football title. Christy was again at the helm and assisting him was Martin Hayes, Liam Long, Mike O' Grady and his nephew James McMahon. It's not surprising to see Christy at the field whenever there is training, matches juvenile or adult to keep an eye on the clubs prospects, hoping to bring future glory to the Parish. His ever presence at the wall of the GAA pitch looking on be it at training, underage and adult games will be sorely missed. But since last Thursday there will be a void at that wall, a void that will not be easily replaced His contribution to Pallasgreen GAA is immense and as a result the club elected him vice president in 2003.
His lifelong involvement is an inspiration to his fellow members. It's men like Christy that make the GAA the great organisation that it is today. His unselfish service to the GAA was rewarded in 2011 when he received a Shean Ghaeil Award for his outstanding service to this great organisation. To Hannah, Lorraine, Jimmy, Chris, Trevor and his extended family, Pallasgreen GAA Club extends its sincere sympathies. Christy McMahon is now gone to his eternal reward where he will meet his son Martin, brother, Tony and his other family members where the GAA will continue eternally, the goalposts may have moved slightly but the memories we will make, we will embrace, and as the years goes on we will retrace.
Pallasgreen GAA Club formed a guard of honour at both the removal where it paused outside the GAA pitch and burial. A large guard of honour led by alone piper escorted the hearse to his final resting place in Old Pallas cemetery. After the pipers lament, former chairman and Vice President Pat Cronin delivered the graveside oration. The final act was left to Michael Ryan who sang "Where the Mulcair River Flows"
May the green sod of Old Pallas cemetery rest lightly on his gentle soul. May he rest in peace.
Ar dheis de go raibh a anam dilis.
Scor na nOg Munster Final:
Congratulations to the juvenile Scor instrumental music team who have qualified for the Munster Final which takes place this Saturday April 15th at 2.30pm in Ovens Co Cork. The group consist of Lee Kirsch, Eabha Hourigan, Paudie Blackwell, Hannah Blackwell and Karen Harty. We wish them the best of luck.
Pallasgreen GAA Lotto Results:
No winner Monday April 3rd draw. Numbers drawn were: 1,6,16,26. Lucky Dips; Lis Ryan, Matt Ryan, Paudie O'Dwyer, Dan Quinn, Jenna Gammell. Lotto is now online, please see Facebook page for further details.
Knockane GAA Lotto Results:
No winner Monday April 3rd draw. Numbers drawn were; 12,19,20,28. Lucky Dips: Donnocha Cronin, Mike O'Connell, Matt Ryan & Scobie. Sellers Prize; Simon Ryan.
CLUB Limerick Draw:
The club will once again promote the Club Limerick Draw for 2023, for €10 you have a chance of winning the top prize each month of €10,000 plus exclusive prizes and other valuable prizes. The March draw consist of a two night stay in An Grianan Hotel Donegal and more. For register and more details please contact club secretary Margo Greene.
Membership/Registration:
Registration to the club is now open for all members for players and non players. For players this is a requirement before training resumes. For information please contact club secretary Margo Greene secretary.pallasgreen.limerick@gaa.ie