Newcastle West GAA Club Notes: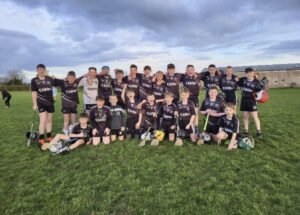 Lotto – NCW GAA Lotto Hits €13,600:
Last week's Lotto was not won, and draw took place in 'Ned Kelly's Bar'. Numbers were 10,13,22,29. The lucky dip winners were Nicole Nix, Steven Noonan, Monica Cullane,Noel Howard and Alice Daly.
Results 10th April. Draw in 'The Central Bar'. Numbers were 2,6,10,21. The lucky dip winners of €40 were Gearoid Whelan, Jerry Scanlon, Tony O'Connor, Liam Moloney and Breda Cahill. Last week's Lotto was held in 'Whelan's Bar' on Monday 17th. The numbers were 4,15,18,19. Lucky dip winners of €40 are: Nora Sammon, Tom Butler, Archie Madigan, Julianne McAuliffe and Joseph Lee. Next week's Lotto will be in 'The Silver Dollar on Tuesday 2nd of May. Thank you for the continued support of the Lotto which provides vital funds for the club. Lotto can be played online @ NCWGAA.COM.
Results:
Bon Secours Senior Football League
Newcastle West 0-11
Ballysteen 01-05
Our footballers were out in action last Saturday week against Ballysteen.
Whilst NCW were playing against a very strong breeze in the first half, Ballysteen played very defensively which led to a low scoring first half overall. Michael Quilligan got lobbed for a goal after a turnover before half- time which saw Ballysteen ahead 1-03 to 0-03. A much better second half for Newcastle West saw us win comfortably in the end. Eoin Hurley scored good frees from range with Niall McAuliffe, Brian O'Sullivan, Conor Walker having good games also. Ross Donavon, as full forward won two scored frees in the first half and played very well overall.
Team: Michael Quilligan, Michael Cremin. Brian O Sullivan (1 pt) Michael Blashkiv, Lee Woulfe, James Kelly, Steven Brosnan, Todd Donovan, Joey Healy Conor Walker, Tomas Quilligan(4 pts), Niall McAuliffe ,Eoin Hurley (5 pts F), Ross Donovan and Jack O Connor (1 pt) . Subs Aaron Mullane for Lee Woulfe, Daniel Normoyle for Ross Donovan, Leon Barry for Joey Healy, Sean Murphy for Niall McAuliffe.
Bon Secours Senior Football League
Newcastle West 0-07
Rathkeale 1-05
This game took place last Friday against Rathkeale. A low scoring first half saw NCW take the lead at 0-5 to 0-3 at half time. NCW struggled to gain a foothold in the game overall with too many wides and Rathkeale finished with 1-05 to 0-07 on top by just one point. Referee was Johnathan Hayes.
Senior Bons Secours West Senior Hurling League:
Newcastle West 0-20
Knockaderry 2-12
A two-point win over Knockaderry was the first win in the League with now this win and two draws in hand in the League to date. Well done to the boys.
Senior Bons Secours West Senior Hurling League:
Newcastle West 1-16
Castlemahon 0-15
Last Tuesday Newcastle West were out against Feohanagh in Quaid Park. Newcastle West looked the better team from the get-go. Good performances from John Whelan, Michael Cremin, Conor Walker, Eoin Hurley, Evan McMahon and Thomas Quilligan.
Upcoming Senior Fixtures:
You can look up all our fixtures/results https://www.ncwgaa.com/fixtures
Please note fixtures can change from going to print so checking website on day of match is advisable.
Senior Bons Secours West Senior Hurling League
Newcastle West v Croagh Kilfinny in Newcastle West at 7pm on Friday 28th April.
Bons Secours West Senior Football League
Newcastle West v Fr. Casey's on Tuesday 2nd May in Newcastle West at 7.30pm. Referee Donnacha O'Callaghan
Game against Dromcollogher due to be played on Monday 23rd NCW given W/O.
Junior Bons Secours West Junior Football League
Newcastle West v Croagh Kilfinny in Newcastle West at 7pm.
County Updates:
U20's Football Championship
Cork 2-14
Limerick 0-06
EirGrid Munster U20 Football Championship saw Limerick take on Cork in Pairc Ui Chaoimh last Monday evening. Unfortunately, the game didn't go well for the team as Cork dominated the game. Emmet Rigter and Aaron Neville represented the club. Hare luck guys. Referee was Niall Quinn.
Electric Ireland Munster Minor Football Championship:
Limerick 4-16
Clare 0-15
A great win in Clare in Milltown Malbay against Clare last Thursday night. Our club man Andrew Lyons was reinstated on the team and made a huge impact with 02-04 scored. The bear was back in the square again. Well done to Andrew and his teammates.
Oneills.com Munster U20 Limerick Hurling Championship Round 4:
Limerick 0-16
Tipperary 1-15
Club men involved were Ethan Hurley and Con Hayes. Too many wides in the first half saw the boys playing catch up all through the second half. Came into it in the second half and showed their true worth but unfortunately it was too late, and they were pipped at the post by a pint. Hard luck boys. Nicky Barry Refereed.
Munster GAA Football Senior Championship Semi Final:
Limerick -016
Clare 1-16
This game was on in TUS Gaelic Grounds last Saturday night at 7pm against Clare. Liam Devenney referred. A gallant effort by the boys for sure but unfortunately the game finished with the boys one point behind. Hard luck to all the Limerick team, especially our clubmen Iain Corbett, Cian Sheehan and Ruadhan O'Connor.
Championship Hurling Kicks off:
Limerick 1-18
Waterford 0-19
All roads led to Thurles for a much-anticipated start to the season against Davey Fitzgerald's Waterford. All were looking forward to seeing what box of tricks Davey Fitzgerald would produce and to the most part Davey got the tactics right (albeit for the long high puck out in the second half). Limerick were just a little off the ball at times, first touch not as sharp, few stray passes and even some looked a little heavy on the legs. Declan Hannon coming off had an impact also. Even with Limerick not playing their best and Waterford throwing everything at them a fourteen-man Limerick still managed to secure the first victory in the championship by two points. A good result all things considered and well-done Limerick. Referee was Liam Gordon.
Juvenile Result:
You can look up all our fixtures/results https://www.ncwgaa.com/fixtures
U17 Hurling walkover conceded to Granagh Ballingarry Croom.
U15 Hurling v Adare refixed provisionally from Mon 24 to Wed 26 @ 7pm in NCW.
U13 Hurling v Belville Gaels postponed to a later date due to confirmation in Castlemahon.
U11 Football v St Kierans goes ahead.
Limerick U14 Hurling Academy:
Congrats to Kian O'Keeffe and Thomas Hanley who played with Limerick U14 v Tipperary and Carlow last Saturday (see photos attached; copied from LimerickGAA facebook)
Limerick U15 Football Academy:
Best of Luck to Rory Vaughan for his upcoming match (Saturday 29th) with Limerick U15 Footballers who take on Galway in Claregalway at 11am.
U15 Football Match Report:
Mr. Binman U15 Football Championship Division 1A
Monday April 17th in Coolcappagh
Newcastle West 1-08 St Kierans 3-07
With a halftime scoreline reading 0-03 to 3-05 we needed our U15 footballers to dig deep last Monday night in Coolcappagh. If we had a few more minutes at the end and just the smallest bit of luck there's no doubt we could have done it but it wasn't to be despite the heroic effort in the second half. Aside from digging deep there's a huge number of positives to take from the match. Our captain in goals Charlie Moore made some outstanding saves and his kickouts are excellent. Our backs played very well with Aaron Mullenger and Evan Crowley the pick of the defensive unit. Having made some positional switches at halftime we completely dominated the second half moving the ball well out of defence up to the forwards and created a huge amount of scoring chances, including an outstanding goal from Kian O'Keeffe. We were unlucky not converting several other odds-on goal chances, denied by the crossbar and an inform keeper on at least five occasions. Huge credit is due to the attitude of the team and how positively the lads reacted in the second half. The coaches will iron out a few things in training and we look forward to our next fixture at home to Adare on May 1st.
U13 Mr. Binman U13 Hurling Championship Division 3B
Newcastle West 01-06
Killacolla Gaels 01-03
Newcastle West played Killacolla Gaels in Ballynagran last Thursday evening. Well done to the team who had their first competitive hurling game. It was a very exciting game between two very even teams with Newcastle West being the eventual winners with a scoreline of 1-06 to 01-03. Our young magpies showed bravery and commitment form start to finish. Well done to the young players and coaches involved including Evan Egan, Aidan McMahon, Michael Dowling, and Clair Finnegan.
U15 Feile Peil took place in Glin last Saturday. A super effort from the boys. Slow to start but finished on a high. Had the measure of St. Kieran's but couldn't convert possession to scores and lost by a goal Lost to Dromcollogher/Broadford but finished on a high winning our final match against Shannon Gaels. Well done to the players and the coaches Brian Fitzgerald, Mike Collins, Ben Finnegan and Tony Kelly.
U17 Mr. Binman U17 Hurling League Division 3A: Newcastle West lost to Templeglantine last Wednesday evening. Hard luck boys.
Upcoming Juvenile Fixtures:
U11 Hurling League
Newcastle West v Feohanagh Castlemahon Tuesday 18th April @ 6.45 in NCW
U17 Mr. Binman U17 Football League Division 3A
Newcastle West v St. Senan's Wednesday 19th April @ 6.30pm in NCW
U13 Mr. Binman U13 Football Championship Division 3A
Newcastle West v Monagea Thursday 20th April @ 7pm in Raheenagh
U15 Mr. Binman U15 Hurling Championship Division 2
Newcastle West v Adare Monday 24th April @6.45pm in NCW
U11 Football League
Newcastle West v St. Kieran's 1 & 2 Tuesday 25th April @6.45pm in Coolcappagh
Juvenile Training:
Training for U9's every Wednesday and Friday @ 6pm. Still time to join. An enjoyable time for the young members where they learn valuable skills and meet new friends.
Cry Walk:
The annual Cry Walk/Run /Cycle takes place in Monagea 'Remembering Niamh and Darra' this weekend on Saturday 29th April. A very worthwhile cause that attracts hundreds of people each year and is organised and funded by volunteers and sponsors. Please participate in this event if you can.