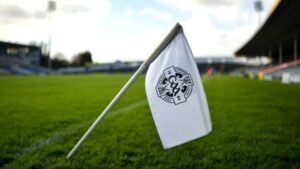 U21 Hurling:
NCW 0.15 Murroe Boher 0.19 AET
Hard luck to our U21 hurlers who lost out to Murroe Boher after extra time in the County U21 A Hurling Final in Mick Neville Park on a chilly evening on the 21st of December. In what was a very tight and close first half, the teams were level on no fewer than 6 occasions and a large surge from our boys saw us take a 0.08 to 0.06 lead into half time, with Ethan Hurley, Jack O'Connor, Bryan Nix and Con Hayes all getting on the scoresheet. Murroe started the second half very strongly and by the 39th minute the sides were level again at 9pts apiece, and a 3rd point in row saw Murroe move into the lead for the first time since the opening minute of the game, on a scoreline of 0.10 to 0.09. Our boys responded with the character we have come to expect and 2 points from Con, one from play and one from free, moved us into a 1 pt lead, before Murroe scored 2 pf their own to grab the lead going into injury time. Captain Bryan Nix popped up an with an excellently taken score at the death ,to take us into extra time, and while we started well with Con popping over the first score of extra time, a physically strong Murroe Boher team took control and put over 7 more points in extra time to secure the title.
Team: 1. James Lyons 2. Andrew Mortell 3. Aaron Neville 4. Jody Woulfe, 5. John Whelan 6. Ethan Hurley (0.02) 7. Todd Donovan 8. Michael Cremin 9. Ruadhan O'Connor 10. Conor Walker 11. Brian Foley 12, John O'Grady 13. Brian Nix (0.03) 14. Jack O'Connor (0.03) 15. Con Hayes (0.07)
Subs: Sean Torley, Evan McMahon, Jack Duggan, Ciaran Alqadi, Leon Barry, Evan Sheehan.
Management: Eoin Cremin, Michael Dowling, Tom Ryan, Maurice Murphy.
U21 Football:
NCW 0.05 Fr Casey's 0.08
Having defeated Galbally in the semi-final on a scoreline of 1.06 to 0.05, we qualified for the final the U21 Premier football final on the 31st of December in Mick Neville Park, marking our 8th final appearance in the last 11 iterations of the Premier U21 Football tournament. After a cagey opening period, Fr Casey's led 0.3 to 0.1 after 20min, with our score coming from Jack Duggan. Given that Fr Casey's had dominated possession this was perhaps not a bad position for us to be in, but 4 points either side of half time put Fr Casey's into a commanding 0.07 to 0.01 lead after 40mins. This spurred our boys into action and an excellent point from play by Todd, followed by a well taken free by Brian, narrowed the gap to 4 but Fr Casey's responded well and moved into a 0.08 to 0.03 lead on 47mins. We finished very strongly and another free from Brian, along with a well taken point from play by Con brought the gap back to 3 but despite intense pressure we could not raise the green flag that was going to be necessary to bridge the gap.
Team: 1. Paudie Kelly 2. John Whelan 3. Michael Cremin 4. Jody Woulfe, 5. Con Hayes (0.01) 6. Aaron Neville 7. Ruadhan O'Connor 8. Todd Donovan (0,01) 9. Emmet Rigter 10. Conor Walker 11. Brian Foley (c) (0.02) 12. Ethan Hurley 13. Sean Geraghty 14. Jack O'Connor 15. Jack Duggan (0.01)
Subs: Keith Begley Bryan Nix, Sean Torley, Ronan O'Sullivan, James Lyons, Leon Barry, Evan Sheehan, Oisin Enright, Michael Blashkiv, Kacper Bochnak.
Management: James Hennessy, Michael O'Keeffe, Willie Hurley, Michael Dowling, Kieran Lenihan.
U21 Campaigns:
Although we lost both U21 finals, a special word of thanks and appreciation is due to the U21 players and management teams for the effort they put in at the end of what was a very long and gruelling season. In a break from previous season formats, both U21 campaigns were scheduled for the end of the year, which would be a huge challenge for any dual club but it was even more so for our boys given that the Munster Club Senior Football Final was played on the 5th of December, and this meant there was severe fixture congestion for both U21 squads. This in itself was a huge challenge for the boys at the end of a long season in both codes, but when you consider that we only had a handful of players on the age it is a testament to the strength of character of the boys that both teams were able to make it to their respective finals given such extreme challenges. The courageous performances that we saw on display in both tournaments should leave magpie supporters in no doubt whatsoever about the calibre and character of the players coming through in both codes.
AGM:
Please note that the AGM for NCW GAA will take place on Friday the 13th of January at 730pm in the Club Rooms. Your support and attendance is strongly encouraged at the meeting as we face into what will hopefully be a busy and successful 2023.
Lotto:
Our weekly lotto draw took place on Tuesday the 3rd of January in The Central Bar, and the numbers drawn were 01, 14, 15, 17. There was no winner so the next week's jackpot rose to €10,400.
The lucky dip winners of €40 each were Jody Woulfe (c/o Lee's Bar), Toss Keane (c/o Cronin's Bart), Roger Connelly (c/o |Mark Kelly), Martina McAuliffe (c/o Maurice McAuliffe), Timmy Nix (online).
Our next weekly lotto draw took place on Monday 9th of January in Whelan's Bar, and the numbers drawn were 01, 11, 15, 18. There was no winner so the next week's jackpot will rise to €10,600 and will be held in Ned Kelly's Bar.
The lucky dip winners of €40 each were Willie Hurley (online), Mike Molyneaux (c/o Central Bar), Ian Reynolds (online), Colm Long (c/o Julian Lyons), Iain Corbett (online).
Our tickets are now on sale for €2.00 each or 3 for €5. They can be purchased online at www.ncwgaa.com click on Lotto on the drop down menu or through any of the local outlets/promoters selling same. A reminder to those of you on social media, that our draw goes out live every Monday evening at 8.30 p.m on Facebook. We thank you all for your continued support.