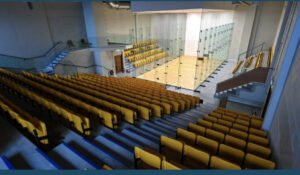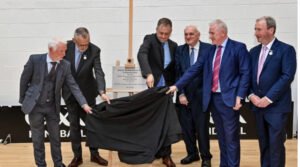 New National Handball and Croke Park Community Centre officially opened:
The GAA and Community representatives in the company of Minster of State Thomas Byrne today officially opened the new National Handball and Croke Park Community Centre.
The new state-of-the-art home for GAA Handball which will also host a wide range of different community activities, was first granted planning permission in 2017 and was built by the GAA at a cost of €11.3m with Government support.
Located behind Croke Park's Cusack Stand on Sackville Avenue, its facilities include a large community hall, café/bar, changing rooms and office space on the ground floor, which will be occupied by GAA Handball.
It is also home to three 40×20 handball courts and one 60×30 court and includes seating for 200 on the first floor along with two additional one wall courts in the large upstairs hall.
The show court is one of the 40×20 courts with amphitheatre seating for 500.
The building was commissioned early in 2020 to facilitate the HSE as a Covid testing centre and its total area is circa 3,100 sqm.
In attendance during the official opening ceremony of the National Handball & Croke Park Community Centre at Sackville Avenue in Dublin are, from left, Community Director Malachy Steenson, Uachtarán Chumann Lúthchleas Gael Larry McCarthy, Minister of State for Department of Tourism, Culture, Arts, Gaeltacht, Sport and Media, Thomas Byrne TD, Former Taoiseach Bertie Ahern, Chairperson of the National Handball and Croke Park Community Centre Pat Leahy and GAA Handball President Conor McDonnell.
It is currently hosting special needs groups, prayer groups, children's dancing groups, as well as All–Ireland handball finals and countless recreational handball players from the locality and further afield.
Thomas Byrne TD, Minister of State at the Department of Tourism, Culture, Arts, Gaeltacht, Sport and Media (Sport and Physical Education) commented: "It is a privilege to be asked to officially open the new National Handball and Community Centre at Croke Park.
"As we mark this significant moment, I want to acknowledge the proud and longstanding tradition of handball within the Irish sporting community.
"Community and sport go hand-in-hand and I am delighted to note the links shared between the National Handball and Community Centre and the local community. The redevelopment of the Handball and Community Centre, partly supported by Government funding under the Sports Capital Programme, is to be greatly welcomed and I want to commend everyone involved in this project."
GAA President Larry McCarthy said: "We are delighted to officially open what is a superb facility, both for GAA Handball but crucially for the local Croke Park community as well.
"The new centre is a fantastic structure and one I hope will invigorate the GAA Handball scene and play host to many national and indeed international tournaments.
"Our investment in it underlines our commitment to both Handball and the local community and I look forward to many years of beneficial use for all parties concerned."
Pat Leahy, Chairperson of the National Handball and Croke Park Community Centre added: "The opening of this superb centre represents the next step in a very positive journey for the Community and Handball in Ireland.
"It will facilitate community-oriented activities and events, alongside world class competitive handball in our country's new handball centre of excellence. Situated within the community but also on the doorstep of another great centre of excellence in Croke Park, I have no doubt that it will develop over time to meet the needs of all its users and I am very happy to have been part of this journey".
Malachy Steenson, one of two community representatives on the board of directors said: "On behalf of the Community Directors I welcome the long-awaited official opening of the new Handball and Social Club.
"I want to thank all of those who have played a part in getting us to this point.
"This building was due to open a number of years ago but was delayed due to COVID. I would now encourage all the members of the old Club, to renew their membership and to come into the club and use the facilities.
"This Community now has a building of world class standard at its disposal, and as we strive to make the bricks and mortar here a lively entertaining venue for all the people in the area to use, I would encourage all local people to renew their memberships and encourage non-members to apply.
"We have the prospect of turning this long-awaited building into the hub of the Community and using it to its maximum.
"The Community Directors would welcome suggestions and proposals from members and locals as we drive this magnificent project forward."
GAA Handball President Conor McDonnell added: "GAA Handball is delighted that the National Handball and Croke Park Community Centre has arrived at its official opening. The state-of-the-art building gives GAA Handball a world class base from which to host national and international finals and events.
"The Centre is a facility of which all within the GAA Handball family can be proud of, and one which provides the sport with a platform to grow and develop the game for future generations. GAA Handball would like to thank the GAA and local community for all their hard work and look forward to a bright future in our new home."
Former Taoiseach Bertie Ahern who was instrumental in devising plans between the GAA and the Community for the new facility added: "The National Handball & Croke Park Community Centre official opening represents the culmination of many years of discussion and planning to build this superb centre.
"It is a tribute to the Gaelic Athletic Association and the local community, and I wish it success for the decades ahead."