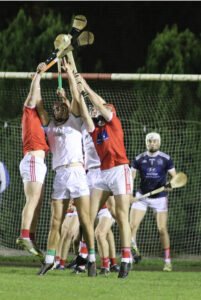 Mungret\St Paul's GAA Club Notes:
U-14 Camogie:
Good win for our U14s on Sunday in the Limerick Camogie Mackey Championship against Ahane. Great step forward in the championship.
Captain: Aibhlin Hassett Referee: Phil Dee
Full time score: Mungret 7:4 (25) Ahane 1:7 (10)
Shannon League:
Hard luck to our U14 Shannon Team who lost to a strong Murroe Boher on Saturday morning. This team are improving week on week and they put up a very brave battling performance – well done girls! We are so proud of you all!
Captain on the day was Olivia O'Neill Thanks to referee Morgan O'Sullivan as always.
Ladies Football:
Well done to all the Gaelic4Mothers&Others who were decked out in their finest aprons and scarves and took part in the Mother&Others Festival in Oola last weekend. A fantastic day out was had by all. Training continues every Tuesday evening at 8pm. Contact Cath 0876533347 for more details. New members always welcome.
U-21 Premier Hurling:
Mungret St. Pauls 1-17 Ballybrown 1-14
It was a late evening on Monday 9 October 2023 in Doon under lights when our U-21 Hurlers played their opening match against neighbours Ballybrown. This was a tight match with both teams putting everything they had into the game, Mungret St. Pauls produced more scores to Ballybrown in the second half to take the win.
Mungret St. Pauls got the early scores in as they went four points up to Ballybrowns one. Ballybrown settled into the game and soon leveled the score, with the next two points being matched. The boost from Mungret St. Pauls came when the ball was sent into the back of the net, Ballybrown scored the last point of the half but it was Mungret St. Pauls who had the lead 0-9 to 1-8.
It only took six minutes from the restart for Ballybrown to level the game again after their own goal. Three placed balls for Mungret St. Pauls saw them back in the lead which they held onto for a while but three points in a row from Ballybrown saw them back level again for the sixth time, with only three minutes left on the clock Mungret St. Pauls dug deeper and hit three points to win the game. This was a great start for our U-21 hurlers who now take on Doon on Friday night.
Junior C Hurling:
Mungret St. Pauls 1-10 Crecora Manister 1-13
On Saturday 14 October 2023 in Clarina our Junior C hurlers faced Crecora Manister in the final. There was a delay at the start as both teams waited for a ref to arrive.
An early goal from Crecora Manister left Mungret St. Pauls playing catch up from the start, Crecora Manister were more clinical on their scores while Mungret St. Pauls missed some chances but just before the half time whistle Mungret St. Pauls found the net leaving the score Crecora Manister 1-7 to Mungret St. Pauls 1-4.
Back out on the pitch and every score was matched with the three points still separating the two sides. Mungret St. Pauls narrowed it to two points but that did not last long as Crecora Manister sent home the final point to win the County Championship by 3 points.
Well done to all who are part of the panel and management in getting to the County Final, not to be on the day.
Junior A Hurling:
Mungret St. Pauls 1-24 Monagea 4-13
In Adare on Sunday 15 October 2023 our Junior A Hurlers played Monagea in the County Semi Final. It was perfect weather for the game although the pitch itself was slippy underfoot at parts.
Both sides were equal to each other for most of the first half, coming into the end of the first half Monagea raised the green flag, followed by a run of points gave Monagea a four point lead at the break.
Mungret St. Pauls did not mess around from the restart as they hammered back at Monagea getting in six points in as many minutes, to regain the lead. Monagea managed a point but it did not break Mungret St. Pauls run as they added on another three points finishing off with fight at the goal mouth to get the ball over the line going 7 points up on Monagea. The game was not over yet as Monagea shot their second goal, followed by an exchange of points to lead up to Monageas third goal. The goals were quickly depleting our lead but Mungret St. Pauls kept hammering sliotars over the black spot which gave them a five point advantage so when Monagea scored their fourth and final goal Mungret St. Pauls still had a buffer of two points to take the win by the full time whistle a few seconds later.
They now play Feenagh Kilmeedy in the County Junior A Final. Well done to all the panel and management and Best of Luck in the Final.