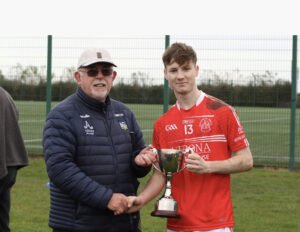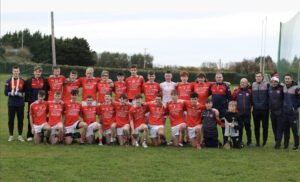 Mungret/St Paul's GAA Club Notes:
Movember:
This year we are following on from last years huge success when we held Movember for a Grow a Mo for Joe as you all helped to raise over €8000 for Milford Hospice. So men, put the razors aside and grow that Mo for November which is dedicated to brave and selfless men to grow a moustache, and women to step up and support them, all to raise awareness and funds for men's health – specifically prostate cancer, testicular cancer, mental health and suicide prevention. This fundraising page is for those of you who would like to show your support. The donations will be going to Milford Care Centre in memory of a gentleman, Joe Harrington who sadly is no longer with us. We are asking our men to take part in growing a Mo for Joe for the month of November.
If you would like to make a donation check out our social media pages were we have the eventmaster give2you page link. Thank you to everyone who has donated so far, your money goes to a great charity in Limerick.
Liam O Donoghue Tournamant:
After a change of date the Liam O'Donoghue U-13 Hurling tournament eventually got to go ahead on Sunday 5 November 2023 when we invited Ballyduff from Kerry and Lisdowney from Kilkenny and neighbours Ballybrown. It was a successful day where the weather stayed dry until the finals when there was a nice fall of rain.
Mungret St. Pauls had a one goal win over Lisdowney while Ballybrown went down to Ballyduff in the first round. The second round saw Mungret St. Pauls share the spoils with Ballyduff while Lisdowney went two points up against Ballybrown. The last round saw the best out of Ballybrown in the rounds when they had a 0-2 to 2-3 win over Mungret St. Pauls and Ballyduff getting the better of Lisdowney.
That saw Mungret St. Pauls take on Ballyduff in the Cup final and Lisdowney take on Ballybrown in the Shield Final. Both games were tough battles with Mungret St. Pauls just edging Ballyduff off the win with one point and Ballybrown like a fine wine improved their game as the day went on and had a nice win over Lisdowney. Mungret St Pauls captain, Mark Nelligan was presented the Cup by Liam O'Donoghue himself and Ballybrown were presented the Shield both generously sponsored by O'Malley Griffin Insurance Brokers. Well done to all the clubs and players for taking part today, and we especially appreciate Ballyduff and Lisdowney for traveling from Kerry and Kilkenny to us.
A huge Thank you to Rob Donnelly and his cohort of coaches who helped to play the day twice and saw it to be the success it was. Thank you to the referees on the day, Donie Browne and Seamus Hayes, your assistance at these tournaments are always very much appreciated. To our helpers on the day to direct traffic, set up the pitches, umpire and cater the event, Thank you. Those that attended on the day could not have been so well looked after without the parents who supplied the food, and to Helen McKeogh for her assistance on the day. Thank you to everyone, we hope you had an enjoyable day, unfortunately we just could not hold off the rain any longer that the round matches.
Mass:
Annual Mass for Deceased Club Members will take place on Sunday 19 November in Mungret Church at 11.30am. We would appreciate if you could forward names of anyone you would like to have remembered at the mass by 11am Wednesday 15 November to the club phone 085 867 9962.
Club AGM:
The Club AGM will take place on Thursday 7 December at 8pm. Motions and Nominations to be emailed to the club secretary secretary.mungret.limerick@gaa.ie by 12pm on Thursday 28 November. Thank you.
Limerick Camogie:
Great to see #MSPCamogies Grace Kelly, Jayne Casey and Clodagh Nestor recently taking part in the Limerick Camogie bag packing fundraiser at Dunne's Stores, Limerick.
Primary Schools:
Congratulations to the Gaelscoil an Ráithín boys u13 team who won the County A schools football final v Killoughteen NS. A huge amount of Mungret/St Paul's GAA players involved and yet another trophy in the Parish!
Comhghairdeas le foireann peile buachaillí faoi 13 ag Gaelscoil an Ráithín atá tar éis Craobh an Chondae peile A idirscoileanna a bhuachaint in aghaidh Killoughteen NS. Corn eile sa Pharóiste arís le h-ualach imreoirí ó Mhungairit/Naomh Pól CLG.
Ladies Football:
Well done to the minor team who overcame St.Senans at the weekend in the second round of the championship. Captained by Katie O Mahoney.
Many thanks to those who supported the Bake Sale at the weekend.
Gaelic4Mothers&Others continue to train every tuesday evening at 8pm in the Astroturf. New members always welcome, contact Cath 0876735568 for more information
U-17 Football:
Mungret St. Pauls 3-6 Kildimo Pallaskenry 1-4
On Saturday 11 November 2023 in a sunny Mick Neville Park our U-17 Footballers took on Kildimo Pallaskenry in the Division 2 Football Final. This was a game where great skill and restrain was shown throughout as Mungret St. Pauls proved to be the stronger team from the start.
Mungret St. Pauls opening score was a well taken goal which boosted the start with Kildimo Pallaskenry nipping at their heals pulled ahead with four points to Kildimo Pallaskenrys two points until they struck their own three pointer near the last few minutes of normal time. There was an additional point to each side before the half time whistle. Mungret St. Pauls 1-5 to Kildimo Pallaskenrys 1-3.
Back into the game and it started with another goal for Mungret St. Pauls as the oppertunity came for a pass across the goal to be shot past the goalkeeper, a good lead for Mungret St. Pauls but they had to keep the pressure on to prevent any further scores. It took another fifteen minutes before Kildimo Pallaskenry got their only score of this half as Mungret St. Pauls concluded the game in style with another point and goal.
Gerry McNamara was on hand to present the Cup to captain Adam Dore. This was a great win for the team as they had narrowly lost the Hurling final the month before. It was not the first win for them as they had won the league earlier in the year. Congratulations to the players and coaches who put in a lot of work throughout the year to get this win.
Team; Eoin Murphy, Mark Galvin, George Lloyd, Amhlaoibh Bohane, Conor O'Lonaigh, Billy Dervan, Gavin Dore, Daniel O'Connell, Conor Mangan, Rory Mullins, Mark Barrett, Ross O'Carroll, Adam Dore, Darragh Hogan, Steven Barry, Liam Ahern, Aaron Morrow, Jack O'Sullivan, Killian Begley, Kian Meagher, Oisin Patterson, Jack Dervan, Kevin Morrow.
Management; Sean Ahern, Billy Mangan, John Hutton, Michéal Cahill, Liam Patterson, Majella Uí Lonaigh.