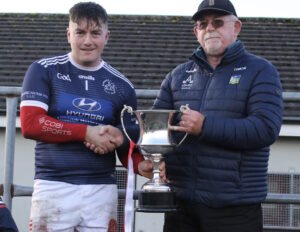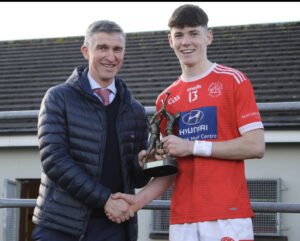 Mungret/St Paul's GAA Club Notes:
U10 Camogie:
Here at MSPCamogie our mission is to always champion girls in sport.With this in mind, we were very lucky to be drawn to take part in the much sought after Allianz Ireland pitch day in Croke Park which took place on Sunday 22nd October.
An incredible day was had by a small number of our almost 50 strong U10 panel and coaches (as these pictures clearly show) They couldn't have been looked after better by the staff at croker, who made them feel so special. Memories were made that will last them a lifetime, and we are pretty confident that most of theses girls will reference it in years to come as "the FIRST time I played in Croke Park" because mark our words: THEY.WILL.BE.BACK!
Huge thanks to coaches Aileen Hanley, Morgan Lyons, Hilary Pratt, Seamus Cantillon, Mark Boyle, Ronan Sherlock, Deirdre Hussey, Dave Fitzgibbon, James Connaughton, Patrice Heffernan, Joanne Delaney & Nigel O'Keeffe and of course the extra supporters that came too. (SOME of which managed to stay awake in the bus on the way home & some who didn't……) The future of club and limerick camogie is bright, we are holding the door open for you – you coming? New U10 members welcome for 2023, volunteers too! See our facebook page for the full album!
U14 Camogie:
Well done to our U14 Shannon team who on Saturday went out of the semi-final on their shield when they took on Murroe Boher.
A great performance from the girls who have developed so well throughout the year, but Murroe came out the winners at full time.
We are proud of you girls! Captain: Freya Flynn Thanks to referee Cyril Doolan
Camogie AGM:
The Annual General Meeting will be held on Thursday November 9th at 8.00 p.m in the clubhouse bar. All are welcome.
One of the main objectives of the AGM is to elect committee members for the coming year. There will be a number of vacancies to be filled including Chairperson and Secretary.
It is vital that all executive committee roles are filled. At this juncture we need to get more volunteers involved in our club in both coaching and administrative roles.
Our club is thriving at the moment with growing numbers and excellent facilities but as always we continue to rely on our wonderful volunteers to help keep the club growing.
Condolances:
Deepest Sympathies to the Newman family on the passing of Willie Walsh, father in law to coach Austin Newman, father to Karen, grandfather to players Sam, Harry and Eve, to their extended family and friends.
Ar dheis Dé go raibh a anam dílis
U-17 Football:
Mungret St. Pauls 4-8 Ballylanders 0-12
The Quarter Final for our U-17 Division 2 Footballers took place on Saturday 28 October 2023 in Mungret against Ballylanders where Mungret St. Pauls started strong and kept their lead throughout.
A goal in the first two minutes opened the game the second game came just going into the second quarter of the game with Ballylanders only managing one point in reply to Mungret St. Pauls 2-3 but it was here where Ballylanders hit a scoring spree as they went six points without reply before Mungret St. Pauls finished the half with their fourth point to close with a three point lead.
Back into the second half and Mungret St. Pauls got back to business as they added on another two points, with Ballylanders adding only one point. Mungret St. Pauls struck the net twice to one more of Ballylanders points which gave us a strong standing in the game with only one more quarter to play. There was an exchange of points with Mungret St. Pauls still holding their 8 point lead until the final whistle, Mungret St. Pauls proved to be the stronger team to go forward to the Semi Final on Monday against Galtee Gaels.
U-14 Hurling and Football:
This was a long day for our dual players on Saturday 28 October 2023 in UL Maguire pitches our U-14 players took part in a County Limerick Super 10 competition, this involved ten players on the pitch playing a 7 minutes a side game in hurling and 10 minutes a side in Football. There were many different groups playing on the day and Mungret St. Pauls were paired up against Knockainey, Monaleen and Ahane in the hurling which took place first. Each game was very competitive with Mungret St. Pauls beating Knockainey by two goals, they lost to Monaleen by a mere two points but they ended up drawing with Ahane. It was a quick turn over for the hurlers as they prepared for the football.
In the football there were only 5 teams in the group which saw us play four games against Fr. Caseys, St. Sennans , Bruff and Dromcollogher Broadford. First up was Bruff where we got a lot of goal chances but could not connect, losing by 2 points. Next up saw us against St. Sennans where we played a better game, converting the scores to win this match. Dromcollogher Broadford was the next team to play where we put in a great first half but the second half Dromcollogher Broadford played a better game securing goals which lost the game for us. Last up was Fr. Caseys, having lost the previous match and with very tired legs and having picked up some injuries in previous matches the U-14 footballers kicked on and got this game over the line.
Well done to all the players for taking part, they received a Munster jersey at the end of the event and got in some great games.
Junior B Football:
Mungret St. Pauls 1-6 Knockaderry 1-7
On Saturday 28 October 2023 in Mick Neville Parks astro pitch our Junior B Footballers took on Knockaderry in the County Quarter Final, this was a tight game where Mungret St. Pauls left scores behind them that could of gotten them over the line.
It started out a tight game with not much between the two sides. Unfortunatly Mungret St. Pauls were forced to make an early substitution just on the ten minute mark after a high tackle took out one of our players. This did not change much for Mungret St. Pauls as they continued on to net the first goal of the game only a few minutes later, this put Mungret St. Pauls four points ahead. Knockaderry were quick on their reply as they were the only ones to score before the half time whistle which saw them with a two point lead. Mungret St. Pauls 1-3 Knockaderry 1-5.
Back out there was an exchange of points before two on the hop saw Mungret St. Pauls equalise the game. Knockaderry scored their seventh point just before the end of the third quarter and this was the last score of the game, not from the want of trying as many attempts from both sides were misdirected.
This one point loss for Mungret St. Pauls saw them knocked out of the Junior B Football County competition, they still have the City win to enjoy.
This has been a great round of games for our team that sees both young players and the more seasoned players work well together, there will be a new crop of eighteen year olds joining next year and we look forward to seeing them take their first step into adult football next year.
Well done to all who took part in the Championship, we look forward to seeing you back next year when we celebrate the City win.
Junior A Hurling:
Mungret St. Pauls 2-21 Feenagh Kilmeedy 2-24
Mungret St. Pauls 4 penalties Feenagh Kilmeedy 1 penalty
No write up can do this game justice when it took place in Kilmallock on Sunday 29 October 2023 when Mungret St. Pauls Junior A Hurlers took on Feenagh Kilmeedy in the County Final. This was a spectacular game where you had everything, great scores, impressive passages of play, plenty of fights for the dirty ball along with extra time and penalties. Earlier in the year our second team in the league saw the result of the match brought to penalties when they played Ballybrown with our neighbours winning in sudden death.
The pitch was very sticky under foot which sucked a lot of the players energy as the game went on. From the start there was not much between the two sides as they levelled on two points each. Mungret St. Pauls saw a three point lead knocked when Feenagh Kilmeedy rose the green flag, it was back to level pegging as no score was seen for eight minutes before Mungret St. Pauls got the opportunity to run the ball up the pitch and into the back of the net. There was another exchange of points with Mungret St. Pauls closing out the first half adding on an additional two points seeing them with a five point lead, 1-11 to 1-6.
There was another tit for tat on scores as the next eight scores were shared. Feenagh Kilmeedy then had a run of points as they brought the game back to level scores, with Mungret St. Pauls not scoring since the fifth minute of the second half a score was desperately needed and this came in the twenty first minute in the way of a free which was converted and restarted their scores when a penalty a few minutes later was converted giving Mungret St. Pauls a three point lead and into the closing minutes of full time Mungret St. Pauls struggled with the six minutes of extra time to hold the lead with Feenagh Kilmeedy scoring from two frees and the closing point from play to bring the game into extra time.
Extra time saw similar play as the previous sixty minutes as both sides shared scores again, at the end of the first ten minutes Feenagh Kilmeedy had a one point lead which would not last long as straight out from the blacks Mungret St. Pauls equalised again and went one point up, it took injury time again for Feenagh Kilmeedy to strike back which they did again in the final minute. It was onto penalties, a cruel way to complete a Championship especially after the players had emptied their tanks during the eighty minutes of play. After deliberation it was decided on the penalty shooters.
Mark O'Brien was first to shoot and having scored a penalty to the goalies right during the game his second shot pass the Feenagh Goalie on his left this time, Dec Browne then made the goal his home as he settled for the embrace of the sliotar, as if he could read the Feenagh Kilmeedys players mind, second before the ball was struck Dec swopped the hurley around in his hands leaving the boss to his right which is where the player hit it and Dec stopped it dead into the goal mouth dirt. Next up it was Dec turn to take on the Feenagh Kilmeedy goalie as he did not waste time and struck it with conviction to the goalies left and past him. The Feenagh Kilmeedy goalie then got his revenge on Dec as he stood up to the spot and hit the same spot Dec had struck moments before. Next up was Cian Moloney as he set his feet, looked toward the goal, rose the ball and shot it past the goalie on his right. The next was a close one for Feenagh Kilmeedy as Dec yet again swopped his hurley over as the Feenagh Kilmeedy player went for Decs left, he managed to get his hurley across just in time to see the ball out to the side of the goal. Mungret St. Pauls just needed one more score to take the win and this was left in the hands of JJ Harrington, he struck it low to the goalies left with it bouncing just on the edge of the box it shot past the goalie.
A win for Mungret St. Pauls in the Junior A Hurling Championship which brings promotion to Intermediate hurling for next year. Well done to all the players and management who put everything they had into the games through the year and are very deserving of the win, a very proud day for the parish. Gerry McNamara was on hand to present Dec Browne with the trophy and Conor Fitzgerald of the Woodlands House Hotel presented the man of the match award to Mark O'Brien.
Primary Schools:
Congratulations to the Gaelscoil Rathain on winning the Spillane Cup during the week, this is a great achievement from the players many of whom are members of Munget St. Pauls.