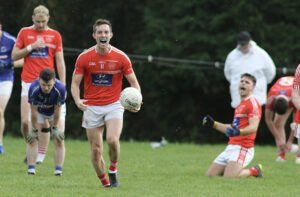 Mungret St Paul's GAA Club Notes:
Grassroots Camogie:
We were delighted to have our Club Secretary Suzanne O'Rourke visit us last Thursday night at #MSPCamogie HQ before #TakeOverThursday kicked off to present some new equipment to coaches and members of our underage club!
The equipment is part of the Camogie associations investment of €250,000 in grassroots camogie across over 600 clubs.
Present to meet Suzanne were eager players from U10s, U12s & U14s as well as our U10 lead coach Aileen Hanley.
Thanks so much for the cones, bibs, kitbags and sliotars – the girls and coaches are delighted and have already put them to good use!
U12 Camogie:
The darker evenings are well upon us and so last Thursday night marked the final night on grass for our U12s because this week they hit the new Astroturf Pitch for their debut!
They can't wait to bask in the new facility and will be doing so up until Christmas! They had a blitz between themselves on the night and the winners were awarded some "vintage" medals which went down a treat! A great way to finish our last night on grass
U-14 Camogie:
Our U14 Mackey squad battled hard v Croagh Kilfinny on Saturday morning winning themselves a place in the county semi-final.
Captain was Rosa Harrington. Thanks as always to Referee Mike Mann.
U-14 Camogie:
Our U14 Shannon squad travelled to Killeedy on Saturday morning to take on the hosts. They gave it a good rattle and a great game was had to the joy of the supporters.
Unfortunately, the hosts came away with the win at the final whistle. Well done girls, you did us all proud! Captain on the day was Jasmine Foster.
Junior B Football:
Mungret St. Pauls 0-7 Kildimo Pallaskenry 0-6
Moved to ULs North Campus under lights on Wednesday 18 October our third football team played Kildimo Pallaskenry in the City Junior B Football Final. This was a very low scoring but close game with both sides not getting much of a lead with a slight breeze blowing there were many wides from both sides.
It took most of the first quarter for either side to open their score. Mungret St. Pauls were kicking into the breeze which lead to most of their wides which came in the first half, we only saw three points converted in the opening half with Kildimo Pallaskenry managing 5 points.
The second half restarted and Mungret St. Pauls leveled the game before the first ten minutes, the next two minutes of the game saw both sides adding on another point. It did not take long for Mungret St. Pauls to secure their seventh point at the end of the third quarter. With another fifteen minutes of play left, both ends saw the ball as it was worked up and down the pitch but there was no more scores coming. Final whistle blown and Mungret St. Pauls were crowned the City Junior B Football Champions, they now go on to play in the County Quarter Final against Knockaderry on the 28 October at 3pm, venue to be confirmed.
Intermediate Football:
Mungret St. Pauls 0-12 Rathkeale 2-4
In Caherdavin on Saturday 21 October 2023 our Intermediate Footballers brought victory to Mungret St. Pauls as they played Rathkeale in the Championship Semi Final. It was a dry day but the pitch was soft underfoot after all the rain fall.
Mungret St. Pauls took the long way round to the win with all points while Rathkeale raised the green flag early on in the first half, but Mungret St. Pauls had the game level by the break.
It did not take long to kick off the second half for Mungret St. Pauls as they broke away from Rathkeale getting a three point lead going into the final quarter only for Rathkeale to strike again with a second goal, levelling the game again. It was at this stage that the pressure on getting scores heightened as both sides exchanged points Mungret St. Pauls went two up with only injury time left. Rathkeale did not find getting a third goal as easy as their first two as Mungret St. Pauls defenders tightened their ranks and rebounded any attempts coming their way.
This is where the ball was stopped by the whistle, in the hands of the Mungret St. Pauls captain, John Hutton. This win sees us into the Final to play Dromcollogher Broadford on November 4th in Askeaton at 3pm
U-17 Hurling:
Mungret St. Pauls 1-10 Bruff 0-14
It was a warm sunny afternoon in Mick Neville Park on Sunday 22 October 2023 when our U-17 Division 2 Hurlers fielded against Bruff in the Championship final. This was a great match to watch with every ounce of energy poured into the game from our players, they were so very unlucky to just fall short by the final whistle but a valiant effort from all the players involved.
The first half saw little between the two sides as they leveled the game five times going into the final seven minutes of the game where Bruff hit a roll of scores which gave them a four point lead at half time 0-6 to 0-10.
The second half started much the same with the two sides going score for score, for about ten minutes Bruff held a three point lead with no scores coming from either side, there was plenty of chances for Mungret St. Pauls to hit the net but each attempt was quashed until the next score from Mungret St. Pauls with four minutes left on the clock, a strong strike saw the ball pass the Bruff goalie. It looked like it may go into extra time but a free for Bruff was struck over the black spot. The battle continued as Mungret St. Pauls seeked one more score, a last chance long range free was taken in hope of going over but unfortunately was not converted. Mungret St. Pauls fought to the bitter end until the final whistle allowed the players to fall to their feet with exhaustion having not managing that one last point.
The players should be very proud of how they have played throughout the championship and most especially how strong a game they played in the final.
Team; Conor Crowley, Rory Gleeson, Conor Mangan, Oisin Donnelly, Sean Duff, Daniel O'Connell, Rory Mullins, Jay Moroney, James Flemming, Killian Begley, Conor O'Longaigh, Jake Stack, Darragh Hogan, Adam Dore, Rory O'Callaghan, George Lloyd, Charlie Rushe, Tadhg Browne, Alex Conway, Oisin Markham, Ronan O'Brien, Ronan Fogarty, Oisin Patterson, Gavin Dore, Liam Aherne, Donnacha Sweeney.
Management; Aidan Markham, Richie Burke, Donal Browne, Eoin Conway, Majella Ni Longaigh, Rob Donnelly.
Junior A Football:
Mungret St. Pauls 4-12 Ballybricken Bohermore 1-9
It was a great evening on Sunday 22 October 2023 in UL Maguire Pitch when our Junior A Footballers played Ballybricken Bohermore in the Championship Semi Final.
Mungret St. Pauls built up a goal and four points before Ballybricken Bohermore secured their first point. Another three points were added to our score before Ballybricken Bohermore managed three points just before the half time break. Mungret St. Pauls were the stronger team by the break but had the aid of a slight breeze 1-7 to 0-4.
Both sides added another point before Mungret St. Pauls sought the net for the second and third time in as many minutes extending the lead to twelve points. It was not looking great for Ballybricken Bohermore as Mungret St. Pauls kept the scores coming they did manage three more points from frees but it was goals they needed and the Mungret St. Pauls defence were not going to let a ball past too easily. It was not until the last minute of injury time that Mungret St. Pauls stepped off their pedal with a lead of fifteen points that Ballybricken Bohermore raised the green flag.
This win now sees Mungret St. Pauls into a Junior A football Final which will be played against Camogue Rovers in Fedamore on Sunday 5 November.