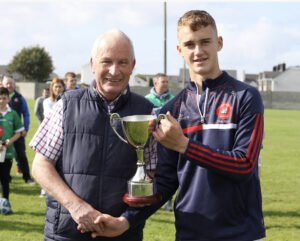 Mungret/St Paul's GAA Club Notes:
Mackey League:
Our U14s had a great win at home Saturday night v Galbally in the latest round of the Mackey championship. Great all round team performance! Well done! Captain tonight was Saoirse Aherne.
Thanks to referee John O'Donnell.
Regina Long Tournament:
Another great achievement for #MSPCamogie and the wider Mungret St Paul's club with a successful and most enjoyable Regina Long Memorial Tournament on Sunday.
Both Cup and Shield competitions were played so competitively in spite of the weather, with gusts and heavy rain.
Huge congratulations to Shield winners Kilmallock and Cup winners Crecora – both teams deserving winners who really enjoyed their celebrations.
Player of the shield tournament award went to Kilmallocks Megan O'Connor and Player of the Cup Tournament was split between #MSPCamogies Rosa Harrington and Saoirse Browne.
A huge thank you to all of the volunteers who were involved in the planning of the tournament and in the big day itself, you know who you are. Without the support of everyone the Regina Long tournament would not have been the great day it was.
Official photos will be available during the week, we will tag all participating clubs to alert them. In the meantime here's some to keep you going.
U-13 Hurling:
Mungret St. Pauls 0-7 Kileedy Tournafulla 2-3
It was a dry morning on Sunday 1 October 2023 in Mick Neville Park when our U-13 Division 2 Hurlers played Kileedy Tournafulla in the Cup final. This was a tough game with Mungret St. Pauls only managing to get two points in the first half while Kileedy Tournafulla secured their first goal early on in the game to leave Mungret St. Pauls playing catch up. A second goal before the half time gave a five point difference between the two sides.
The second half was a much improved half for the score board for Mungret St. Pauls as they held most of the possession, there were a few shots that did not go in the direction they were hoped for as we pointed five points it was just not enough to get the team over the line.
This team put in a lot of work through the year and have great skill and heart, it is always tough to take a loss especially in a final but as a team the players can come back next year and improve to go a step further. Well done to all the players and management, you have done Mungret St. Pauls proud.
U-15 Football:
Mungret St. Pauls 3-4 Croom Ballybricken Bohermore 2-4
As the sun came shining out the U-15 Division 1 Footballers took on Croom Ballybricken Bohermore in Mick Neville Park on Sunday 1 October 2023 in the Cup Final. This was a much anticipated game with a lot of hard work put into training sessions leading up to it.
Mungret St. Pauls had a strong start as they hit the net after their first point, Croom Ballybricken Bohermore squeezed in a point either side of Mungret St. Pauls next two points. With five minutes left in normal time Mungret St. Pauls steered the ball into the back of the net for the second time, seperating the two teams by seven points. Croom Ballybricken Bohermore fought back as they pointed from a free and in the dying minutes of the first half raised the green flag to bring them back into the game at the half time with a three point difference.
It did not take too long for Croom Ballybricken Bohermore to level the game back into the restart with their second goal. Each side added on another point with a lot of play on the pitch between the two scores. Then one of the things the team had hoped would not happen did as they were brought down to 14 players for the next ten minutes, in this time neither side scored although there were many attempts to take the lead. Once Mungret St. Pauls were back to their full compliment of players they kept the pressure on and it eventually go too much as a foul on one of our players in the square resulted in a penalty which was taken very well. Croom Ballybricken Bohermore now had only injury time to score their own goal to bring the game into extra time. Croom Ballybricken Bohermore started toward our goals with the ball but a tackle to the player took him down, all the supporters held their breath as the ref made his way to see where the tackle took place, there was movement in his arms as he gave Croom Ballybricken Bohermore a free and not a penalty. The free was aims as expected toward the goals and our defence stood up to each attach as the ball was bounced from Croom Ballybricken Bohermore to Mungret St. Pauls. It was eventually kicked clear of the goals as the whistle was blown for the last time declaring Mungret St. Pauls winners of the U-15 Division 1 Football cup. Captain Rory O'Callaghan and Jack O'Sullivan accepted the trophy from Bord na nOgs Denis Carroll on behalf of their team.
This win tops off an already impressive year for this team as they had won the Division 1 Feile cup in Limerick to represent them in the National games where they also found themselves deserving winners. Well done to all the players and their management who put in a lot of time and effort to get the team to what they are.
Team; Rory O'Callaghan, Jack O'Sullivan, Amhlaoibh Bohane, Cillian Roche, Paul Corcoran, George Lloyd, Oisin Donnelly, Rory Gleeson, Najim Jagana, Jack Dervan, Killian Begley, Alan Cleary, Ronan O'Brien, Thomas O'Donaill, Donnacha Sweeney, Jamie Curtin, Cian O'Connell, Charlie Rushe, Roman O'Connell, Oscar Hayes, Cillian Johnston, Conor Lane Jordan, Ruairi Dwane, Rory Flemming, Eoghan Hogan, Adam Bennett, Dylan Gilmore.
Management; Declan Sweeney, Vincent Gleeson, Cian O'Donaill, Niall Dervan.
U-11 Hurling:
Well done to Mungret St. Pauls U-11 hurlers today winning the Seamus Fry memorial tournament in James Stephen's. 28 players and 5 coaches set off on a bus from the club at 8am this morning. In their newly sponsored half zip tops from Conway Engineering. A brilliant day of hurling for this ever ambitious group. Mungret St. Pauls fielded two teams on the day and had some very tough and tense matches along the way as expected . Mungret St. Pauls are very proud of the lads today bringing home 1st prize and winning all matches against James Stephen's , Cuala and Moycarkey Borris . No day trip is complete without a stop off in Barack Obama on way home.
Mungrairit Naoimhin Pol ABU
U-13 Ladies Football:
Mungret St. Pauls 3-3 Galtee Gales 3-6
Couldn't be prouder of this group of girls. They have given us such wonderful displays of football all season. It is our privilege as their coaches to be part of their journey and we couldn't have asked more of them. I know they're hurting now but this will pass and they will come back even stronger. Here's to our girls and the many years of friendship, fun and football that lie ahead of them.