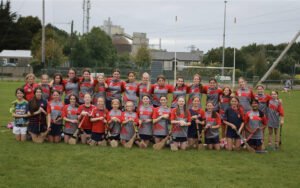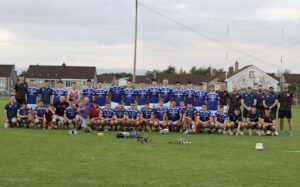 Mungret/St Pauls GAA Club Notes:
Junior C Hurling:
Mungret St. Pauls 4-26 Ballybrown 0-12
It was a lovely evening of hurling in Kildimo on Monday 4 September 2023 when our Junior C Hurlers took on near neighbours. It was evident early on in the match that Mungret St. Pauls were the stronger team. This was the second outing for our third team and a second great win.
Ladies Football:
The u12 team put up a fine performance against Pallasgreen.
The under 14 team are moving along nicely in the championship, they beat Adare at the weekend.
The Intermediate team had a great win over Adare on Sunday last. Adare 2.05 Mungret 2.10
Gaelic4Mothers&Others training continues every Tuesday evening at 8pm in the Village Pitch. New members always welcome
Junior B Football:
Mungret St. Pauls 5-18 Ballinacurra Gaels 0-6
In Crescent Comprehensive Pitch on Wednesday 6 September 2023 our Junior B Footballers had an easy win over Ballinacurra Gaels. From the thrown in Mungret St. Pauls proved to be too dominant. This was only the second match in the group with a win and a loss the next match is due to be played on Tuesday against Claughaun.
U-17 Football:
Mungret St. Pauls 2-10 Na Piarsaigh 3-13
This was a tight battle on Wednesday 6 September 2023 in Mungret when our U-17 Division 2 footballers played Na Piarsaigh. Mungret St. Pauls started well with two early points but Na Piarsaigh soon found their scores as they got a goal and two points before the first ten minutes. Mungret St. Pauls kept scoring but Na Piarsaigh got more balls over the cross bar by the half time whistle Na piarsaigh had a five point lead. Mungret St. Pauls goal in the second half brought us to three points behind only for Na Piarsaigh to extend their lead with their third goal, Mungret St. Pauls second goal came close to the final whistle and was not enough to bring them back into the game.
This loss leaves Mungret St. Pauls in second place under Na Piarsaigh with one more game to go.
Senior Hurling:
Mungret St. Pauls 1-25 Monaleen 0-15
Friday 8 September 2023 in the bright sunshine in Claughaun, this was a great showcase of hurling as both sides fought it out to the end to take the glory of the win. It was Mungret St. Pauls who proved the much stronger side as they looked unstoppable and determined to get the two points on the leader board and secure their place in the quarter finals.
Monaleen started well with two of their points going over but Mungret St. Pauls soon found the uprights as they started to get their shots to add up on the score board. By the half time mark, Mungret St. Pauls had doubled Monaleens points going in 0-12 to 0-6.
Mungret St. Pauls held their own in the second half taking scoring chances when they could, with most of them counting. Monaleen hit their purple patch near the end of the third quarter when they looked unstoppable with five points without reply but Mungret St. Pauls put a stop to that as they got back into their scoring rhytm and continued to hold the lead and the place on top of the board. A great victory for Mungret St. Pauls as we keep poll position and with one more game to play against our neighbours Ballybrown next week which will be a great game for the top two teams. Ballybrown would have to win and Mungret St. Pauls only need a draw to promote the club to Senior A, this is the game the team have been working so hard for the last two years. It would be great to see all the supporters out to get Mungret St. Pauls promoted for next year.
U-15 Football:
Mungret St. Pauls 3-10 Monaleen 1-4
On Saturday 9 September 2023 our U-15 Division 1 Footballers played Monleen in the Cup Semi Final in Mick Neville Park. This was the last game of the day in Rathkeale and out young players made it a great game as they fought for every ball to get it back to our forwards to keep the score board ticking over for up. Mungret St. Pauls kept Monaleen to only two points by the break with us with a good six point lead.
The second half was much the same where a boast of subs saw the team get renewed life in the heat and a few simple frees and Mungret St. Pauls proved why they are the Feile All Ireland champions. They now wait to see who they play in the final.
U9 Camogie:
Thanks to Monaleen & Limerick Camogie Development for the U9 county camogie blitz which our girls participated in on Sunday morning.
They had 4 matches each, with fantastic skills on display – it's safe to say they all earned an ice-cream on the way home!
U-10 Camogie:
Earlier in the week our U10s hosted Ahane and Ballybrown for a mini blitz at home on a wonderfully sunny evening.
It was a fantastic evening for all involved, be that one of the many players, coaches or positive parents on the sidelines.
U12 Camogie:
Our U12s welcomed Newcastlewest Camogie last Thursday to #MSPCamogie HQ for a wonderful night of camogie!
There were great skills on display and it's safe to say that the future of Limerick Camogie is indeed bright! Keep in girls, yer flying.