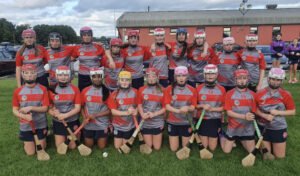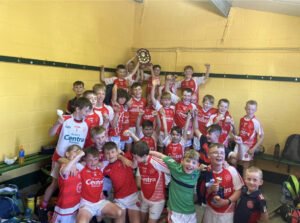 Mungret/St Pauls GAA Club Notes:
Scor Art Competition:
This is an art competition, the challenge is to create a piece of art to celebrate the Limerick hurling team's All Ireland win The children can create any type of art from drawing to sculptures. They can add a poem, story or catchphrase
There are amazing prizes to be won, the winner will receive a 'fun day' for their club
To register for the competition you can contact me Ava Nic Searraigh through email eolas@comhluadarluimnigh.ie or any enquiries contact my number 0894106637
Scor:
Anybody, over the age of 17, interested in taking part in Senior Scór this year on 23 February and representing Mungret St Pauls GAA club please contact Anne on 087 6659817.
Scór is a GAA competition that combines all the colour and rivalry of Gaelic Games with the social/fun element of Ireland's traditional past-times. The competition was established by the GAA in 1969 with the aim of promoting Ireland's traditional past-times and culture while offering club members the chance to meet up, have fun and represent their club during the winter months while Hurling, Football, Handball, Camogie, Ladies Football and Rounders had ceased.
There are 7 events/disciplines in Scór that cover all aspects of Irish culture.
1. Rince Foirne Céilí (Figure Dancing)
2. Amhránaíocht Aonair (Solo Singing)
3. Aithriseoireacht/Scéalaíocht (Recitation/Storytelling)
4. Ceol Uirlise (Instrumental Music)
5. Léiriú (Drama)
6. Bailéad Ghrúpa (Ballad Group)
7. Rince Seit (Set Dancing)
U10 Camogie:
Round 1 of the U10 league kicked off last week with 30 clubs playing camogie across the county!
Our crew headed to Adare Gaa where they had a great night of camogie. All the training they have put in during the busy summer shone through as they took on their opponents with gusto!
What a team! Thanks to our hosts Adare for the warm welcome – we will see you all again soon!
Thanks to all our coaches and Limerick Camogie Development for making nights like that happen. And to the parents on the sidelines, we see you and we thank you for your positivity and encouragement.
Camogie is indeed a second family for all of us.
U12 Camogie:
Heading to the other side of the city on Friday night were our U12s – the location this time? – NaPiarsaigh! We had 2 teams of players whos work rate and skills were put on display throughout the night. Their dedication is paying off and it's hard to visit #MSPCamogie HQ without bumping into any one of them practicing at our new ball wall! Thanks to our hosts for the welcome and of course first whistlers.
U14 Camogie:
On Thursday night our U14 Shannon Team welcomed Pallasgreen Camogie for their first match of the championship. They were really unlucky to loose out with a last minute goal from the visitors. Captain tonight was Lucy Reeves
U16 B Camogie:
Last Tuesday we had the next round in the U16 B championship when we took on St Ailbes. Both teams played very well, however, Ailbes came away with the win by one point. Keep and eye on social media for details of the semi final which the girls have to look forward to and be sure to come out and support! A great game of camogie, enjoyed by all.
Junior Camogie:
On Friday night the Plate Semi Final took place at #MSPCamogie HQ when our Junior A Camogie team welcomed Ballyagran.
Our girls lead by 11 points at half time and went on to hold the gap until the whistle blew.
Full time score: Mungret 3:9 (18) Ballyagran 0:5 (5) Mungret win by 13 points Keep an eye on social media for details of the plate semi final – we ask you all to come out and support the girls on the night!
Camogie:
Regina Long Tournament 2023 – CHANGE OF DATE
In a change to the original date, we have moved the Regina Long Tournament 2023 to SUNDAY 24TH SEPTEMBER.
All teams have now been confirmed and plans are in place for the event to be yet another amazing day of camogie!
Keep an eye on social media for updates!
Any queries, please contact Club PRO Annie on 086 1727902.
Ladies Football:
Last weekend saw round 1 of the junior championship, Mungret travelled to Oola on what was a miserable evening. Things didn't go Mungrets way and were unfortunately defeated. The intermediate team also opened their championship campaign with a loss away to Knockainey. In round 2 of the intermediate championship, Mungret defeated MurroeBoher on a scoreline of 3.07 to 2.08. This was fine spirited contest.
Underage training will resume this weekend…
U6 train saturday morning in the Ballwall Astro training area at 10am. U8 are in the village pitch at 10am, saturday mornings. U10, juvenile pitch at 11.30am saturdays. U12 are out wednesday evening 6-7pm in village pitch. U13 and u14 training wednesday 7pm in village pitch.
U-12 Hurling:
Well done to our U12 hurlers who travelled to Midleton on Saturday 26 August 2023 to play in a tournament hosted by Midleton GAA . It was a long journey but it is great experience for our players to play against strong teams from other counties, and especially to get games against their own age group.
It took us a while to get going in the first game but we ground out a victory despite playing within ourselves against Kiltha Og.
In the second match against a very strong Midleton outfit our lads took hold of the game after half time and had an impressive win. The third match against Abbeyside was a real arm wrestle and considering we had already made the final, you could forgive the lad if they took the foot off the pedal but they were having none of that. They fought to the very end and were worthy victors.
On to the final then against the home side, who were out for revenge. Playing into a very strong wind in the first half we were very unlucky to concede 1-1 in the last minute of the half and go in behind. In the second half we went toe to toe with Midleton but they got an early two goal cushion and we had to chase them down the home straight. We probably deserved a draw but unfortunately time ran out.
Superb overall performance from our U12 hurlers in their first tournament this year. All the teams there today will certainly remember playing us. No quarter was given and they left it all on the field. The players were very well behaved and represented Mungret St. Pauls with pride. They definitely deserved their supermacs on the way home. Well done to them all again.
U-15 Hurling:
It was the last outing for our U-15 Division 3 hurlers as they played Coshlea Gaels in Effin on Monday 28 August 2023, this was a very tough match for our players as they came up against a very strong team. This team are made up of mainly 14 year olds with 13 year olds filling any gaps on the pitch. They have put in a great year of team work and never gave up especially when under pressure by a stronger team. The aim of the division 3 team is to give all players game time so they can develop their skills and working with together as a team. This was not the last game of the year for the 14 year olds as there are challenge matches bring organised to keep them hurling as long as we can before the weather turns.
Mungret St. Pauls 2-3 Coshlea Gaels 6-15
The Division 1 team played Monaleen in the Shield Semi Final, this was in Monaleens clubhouse pitch, The last time the two sides met saw Mungret St. Pauls with tired bodies after their Feile All Ireland win in Football but they pulled off a win from that match. This match was similar only the players were fit and ready to go. Mungret St. Pauls had two goals and a point scored with in the first seven minutes of the throw in and never lost the lead throughout, there was some great hurling and scores on the pitch from all the players. They now play Ballybrown in the Shield Final which may take place on September 16.
Mungret St. Pauls 6-11 Monaleen 4-7
U-17 Hurling:
Mungret St. Pauls s 7-12 Hospital Herbertstown 2-12
On Wednesday 30 August 2023 in Hospital, our U-17 Division 2 Hurlers played in their fourth match of the group. This was a great game with both sides putting everything into the battle for the sliotar, Mungret St. Pauls were winning a lot of dirty ball. The goals were the only thing that seperated the two sides with some great scores taken from a wide range of places on the pitch. There were some great passages of play, working the ball up the pitch to get a score. With this win, Mungret St. Pauls stay in second place on the group table with two games to go. Their next game is against top of the table Bruff on Wednesday 13 September in Mungret.
U-13 Hurling:
Mungret St. Pauls 3-8 Kildimo Pallaskenry 2-5
A game of two halves in Mick Neville Park on Thursday 31 August 2023 when our U-13 Division 2 hurlers played Kildimo Pallaskenry in the Cup Semi Final. Kildimo Pallaskenry had a better first half as Mungret St. Pauls took time to settle into the game. Both sides seemed to match each other well until the first goal of the game that came from Kildimo Pallaskenry, this did not knock our players too much as they were patient in their play, Kildimo Pallaskenry has a second goal in the bag before Mungret St. Pauls got their players in the right places as they secured their first goal of the game coming into the break. There were only two points seperating the sides as they went back to their coaches for second half guidance. Mungret St. Pauls 1-3 Kildimo Pallaskenry 2-2.
The second half was where Mungret St. Pauls excelled, within minutes they had leveled the game and matched Kildimo Pallaskenrys point. The next point from Kildimo Pallaskenry saw Mungret St. Pauls reply with a goal, boasting our players on to net their third ball within a minute, this left out players with a comfortable lead. Kildimo Pallaskenry started to struggle and only pointed one more ball while Mungret St. Pauls slotted over another two points giving them a great win of six points. They now wait for the other Semi final to be played to know who their opponent will be in the Final.
Senior Hurling:
Mungret St. Pauls 1-23 Adare 2-17
On Thursday 31 August 2023 in Askeaton, Mungret St Paul's played Adare in the third round of the group matches. Adare had a better start leading 0-4 to 0-1 after eight minutes, it took the next eight minutes for Mungret St. Pauls to match Adares points. Mungret St. Pauls then started to pull ahead with the addition of a goal from Mungret St. Pauls they lead 1-11 to 0-9 at half time.
On the restart Adare did not hold back as they shot their first sliotar into the net, bringing them back into the game and they soon took the lead from Mungret St. Pauls which did not last long as a fight back from us saw the sliotars through the uprights to add up to a four point lead. Adare came back into the game again, their second goal left Mungret St. Pauls with a four point lead. One more point from Adare saw the game out and Mungret St. Pauls took our second win, this win holds our unbeaten start to the season and keeps us in line to a place in the quarter-final.
The next Senior Hurling match is on Friday against Monaleen in Clarina.
U-9 Hurling:
There was a great experience for the Mungret St. Pauls U-9 hurlers who got to entertain the supporters at the Senior Hurling match when they played Adare at half time in Askeaton. What topped the evening off the U-9s got to experience our senior team winning and play great hurling themselves. A great idea to bring the younger players along to see our adult teams playing.
Junior A Hurling:
Mungret St. Pauls 5-27 Blackrock 0-12
In Kilbreedy on Friday 1 September our Junior A hurlers took on Blackrock. This was very much a one sided game with Mungret St. Pauls playing with 14 men for roughly 10 minutes while an injured player was being attended to they still got their scores on the board while holding back Blackrock. Once back to full strength they kept the score board ticking over. There was no doubt by half time that Mungret St. Pauls had this game won but the pressure still had to be kept on marking Blackrock players and preventing them from adding any scores.
A clean sweep by the Junior A Hurlers so far in this group topping the table with their three wins. They are next out on Sunday 10 September against Doon in Monaleen.
U-15 Football:
Due to the Limerick Hurlers homecoming the last matches for both division 1 and 3 in the U-15 group stages were played on Saturday 2 September having been deferred from the Monday night in July. Our Division 1 footballers received a bye from Pallasgreen leaving them on top of the group with no losses, so Mungret St. Pauls wait now for a few other teams to play their last match or two to complete the table to see who we play in the Cup Semi Final.
The U-15 Division 3 Footballers played Monaleen the Peafield pitch, Mungret St. Pauls were slow on the start but really upped their game in the second half as they attacked the ball hard and concentrated on getting the ball into a scoring position. Near the end of the second half Monaleen was a goal up and Mungret St. Pauls had the ball hovering around their midfield and forwards as they trying to penetrate the Monaleen back. A few shots taken were denied by quick moving backs and as the ball started to move away from our forwards the full time whistle was blown. This ended the group matches for Mungret St. Pauls as they needed a win to knock Monaleen out of the Shield Semi Final. They still train as they prepare for upcoming challenge matches and for next years feile.
Mungret St. Pauls 2-1 Monaleen 1-7
U-11 Hurling:
Well done to our U11s for winning the Shield in the Newtownshandrum Dermot Naughton tournament on Saturday 2nd. This was a super day of Hurling and a very high standard in all games. At the End of the group stages Mungret , Newtownshandrum and Micheal Cussacks all had two wins each and finished on same points. It was decided then highest amount of goals scored would contest Cup Final . Where we missed out narrowly. Mungret beat Sixmilebridge in shield final. Our boys gave a great account of themselves and did mungret very proud.