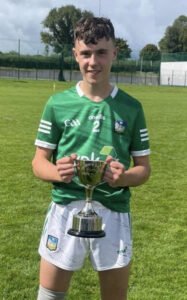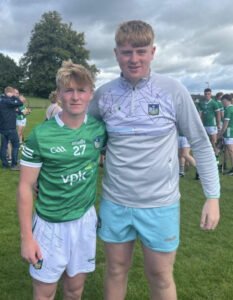 Mungret/St Paul's GAA Club Notes:
Club Limerick Draw:
Have you signed up to the 2023 CLUB Limerick Draw? For only €100 (with €50 going back to Mungret St. Pauls), be in with a chance of winning a top prize of €10,000; PLUS 29 additional cash prizes each month! Log onto clublimerick.ie/draw to join today or contact Noreen Moriarty on 087 622 8396 Congratulations to August winner Pat Sheahan.
Limerick Players:
Well done to all our players who were out on Saturday 26 August 2023 in the Academy hurling Finals days playing for Limerick.
In the Faithful Fields, Kilcormac, Co. Offaly we had Ruairi Dwane on the U-14 team who got through to the Shield Semi Final only to be knocked out by Dublin
The Limerick U-15s were in Co. Tipperary with players Rory Gleeson, Rory O'Callaghan and Killian Begley and coach Alan Browne they were successful in winning the Arrabawn shield tournament in Dundrum against Cork.
The second U-15 team were in Clonoulty and they won the John Doyle shield, Mungret St. Pauls had Oisin Donnelly on the team.
The U-16s were in Kilworth in Cork where they beat Cork in the final well done to Mungret St. Pauls players, James Fleming and Conor Crowley.
U-15 Football:
Mungret St. Pauls 2-12 Ballylanders 1-4
On Monday 21 August our U-15 Division 1 Footballers lined out against Ballylanders in Mungret, this was a game with Mungret St. Pauls dominating the play and taking a substantial lead. After seven games this team are sitting on the top of the board with one game left to play on Saturday against Pallasgreen at home.
U-13 Football:
Mungret St. Pauls 0-5 Fr. Caseys 1-9
It was a cool but sunny evening on Thursday 24 August in Mick Neville park when our U-13 Division 1 Footballers played Fr. Caseys in the Cup Semi Final. It took a while for both sets of players to settle into the game with each side scoring a point from frees to open their scores, it was in the last three minutes of the first half when Fr. Caseys found their rhythm and clocked up a goal and three points to hold a six point lead going into the second half.
While Mungret St. Pauls picked up their game in this half it was not enough as Fr. Caseys held their strong lead and equalled any score we got. Our U-13 players put in some great group matches only losing out to Monaleen.
Junior A Football:
Mungret St. Pauls 1-10 Castletown Ballyagran 0-4
It stayed dry for most of the match in Croom on Sunday 27 August 2023 when our Junior A Footballers played Castletown Ballyagran. There was a very strong breeze going across the pitch throughout the game, it seemed Mungret St. Pauls adapted to it better than Castletown Ballyagran. Mungret St. Pauls were more on target, scoring four points before Castletown Ballyagran got a point in the twentieth minute. These were the only scores in the first half.
The second half was much the same as Mungret St. Pauls outscored Castletown Ballyagran and took a strong win. This was the result we were looking for as this team have gone unbeaten so far in the championship with one more game against Fedamore to go in two weeks time.
Scor Art Competition:
This is an art competition, the challenge is to create a piece of art to celebrate the Limerick hurling team's All Ireland win The children can create any type of art from drawing to sculptures. They can add a poem, story or catchphrase
There are amazing prizes to be won, the winner will receive a 'fun day' for their club
To register for the competition you can contact me Ava Nic Searraigh through email eolas@comhluadarluimnigh.ie or any enquiries contact my number 0894106637