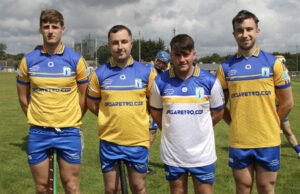 Mungret/St Paul's GAA Club Notes:
Players Abroad:
Congratulations to our current player, Conor Flahive, who travelled to New York for the Summer and was playing with the Limerick New York team while over there. They had a successful season as they played Tipperary New York in the Junior Final and on Sunday 6 August. It was Limerick New York that lead the whole way as Conor Flahive took charge of being free taker and had a few fellow Limerick club players on the team (and against them). Well done to Conor and the Limerick New York team who after this win are promoted to Senior.
U-15 Hurling:
Both our U-15 players were taking on the top of their table teams on Monday 31 July 2023 in what started out as a dry game until the second half when the heavens opened for a while.
Our Division 1 team faced Murroe Boher on our Senior pitch. It was a slow start as both sides tried to find their footing and it was Mungret St. Pauls that were first to open the score after ten minutes of play. Murroe Boher quickly followed with their first goal but Mungret St. Pauls matched them in points to level the game for a few minutes. Just coming into the half time Mungret St. Pauls conceded a second goal and this is what seperated them at the break. Back out Murroe Boher hit hard on scores, while our players took what chanced they had they never managed to equal the score. The final five minutes were Murroe Bohers game and they extended their lead with an additional two goals.
Mungret St. Pauls 1-7 Murroe Boher 5-5
Mungret St. Pauls U-14 team were also out against Pallasgreen as they made their way out to Kilteely Dromkeen due to Pallasgreens pitch unplayable. Each player threw everything they had at the stronger Pallasgreen team and never let their heads drop. They fought to the end with Pallasgreen getting a good win over us. Our opposition on the night are top of the group table while our second team are keeping away from the bottom of the table with another three games to play.
U-11 Hurling:
Mungret St. Pauls U-11 hurling team had a great day out in Páirc Ui Chaoimh on Tuesday 1 August 2023. They got to play Rathmore , Cloughduv , Imokilly and Croke Rovers, winning each of these matches. They finishurling: off the day stopping in Supermacs on way home. It was a great opportunity for this group to play on the Páirc and we would like to thank the coaches and parents for giving up their time to make this happen.
Junior B Football:
Mungret St. Pauls 2-9 Kildimo Pallaskenry 1-14
In Kildimo on 1 August 2023, it was a game of two halves for our Junior B Footballers as they togged out against Kildimo Pallaskenry in Kildimo.
The first half was a bit slow to start but once the first score was secured it was Mungret St. Pauls who supplied most of the scores with Kildimo Pallaskenry only getting two points from frees, Mungret St. Pauls built up 1-8 by the half time whistle.
The second half saw Kildimo Pallaskenry bringing themselves back into the game with six points with no reply, narrowing the gap to three points, this was quickly knocked off when they hit the net, another two points and Mungret St. Pauls saw themselves behind for the first time in the game. A free near the Kildimo Pallaskenry goals saw the ball returned to the free taker, handed off to a waiting Mungret St. Pauls player to slot it nicely into the back of the net, this was a great bit of team work when the goal was loaded with blue shirts and a goal was needed. The lead with us did not last too long with only two minutes left on the clock it was enough time for Kildimo Pallaskenry to pop over another three scores to ensure their win.
This was the first championship match for our Junior B Footballers they have another month before their next match.
U-17 Hurling:
Mungret St. Pauls 1-12 Bruff 0-20
In Bruff on Wednesday 2 August 2023, this was a tough game for our U-17 hurlers as they battled their way through the first half unable to secure many scores they saw themselves down 11 points to two. The second half was where their work paid off as they brought themselves back in to the game, a goal helping them boost their scores but they ended shy a few points.
There are still another four games to go with the next one in two weeks against Cappamore at home.
U-13 Hurling:
Both our U-13 Hurlers were out on Thursday 3 August 2023, the Division 2 team were home to Kildimo Pallaskenry, this was one of the tougher games this team saw this year. Our goalie saw a lot of action with him keeping the ball out of danger in the first half as Kildimo Pallaskenry pounced on our backs. Half time saw us slightly behind but with a second half to go there was still time to make up the difference.
Our players put a lot into the second half, not loosening the pressure they put on Kildimo Pallaskenry, but it was the visitors who took the win in the end with the only goal of the game. This loss leaves us in second place under our last opponents Grannagh Ballingarry where top place will be played for with both teams going for the Cup semi Finals.
Mungret St. Pauls 0-5 Kildimo Pallaskenry 1-6
Our Division 3 hurlers were in Caherdavin playing Na Piarsaigh, this was opposition that proved to be very strong on the night. It was the goals that aided in Na Piarsaighs win but there were some lovely scores slotted over the cross bar from our young players, it was a great score line for a forty minute match. Mungret St. Pauls contested very well on the dirty ball, getting in a scooping it out.
Our Division 3 team are also through to Semi Final stages in their group with this match being the last, they sit in forth position which sees them play Belville Gales in the Shield Semi Final.
Mungret St. Pauls 1-9 Na Piarsaigh 4-7
U-19 Football:
Mungret St. Pauls 3-13 Fr. Caseys 3-10
This was a very competitive game of football in Mungret on Thursday 3 August 2023 when Mungret St. Pauls played Fr. Caseys in the second and final round of the U-19 Football group games. After a loss in the first round, Mungret St. Pauls needed to win by 7points. The game started with a like for like on scores as they matched each score as it came. In the dying minutes of the first half, Mungret St. Pauls hit the net for the second time which gave them a two point lead over Fr. Caseys. 2-4 to 1-5.
Back into the second half Mungret St. Pauls did not waste any time to extend their lead as they popped over three balls to a five point lead. Unfortunately it did not look like it was going to last as Fr. Caseys got the ball over the line for their second goal, with in seconds of the kickout the ball was in the back of the Fr. Caseys goal. Mungret St. Pauls kept hammering away and got to the much needed seven point lead to go through to the next round only for a Fr. Caseys surge as they netted a third goal in the last two minutes followed by the final score of a point.
While our players won this match, it was not by enough scores to progress to the next round. They put in a very powerful performance and with a lot of the players still under 19 next year they can continue with our adult Championship games.
Senior Hurling:
Mungret St. Pauls 4-19 South Liberties 0-14
Our Senior Hurlers had their first outing in the championship in Fedamore on Friday 4 August 2023 against South Liberties. The wet weather did not deter the supporters from coming out to the match which was a one sided affair. With a first goal around the end of the first quarter from Mungret St. Pauls it was South Liberties who struggled to keep up with the score with most of their shots going wide in the opening half. Mungret St. Pauls were on target as they finished on the break 1-13 to 0-4.
It was much the same in the second half as Mungret St. Pauls hit the scoreboard as South Liberties kept their game going and putting the pressure on.
An 18 point win is a great start but there are more to come. The Senior hurlers are out again this Friday, 11 August in Cappamore against Garryspillane.
Junior A Hurling:
Mungret St. Pauls 0-19 Rathkeale 1-13
On Saturday 5 August 2023 there was a bit of a rejig of players after the Senior match but once out on the pitch in Askeaton they were ready to take on Rathkeale.
It did not take long for the Junior A hurlers to settle into the game as they built up a 6 point to one point lead by the end of the first quarter, Rathkeale replied with the only goal of the game and kept their scores coming as they leveled the game by the half time break. 0-8 to 1-5
There was quite a strong breeze across the pitch as both sides lined out for the restart. There were points slowly going over at both ends with Mungret St. Pauls getting in a few more to Rathkeale, it was these few that kept their heads above water as Rathkeale kept the pressure on our backs. When the whistle blew Mungret St. Pauls had held onto a three point lead.
A successful opening game for our Junior A hurlers who field again on Saturday 12 August in Croom against Bruff.
Legends v All Stars:
In Mungret St. Pauls on Sunday 6 August 2023 the Legends V All Stars took place, this is the second year this charity game took place which proved to be a success all in aid of Crumlins Childrens Hospital. Organised by Murroe Bohers, Alan Foley, we are extremely grateful to him for bringing these two teams together for our entertainment with many great players from games of past and present. A big Thank you to all the players that took part, without you the event would not have been possible. Special thanks to the Mungret St. Pauls players, Brian Mullane, Dec Browne, Cian O'Doherty and Sean Mullane, who filled in the gaps on the team. We also had our coach, Alan Browne field for the Legends team for the second year. The 1973 hurling team were also presented with a presentation from former president Sean Kelly at half time, with Mungret St. Pauls Liam O'Donoghue on that panel. We would like to thank all our own volunteers who gave of their time on the day so it could run so smoothly. A great day had by all especially when the sun came out just as the game began.