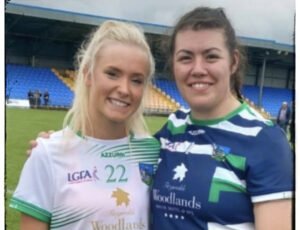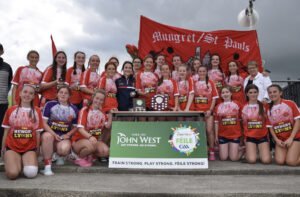 Mungret/St Paul's GAA Club Notes:
Limerick Players:
Massive Congratulations to Clare O Meara, Carol Bateman and the Limerick Football Team on beating Fermanagh by a point and reaching the All-Ireland Final.
The All-Ireland Final takes place Sunday
13th August , Croke Park, throw in 11.45am, Limerick v Down
Ladies Football Feile:
On the morning of July 1st the U15 Girls Football Team set off for Tubbercurry, Sligo to play in the JohnWest All-Ireland Feile Peil na nOg. Mungret have qualified for several National Feile competitions over the years, which is always special, but this current crop of players have won the County Feile title for 3 years in a row.
A large number of enthuastic supports also made their way to Sligo. Mungrets opening match didn't go as planned losing out to CooleyKickhams, Louth on a scoreline of Mungret 1.01 Cooley Kickhams 3.04. By the time the second match came around Mungret were very comfortable on the ball, great teamwork was on display, Mungret finishing very strong. Final score Mungret 2.07 Kiltubrid, Leitrim 0.01. The last of the group stages Mungret played An Clochan Liath, Donegal. This was touch and go for a long time, Unfortunately the Donegal side were too strong for Mungret. Final score here Mungret 3.02 , An Clochan Liath 2.08. With those results Mungret qualified for the Shield section of the competition. Mungret were really gelling together as the day progressed, and the families and friends were now out in large numbers raising their voices with every score. In the semi final Mungret faced CT Gaels of Sligo. Final score CT Gaels 1.03 Mungret 3.04. Mungret were now through to the Shield Final. In the meantime news had filtered through from Limerick that the final whistle had blown for John O Grady, may he Rest In Peace. A minutes silence was held before the throw in for the Final as a mark of respect.
It was in the final that this superb team exploded to life right from the throw in, they really did save the best till last, and gave an absoutely awesome display of courage , tenacity, mettle and teamwork. Every girl gave 100% out on the pitch. Subs came in and out, and everybody playing for each other. Throughout the final it was nip and tuc, Mungret were absoutely estatic at the final whistle, tears of joy, smiling faces, grinning from ear to ear . Final score Mungret 2.04 Old Leighlin Carlow 0.05.
The All Ireland Shield was then presented to team Captain Niamh Stackpoole, who in accepting the shield on behalf of the team, thanked the many many supporters in the run up to the feile and those who travelled to Sligo on the day. She thanked the Mentors Aine Cummins, Tony Murphy, John Horgan, Siobhan Horgan, Grainne Kelly and the main sponsors for the weekend Cobi Sports, Hungry Lyons, and Horgans Lifts and Escalator Consultants.
A great night was had by all, where there was speeches and sing-songs for all to enjoy. This is the second year in a row the Mungret have brought silverware home from the Feile. The future looks bright indeed.
On Sunday the girls were treated to an afternoon of watersports before heading home after a fantastic weekend.
U-17 Football:
Mungret St. Pauls 4-15 Ahane 3-7
On a messy, wet Wednesday, 26 July 2023 our U-17 Division 2 Footballers welcomed Ahane to our pitch where there was a great display of football from our players as they were dominant in the first half with Ahane only getting in a goal and a point, Mungret St. Pauls built up a substantial 3-8 score by the break.
The second half saw Ahane put up more scores to narrow the lead but our players kept a healthy gap to separate the two sides. By the final whistle it was clear it was Mungret St. Pauls game. This was only the first outing for this team, they are next out in two weeks.
Legends v All Stars:
We would like to wish the best of Luck to the two teams who will be playing on Sunday, 6 August at 1pm in our pitch. This is a charity event in aid of Crumlin Childrens hospital, tickets cost €10 for adults, children under 16 €5, children under 5 are free and can by purchased from Idonate, Charity Hurling event. This is followed by a function at Greenhills Hotel at 8pm, to attend both you will need to purchase the golden ticket.
Limerick legends v All Stars both teams glittered with stars! A fantastic evening in store with BBQ and music by Gundy Humphries at the Westward Ho Bar then music by Gundy and The High Kings in the Greenhills Hotel.
The League, Munster and All Ireland Trophies will be on display at the charity hurling match along with All Star Goalkeeper Nickie Quaid and Limerick team mate Dan Morrissey lining out for the Limerick Legends. Diarmuid Byrnes and Aaron Gillane will also be attending. There will also be a raffle on the day for many great prizes.
Our Coffee dock will be open during the event. This will be a very busy event and we would like to remind all who attend that dogs are not permitted on our premises.