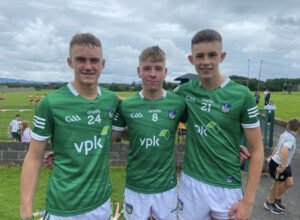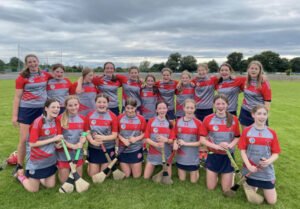 Mungret/St Paul's GAA Club Notes:
Congratulations:
What a feeling to have the Liam MacCarthy cup return to Limerick for the fourth time in a row. Well done to everyone involved with the Limerick team, as a club we know it is not just the players that win the titles it is down to the coaches, backroom staff, grounds people, volunteers and supporters. We look forward to welcoming the Liam MacCarthy cup back to the Community Centre in the coming weeks.
Limerick Players:
There were wins all over at the weekend for Limerick hurling. Congratulations to the U-15 A team who played Clare in Bruff on Saturday 22 July 2023. This was a quarter final which saw the Limerick team finish in style with a 4-20 to 3-12 result to bring them through to the Semi Final stage. Well done to Mungret St. Pauls players Rory Gleeson, Killian Begley and Rory O'Callaghan. We also had Oisin Donnelly in Kilmallock playing on the second team.
The Limerick U-16 hurlers played the last of their group games which sees them into the Finals day. Well done to our own James Flemming who played for Limerick.
The U-14 hurlers were also out on Saturday 22 July, they were in Mick Neville Park where they played Dublin and Galway in games to help grade for the upcoming Tournaments in August. Well done to Mungret St. Pauls, Ruairí Dwane who was on the team who beat Dublin.
U-15 Hurlers:
Both our U-15 hurling teams were out again on Monday 17 July. Our Division 1 team were just out the road in Ahane where they built up a very impressive 11 point lead only for Ahane to come back in the second half and take over the scoring leaving us with a five point loss by the final whistle. With two games left to play they currently sit in fifth place but results from the next two matches can still make a difference to the final position on the table.
Mungret St. Pauls 2-12 Ahane 3-14
Our Division 3 team had home advantage when they played Na Piarsaighs second team. We proved too strong for the visitors which gave a great opportunity for the younger subs to get a run. There are another four matches ahead of this team with the next one at the end of the month, they currently sit near the middle of the group.
Mungret St. Pauls 7-6 Na Piarsaigh 4-4
U-13 Football:
Mungret St. Pauls 0-5 Monaleen 3-6
It was a lovely evening for football in Mungret on Tuesday 18 July 2023 when Mungret St. Pauls Division 3 team welcomed Monaleen to a game full of skill and team work. Both sides were even for most of the match, Mungret St. Pauls were unlucky to see the ball hit their net which gave Monaleen the win but the Mungret St. Pauls players put everything they had into the game with some great displays of blocking and tackling along with seeking out and working the ball through our players to get the score. This was the sixth match for this team to play with one more match to go in a few weeks time.
U13 Camogie:
The camogie championship kicked off on Thurs night when #MSPCamogie hosted Crecora at home. Captained by Vivienne McInerney the girls battled hard, even when under pressure. Next Match is away to Newcastlewest this Tuesday.
U-13 Hurling:
Both our U-13 Hurling teams fielded on Thursday 20 July with our Division 2 team travelling out to Garryspillane where we were met with a tough team of players who gave as good as they got but it was Mungret St. Pauls who had the upper hand on the score board and taking the win. This leaves us top of the group and into the cup semi final with another two games to play. The next game against Kildimo Pallaskenry is in two weeks.
Mungret St. Pauls 6-7 Garryspillane 2-3
It was out to Banogue for our Division 3 team when they played Dromin Athlacca Banogue. This was a great game for both sides with many skills being used by the players as they worked the ball out of trouble and into a scoring position. Both sides saw wides but the scores that were recorded saw both sides level. There is one last game to play for this team against Na Piarsaigh early August. They currently sit in Shield Semi Final position.
Mungret St. Pauls 1-6 Dromin Athlacca Banogue 0-9
U-19 Premier Football:
Mungret St. Pauls 0-7 Monaleen 0-12
It was in Monaleens Peafield Road grounds on Thursday 20 July 2023 where our U-19 Footballers played their first match against Monaleen. Monaleen proved to be the stronger side, with more players on the age. But our players delivered a creditable, energetic performance, never letting Monaleen get out of touch. But for a few wides, a missed goal or two, this could have gone to the wire.
Signed Jersey Winner:
Our U-15 Féile footballers recently held a fundraising raffle for a signed Limerick Jersey. Congratulations to the winner Martha Cooney who is an aunt of our player Jamie Curtin. Hopefully she received it in time for the All Ireland final.