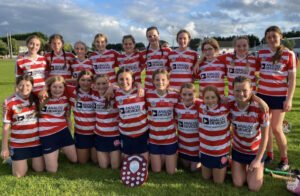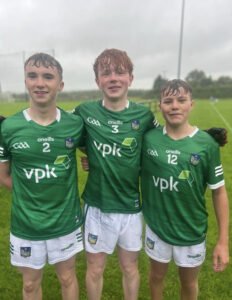 Mungret/St Paul's GAA Club Notes:
U-15 Football:
Mungret St. Pauls 5-3 Killacolla Gaels 4-8
It was a miserable wet evening in Mungret, Monday 9 July 2023 when our U-15 Division 3 Footballers played Killacolla Gaels. It was a game of goals as the two sides battled it out in the rain. There was a slow start to the game as the ball was worked hard but once the scoring started it ebbed and flowed as both sides held a lead at different stages throughout. Mungret St. Pauls was holding a narrow lead going into the dying minutes of the game only for Killacolla Gaels to get the ball into the back of the net. A last ditch attempt from Mungret St. Pauls was cut short by the final whistle leaving us with a two point loss.
This team currently sit in fourth place in their group with two games to play.
U13 Camogie:
On Sunday 2nd July we welcomed Pallasgreen to #MSPCamogie HQ. On what was a very wet morning, both sides played very well, with our own girls coming away with a strong win in the end. Captain on the day was Ciara Conway. Well done girls!
Limerick Players:
We were delighted to see the Limerick Camogie Senior Team secure their Senior All Ireland Championship status for 2024 when they beat Offaly. Well done to #MSPCamogies Ailbhe Larkin, Olivia Kerins and the entire panel.
Well done to Limerick U16's who played Wexford Camogie at the weekend.#MSPCamogie were well represented on the day in the form of Jayne Casey, Molly Tobin and Sarah Horgan. Unfortunately, the girls lost out but put up a fantastic battle and fought to the end. A very successful year for the girls who brought home a Munster title this year! We are very proud of you girls.
Limerick U-14 Footballers had a very long day on Saturday 8 July 2023 when they took park in the Jim Power tournament in Dr Morris park in Thurles & Fenagh in Co Carlow. They played Tipp, Offaly, Wicklow & Clare. The team then travelled to Dublin for the AI semi finals. Well done to all who took part especially our own Adam Bennett.
Congratulations to the Limerick U-15 Footballers who played Sligo yesterday, Saturday 15 July, in the Dermot Early Michael Galvey Shield Semi Final. It was a narrow victory for Limerick 5-6 to 6-5 with our own Jack Dervan goaling the last kick of the game to win it for Limerick. Well done also to Amhlaoibh Bohane and Jack O'Sullivan who played very well on the day as well. They are now through to the Shield Final to be played on the 12 August.
U-14 Camogie:
All roads led to Croagh on Tuesday 4th Jul for the Mackey Plate final where #MSPCamogie went head to head with Ahane Camogie Club. Our U14 camogie team saved their best display of the league for the night.
An outstanding performance saw us run out winners 6-5 to Ahanes 0-5 points. Our Captain Saoirse Aherne made the long trip back from her holidays in Co.Down to lead this wonderful team of girls. Great to have Limerick Camogie PRO Emer there to present also! Thanks as always to our brilliant supporters! Looking forward to the championship already MUNGRET ABU!
U10 Camogie:
A big shout out to all the coaches out there who make training happen for the #MSPCamogie girls!! Our U10s hit the grass on Thursday night, not playing a blind bit of notice to the rain and they didn't just turn up, they TURNED IT UP!!!! WELL DONE GIRLS!
We'll let you all in on a little secret:
GIRLS ARE HARDY!!! and the no.1 reason they continue to play camogie? ITS FUN AND what's more fun than playing in the rain???
Thanks Aileen, Dee, Morgan, Ronan, Patrice, Joanne and Seamus!
U-11 Hurling:
Our U-11 hurling team had an exciting day last weekend as they go to travel to Croke park for the All Ireland Hurling Semi Final. Before they got to enjoy watching Limerick beat Galway they played two competitive matches against Clontarf. It was a super day in Croke park and topped off with a stop in supermacs on way home. Thank you to the Coaches who organised and looked after the children on the day. A fantastic memory for the players.