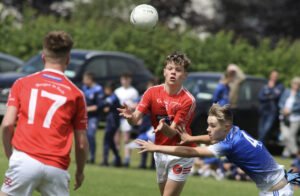 Mungret/St Paul's GAA Club Notes:
Feile na Peil:
History was made on Saturday 1 July 2023 in Mungret St. Pauls when our U-15 Footballers brought home an All Ireland Football Cup back to the club for the first time. We are very proud of this fantastic team of players.
The team were waved off by their supporters from the club house on Saturday Morning and made great time arriving in Claregalway before the first match. Throughout the day there was a very strong wind with us playing into it for the first half of each game and with the exact same score at half time with Mungret St. Pauls on one point and the opposition on two points, in all five matches. The first match was against Aughnamullen from Monaghan, it took a while for our players to settle into the game and with only 12 minutes a side they had to shake off the nerves quick which they did in the second half to achieve a good start with a 1-2 to 0-3 win.
The second match was against Portarlington from Laois this was a tighter game with both sides missing great scoring chance it finished with three points each.
The last group match was against St. Loman's, Mungret St. Pauls needed a draw or win to top the group. It took until near the end of this game for Mungret St. Pauls to pull ahead and get the win and play for the Cup. Mungret St. Pauls 2-3 St. Loman's 0-2
There was a lunch break where the host club, Claregalway supplied the team with a fantastic dinner. Our Cup Semi final was against St. Nicholas from Wicklow. This was one of the tougher games as both sides finished on two points each by the final whistle to bring the game into extra time, Mungret St. Pauls proved too strong as they kept St. Nicholas scoreless in the extra ten minutes while we added on another five points to put us up against Portarlinton for the second time in the Cup Final.
Both sides knew they had it all to play for and with Portarlington having the one point lead at the break Mungret St. Pauls were on their last legs but they pulled it out of the bag and threw everything they had into the last twelve minutes to prove to be the deserving winners of the John West All Ireland Féile na Péil Division 3 Cup. Captain Rory O'Callaghan accepted the cup on behalf of the team.
Thank you so much to our host club Claregalway for their hospitality and facilities on the day, everyone was very well looked after. Thank you also to all the supporters who travelled to get behind our players, having this support on the day meant a lot to all the team. The team would like to express their appreciation to all who generously donated to their fundraisers to help pay for the day and to Cobi Sports for making them so well turned out on the day in their Féile gear. They also would like to thank their coaches who put in a lot of hard work on and off the pitch organising training sessions and challenge games in preparation for the unforgettable weekend. Lastly, Mungret St. Pauls would like to congratulate each player and coach in their hard work, guts and determination to work hard and get the best reward, an All Ireland Medal.
Team; Rory O'Callaghan, Amhlaoibh Bohane, Alan Cleary, Paul Corcoran, Jack Dervan, Oisin Donnelly, Dylan Gilmore, Rory Gleeson, Oscar Hayes, Najim Jagana, Cillian Johnston, Killian Begley, Conor Lane Jordan, George Lloyd, Liam McGrath, Jamie Curtin, Ronan O'Brien, Cian O'Connell, Roman O'Connell, Jack O'Sullivan, Luke Reaboi, Cillian Roche, Charlie Rushe, Conor Shelley, Donnacha Sweeney, Thomas Ó'Dónaill, Ruairí Dwane, Adam Bennett, Leo Carman, Eoghan Hogan, Rory Flemming.
Management; Vinnie Gleeson, Declan Sweeney, Cian Ó'Dónaill, Neil Dervan.
U12 Camogie:
Our U12s got a great welcome from St.Ailbes on Thursday night when they headed to Caherelly for a blitz.
We had 2 teams that played great stuff – and isn't it great to see! Keep her lit girls!
U-14 Camogie:
A huge well done to our Shannon league team (U14) who made it to the plate final v Killeedy Camogie Club on Tuesday night.Captain on the night was Ava Considine.
The girls battled hard throughout but unfortunately, they were pipped by 3 points in the end. They did themselves and their club proud throughout the entire league.
Well done to our U14 Mackey team who put up a great battle v Na Piarsaigh last Tuesday night at #MSPCamogie HQ earning themselves a place in the Plate Final!!! Both teams were well met but the girls in red fought tooth and nail for every ball. They did everything their coaches asked of them and left everything on the pitch. Captain: Róisín Ní Neill Ref: Cyril Doolin Full time score: MSPCamogie: 5-02 NaPiarsaigh: 2-4
U8 Camogie:
Our amazing U8s took a trip to neighbours Ballybrown Camogie Club the weekend before last for a blitz. There they played the hosts as well as Kildimo Pallaskenry. They worked so hard in their matches that they were treated to ice creams in Centra afterwards! Keep up the great work girls!
U-15 Football:
Mungret St. Pauls 3-8 Oola 1-4
Our U-15 Division 1 Footballers prepared for Feile by traveling out to Oola to play their group match on Monday 26 June 2023. This was a physical game with both sides putting everything into the game. While Mungret St. Pauls had the win in the end there were some scary moments when Oola put pressure on our backs. The Division 1 team are currently in joint first place with Galtee Gaels having won all their matches so far. They get to take a bit of a break from the league until the 24 July.
U-13 Hurling:
Mungret St. Pauls 3-10 Kileedy Tournafulla 2-4
It was a little bit wet as the Division 2 hurling match for our U-13s began in Mungret on Tuesday 27 June 2023. Mungret St. Pauls started out strong knocking in two goals to Kileedy Tournafullas one point. Mungret St. Pauls continued to dominate throughout the game with Kileedy Tournafulla getting in some score it was not enough to level the game. At half time there was only four points separating the two sides but Mungret St. Pauls took over the game in the second half and finished winners. This was a great game on the pitch with Kileedy Tournafulla putting in a lot of great tackles to our players. Well done to our 13 year old, they are still top of their group and are out again in three weeks.
U-14 Football:
Mungret St. Pauls 2-3 Monaleen 4-5
It was a busy night in Mick Neville Park as all the U-14 Football finals took place with Mungret St. Pauls playing Monaleen last on Wednesday 28 June 2023. This was a good match on the pitch as Mungret St. Pauls stood up to Monaleen and put in some great tackles. It was Monaleen that converted scores early on which gave them a great boost, they were awarded a penalty but the shot went wide giving Mungret St. Pauls a chance to slip through and score a few points. It was the second half that brought the excitement after Mungret St. Pauls levelled the game and went a point ahead but it did not last long as Monaleen took charge again. Mungret St. Pauls kept fighting to the end but never made it through. Well done to the footballers after their great game, they now go back to playing U-15 Division 3 when they play on the 20 July.
U-13 Football:
Mungret St. Pauls had both our U-13 footballers out on Thursday 29 June 2023. The Division 3 team were in Banogue where they played the hosts Dromin Athlacca Banogue. This was a game where our younger players were challenged all over the pitch, it was a great game to help them develop their skills as they played a slightly stronger team. They worked up three points which was well deserved.
Mungret St. Pauls 0-3 Dromin Athlacca Banogue 2-4
Our Division 1 Footballers welcomed near neighbours South Liberties to our senior pitch, it was a slow start but the team started to work together and working the ball up the pitch they secured scores to eventually win the game.
Mungret St. Pauls 3-3 South Liberties 1-2
Both teams have two games left with our Division 1 team currently in second place while our Division 3 team are holding on in sixth place.
Intermediate Football:
Mungret St. Pauls 1-13 Dromcollogher Broadford 0-8
On Saturday 1 July 2023 our Intermediate Footballers travelled to Askeaton for the first of their championship matches. We played well but a small lack of concentration let Dromcollogher Broadford punish us on the score board but Mungret St. Pauls pulled ahead again to get a comfortable eight point win by the final whistle. They don't have long before they are out again on Thursday when they play Pallasgreen.
Junior A Football:
Mungret St. Pauls 2-10 Monaleen 1-11
It was in Claughaun on Sunday 2 July 2023 when our Junior A footballers took to the pitch in their first Championship match. Mungret St. Pauls started strong building up a six point lead but it was frees that allowed Monaleen get themselves back into the game with a penalty awarded just on the first quarter, a few more scores and Monaleen had a one point lead at the break.
Back into the game and Mungret St. Pauls again powered head with a well worked ball up the pitch hitting the back of the net. Monaleen brought them back to a point behind near the end but a bit more pressure from our forwards meant we kept got the win by the final whistle. The next match for this team is on Sunday 9 July against St. Patricks.
Sympathies:
Condolences to the O'Grady & Murphy families on the passing of John O'Grady, husband to our club LGFA president Gemma, father to Colette, brother to Kathleen Murphy, Mike & Henry O'Grady and Moira O'Connell to their extended family, friends and neighbours.