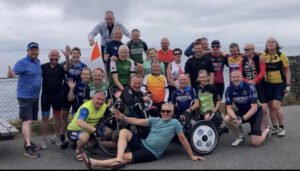 Mungret/St Paul's GAA Club Notes:
Conor O Dea:
Malin Head to Mizen Head. Day 1 – 21 riders set off from Malin Head at 9:45am in beautiful sunshine. This journey took them down through the fantastic views of the Inishowen peninsula. They passed through Carndonagh and Lifford finishing day ones trip in Enniskillen.
Conditions varied from hot to humid with a few thunder showers thrown in to keep the dust down !!!
Day 2 Struck out from Enniskillen Tuesday morning on the journey South. Crossed over the border early eventually passing through Ballinamore, Carrig-on-Shannon, Castlerea and finishing to a huge welcome from Conor's home town of Tuam. Conor was joined by many friends and family members out on the road with the initial group of 21 almost doubling by end of day.
Day 3, Wednesday 14 June
Departed Tuam heading for Limerick.. Conor O'Dea was joined on the cycle today by many local friends. Passed down through Oranmore, Crusheen and Ennis with great support along the way by friends cheering Conor on. As we approached Limerick our numbers swelled even more, arriving in Limerick at the Hub to a great turnout including many of the kids that are assisted by Down Syndrome Ireland.
Day 4, Thursday 15 June saw the group leave the South Court early for the 165km trip to Bantry. This was always going to be the biggest challenge of trip . The warm weather of the week stayed with us as we crossed the County Boundary into Cork. The Rebel County threw up many challenges including agricultural machinery to negotiate, disgruntled dogs, gravely road surfaces and of course plenty of steep climbs. These weren't a bother and Conor arrived in Bantry tired but happy this major hurdle has been overcome!!
The final leg of Conor's epic week saw him complete the relatively short but no less challenging 40km leg from Bantry to Mizen Head. Congratulations to Conor and his group for completing this special week and a big thanks to all those who helped make this happen, to those that cheered us on and those that contributed to this worthy cause, you can still donate
You can contribute using the following links
DSL: https://www.idonate.ie/DamienDelaney
CAF: http://surl.li/hnbwa
Your support is greatly appreciated.
Junior A Hurling:
Mungret St. Pauls 2-23 Ballybrown 2-23
What a game, it took extra time, penalties and then sudden death to separate these two teams. Unfortunately for Mungret St. Pauls we were not on the good side of the result after all determination and efforts put into the game, a horrible way to end the league final in Claughaun on Saturday 10 June 2023.
Mungret St. Pauls opened the game with a point and a goal and we continued to build on this while Ballybrown slotted over a few points to match ours with the goal separating the two sides until into the last ten minutes of the first half when Ballybrown worked past out backs to level the game. Ballybrown hit their stride and produced a four point lead with the addition of their second goal before the first half break. Mungret St. Pauls 1-8 Ballybrown 2-9.
It was score for score for the first fifteen minutes in the second half until a push from Mungret St. Pauls closed the gap to draw level. Ballybrown pulled three points ahead before Mungret St. Pauls equalled the three points with the last score finishing full time making the game go into extra time. Mungret St. Pauls 1-19 Ballybrown 2-16.
Ballybrown were first to pull ahead but Mungret St. Pauls reply was to hit the net, two points each and Mungret St. Pauls still held a two point lead after the first ten minutes. The second half of extra time Ballybrown went three points unanswered, a point to each side and Ballybrown still had a one point lead, time was running out and into extra time, the last puck of the ball was a free for Mungret St. Pauls which was converted as all the Mungret St. Pauls supporters held their breath. The game finished with both sides on the same score, it was now onto penalties as both teams regrouped to make the hard decision on who to take the shots.
First up for Mungret St. Pauls was Conor Garvey who almost sent the sliotar through the net it was shot so strong. Ballybrown hit the crossbar (1-0). Next up was Cillian O'Gorman whose shot was saved, Ballybrown stood up and our goalie, Sean Smith, put a stop to it (1-0). Next to the plate was Conor O'Halloran who did not let it rest too long on his head and hit a smasher past the goalie, Ballybrown also hit the net (2-1), We next had Fintan Fitzgerald who did not disappoint when he hit the top left corner, Ballybrown also scored (3-2). Last up for Mungret St. Pauls was Cian Moloney who took his shot but the Ballybrown goalie got his stick to it, Ballybrown leveled the penalties (3-3), onto sudden death. It was Conor Garvey to start the next round with yet another cracker to the net, Ballybrown match the goal. Conor O'Halloran was next up but his shot was saved, Ballybrown stepped up took their shot which won the game for them. Heartbreak for our team and their management as Ballybrown were presented the League trophy. We will expect to meet Ballybrown again in the Championship but after the players get a few weeks break.
Well done to our Junior A Hurling team and management who gave some exceptional games in the league we look forward to supporting you in the Championship.
Mackey League:
Our U14 Mackey team saw off Ahane on Monday night in a great performance at #MSPCamogie HQ to advance to the plate semi-final.
Final Score: #MSPCamogie: 6-05 Ahane: 1-04
Referee: Mike Woulfe Captain: Abbey Nealon Well done girls, keep her lit!
Shannon League:
On Tue 6th Jun our U14 Shannon team played Kildimo/Pallaskenry.
The girls battled hard but their opponents left with the win for a finish. Captain on the night was Emma Fox. This team are out again on Tue 20th Jun in the Plate final when they play Killeedy. Location TBD.
U12 Camogie:
There was a great buzz around #MSPCamogie on Thurs night when our U12s welcomed Croagh/Kilfinny Camogie Club for a couple of great games. Both clubs fielded 2 teams which is a huge testament to the working going on behind the scenes in both areas for these deserving girls! Well done to all the players, a thoroughly enjoyable night of camogie for all
U10 Camogie:
#TakeoverThursday reached new heights last night when #MSPCamogie welcomed neighbours Ballybrown, Kilmallock Treaty Gaels for a wonderful blitz on Thurs 1st June!! You couldn't swing a cat* without hitting a skilful U10 player, caring coach or proud parent! (*we don't condone swinging cats, but you get me right?) Well done girls – yer are only smashin! Keep those hurleys by your side and always remember……. KEEP HER LIT!!
Junior Camogie:
On Thurs 1st Jun our Junior Camogie team had a great win in Caherelly v hosts St Ailbes in the League.
Full Time Score: #MSPCamogie 5-11 St Ailbes 0-07.
U-14 Hurling:
Mungret St. Pauls 3-4 Bruff 1-5
It was a damp evening on Wednesday 14 June 2023 in Mick Neville Park when our U-14 Division 2 Hurlers took on Bruff in the Final.
This was a great game from all the team as the defence closed in on the Bruff forwards putting a stop to many of their scoring chances and our forwards took their shots when they got their chance. The work was all done in the first half on the score board as a point each was all that was scored in the second half with each team putting in some great battles keeping the game going.
Well done to our players on the day who have brought home another trophy to the club for 2023, the trophy was accepted by Captain Jonathan Byrnes.
Junior A Football:
Mungret St Paul's 1-13 Camogue Rovers 1-11
In Caherally on Wednesday 14 June 2024 our Junior A Footballers took on an equally strong Camogue Rovers side. This was an excellent game with both sides working the ball up through to forwards dying to put scores on the board. Mungret St Paul's had a slight edge as they took the lead and held onto it until the final whistle to receive the South/East Intermediate Football League trophy.
They now take on Cappagh in the County Intermediate Football League Final on Monday. Well done to all the team and management on all the hard work put in since the start of the year.