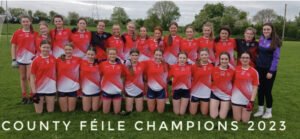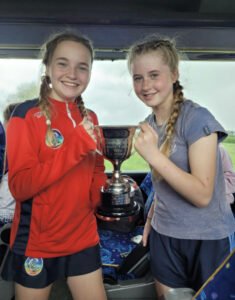 Mungret/St Paul's GAA Club Notes:
Limerick Players:
Well done on great performances to Róisín ONeill and Abbie Nealon who lined out in the green of Limerick on Saturday last. Limerick overcame Longford and Louth, they unfortunately lost to Monaghan but it sees them through to the u14 National Blitz All Ireland quarter final against Offaly.
Limerick Minors:
Limerick Minors were pipped to the post by Antrim in Sundays All Ireland Minor A Shield Final in Kilkenny. The panel, including our own Amy O'Halloran gave a fantastic display, but it just wasn't meant to be.
Congratulations to the Limerick Minor Footballers on Friday 12 May 2023 in Mallow where they won the Minor Phase 1 Final, the Daryl Darcy Cup, against Tipperary in what was a very tight game. They now play Kerry in the Munster Semi Final.
Well done to winning goal scorer and Mungret St. Pauls player Darragh Hogan along with Rory Mullins, Kevin Morrow and coach Liam O'Connell. Well done to all.
U-15 Hurlers:
Both our U-15 hurling teams were out on Monday 8 May 2023 in the warm sunshine, the division 1 team only had a small trip to Caherdavin where they were met with a strong team. These two sides had met already this year in Feile with Na Piarsaigh just skimming a win out of the game. A lot of frees were missed by Mungret St. Pauls in the first half which did not help the score line but each player put in a good game. They now prepare for their next match on Monday coming at home to Doon
Mungret St. Pauls 1-8 Na Piarsaigh 7-9
Our Division 3 team were at home to Askeaton Ballysteen Kilcornan where they put on a hurling exhibition for their supporters. This team is mostly 14 year olds with a few 13s helping out. Well done to all the players who proved to outscore the opposition on points but matched them on goals. This team also prepare for their next match on Monday next against South Liberties.
Mungret St. Pauls 3-11 Askeaton Ballysteen Kilcornan 3-2
Post Primary Camogie:
Huge congratulations are due to #MSPCamogies Saoirse Browne and Kate Moloney who represented Laurel Hill Coláiste FCJ on Friday last in the Limerick Post Primary Camogie Blitz A Division, going on to win the cup!!!!!
The girls, along with their teammates saw off Hazelwood College in the semi to then meet neighbours Laurel Hill English school in the final. Well done to Saoirse, Kate and all the girls involved – a great achievement!
U12 Camogie:
Our U12s welcomed Na Piarsaigh Camogie to #MSPCamogie HQ on Sunday morning. A lovely morning of camogie was had, with both teams showing how all their practice is paying off. Well done girls!!
Ladies Football:
Last Sunday saw Under 15 County Football Féile played in Mungret. Mungret beat StSenans, StAilbes, and FrCaseys in the opening rounds. They then met FeohanaghCastlemahon in the final in what turned out to be a very exciting game of football. Mungret found themselves down a goal and a point in the second half, but with great determination and excellent teamwork, they salvaged a draw. 5 minutes a side of extra time followed. This was end to end football and the large number of supporters were well entertained on the bank. At the final whistle , it was Mungret in the winners enclosure. Final score Mungret 1.08 FeohanaghCastlemahon 1.07. T by ey now go through to the All Ireland Competition.
Well done to all players and management. Best wishes to Abbie Nealon and Aine Galvin for a speedy recovery.
Intermediate Football:
Mungret St. Pauls 1-13 Na Piarsaigh 2-5
In Caherdavin on Tuesday 9 May 2023 our Intermediate Footballers had a strong game with some lovely display of football and tackles. Na Piarsaigh were kept scoreless for most of the first half, with only one point from a free in the last minute of the game. Na Piarsaigh had a better second half but Mungret St. Pauls were still too strong, two soft goals let Na Piarsaigh back into the game but Mungret St. Pauls played a better game and deserved the win. There is one last game in the league against St. Patricks away as we sit in second place.
U-17 Hurling:
Mungret St. Pauls 2-12 Bruff 3-18
It was a dry day on Wednesday 10 May 2023 in Bruff when our U-17 Division 2 hurlers took on the hosts in the League Semi Final. This was a fast paced game with Bruff knocking our players off a lot of balls while Mungret St. Pauls had to put in a lot of work to get the ball and score. Bruff were in lead the whole way through the match, we struggled to get close to matching their score but never gave up. The team now get a month break before they start into the championship.
U-13 Hurling:
On Thursday 11 May 2023 Mungret St. Pauls had two teams out in the U-13 Hurling league. The division 2 team were away to Hospital Herbertstown, both sides had not lost a game yet so Mungret St. Pauls knew they were going to get a good game. It started a bit slow but quickly picked up and Mungret St. Pauls started to hit over scored. Each player on the pitch fought for the sliotar and gave the supporters a great game to watch. This win left us on top of the group with four wins. Next match takes place in two weeks time.
Mungret St. Pauls 4-2 Hospital Herbertstown 2-4
Our division 3 team played near neighbours Crecora Manister, this was a tight match where our U-12 players gave it their all and they were not disappointed in the final score, a third win out of four games for this team they also play again in two weeks time.
Mungret St. Pauls 1-5 Crecora Manister 1-3
U-17 Football:
The Division 2 U-17 Footballers had two games in the week. The first match on Friday 15 May 2023 was the last of the group matches where they put in a solid game with our goaling pulling off some fantastic saves they helped finish the game with a win and go though to the semi final.
Mungret St. Pauls 3-12 Cappagh Rathkeale 1-8
The semi final was in Mungret on Sunday 14 May 2023, this was a game that could have easily been won but Mungret St. Pauls made it a tough game on themselves. It took a quarter of the match before the shooting boots were put to use, Mungret St. Pauls then took the lead and while it came to one point separating the two sides Mungret St. Pauls held the lead through out and now go through to the Final against Ballylanders.
Mungret St. Pauls 0-15 Kilacolla Gales 2-6
Junior B Football:
Mungret St. Pauls 1-6 Ballylanders 2-6
On Friday 15 May 2023 the Junior B Footballer had a bit of a journey when they travelled to Glenroe to play Ballylanders. This was a good battle between the two sides with very little separating them, in the end it was just one goal that separated the two sides. With six games played and one left to play on Wednesday against Galtee Gaels they have three losses and three wins.