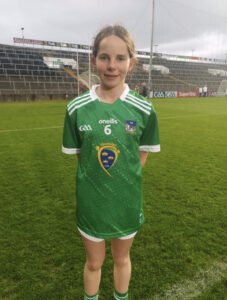 Mungret/St Paul's GAA Club Notes:
Limerick Players:
The Limerick U-14 Footballers played Tipperary at the weekend but were unlucky in their result. Well done to our own Adam Bennett who fielded for Limerick.
The Limerick U-15 footballers played Cork and took a defeat, Mungret St. Pauls are delighted to have Jack Dervan, Jack O'Sullivan and Amhlaoibh Bohane on the panel.
U-15 Football:
On Monday 1 May 2023 our Division 1 Footballers welcomed Kildimo Pallaskenry to Mungret in what was too strong a game for Kildimo Pallaskenry as Mungret St. Pauls proved to be the stronger team. Mungret St. Pauls had a bit of a lead by half time but proved themselves to be the better team in the second half. A second win for this team leaves them near the top of the group with another 6 matches to play.
Mungret St. Pauls 1-13 Kildimo Pallaskenry 0-5
Our Division 3 team headed out to Kilmallock where the home team got in a score early on and kept them coming making our players working hard to get the ball up the pitch. The second half was a much better game for us as we worked the ball well through the players. After three matches they have a win, a draw and a loss with three more games to play.
Mungret St. Pauls 0-5 Kilmallock 8-12
Minor Camogie:
#MSPCamogies minor team put in a phenomenal performance in the Newmarket on Fergus John Collins memorial tournament this weekend, reaching the semi-final and narrowly going down after extra time to the eventual winners. Well done girls, we are very proud of you all!
U-14 Camogie:
We were delighted to have 2 of our U14 teams out on Friday night. One in the Mackey League away v St Ailbes (Captain Aoife Boyce) and one v Murroe Boher (Captain Olivia O'Neill) in the Crescent Comp. We had a win for the Mackey and a loss for the Shannon , 2 very good displays from both teams. Very proud of all the girls!
Primary Games:
Well done to Eilis Ni Neill, Ava Larkin and Sadhbh Hanley who did their club, family and COUNTY proud on Saturday night when they donned the green and white jersey of Limerick in the Primary Game v Clare at half time in the TUS Gaelic Grounds!
They got on plenty of ball and displayed to us all why they were chosen in the first place! You will remember this day forever girls – well done!
Well done also to Ellen Goggin who represented Limerick in the recent Primary Football Game v Clare at half time in the TUS Gaelic Grounds.
U-16 Camogie:
Well done to our U16s who had a strong win v Murroe Boher in the League last Wednesday night. Keep us the great work girls!
U-12 Camogie:
Our U12s headed to Killeedy GAA last Tuesday night to take on the hosts in what was a very enjoyable night!
The girls are continuing to impress on the pitch, the future is bright!
Astro Wall Ball:
Our U14s were delighted to get their first run out on our new state of the art Astro Ball Wall at training on Tuesday night!
To say it exceeded expectations would be an understatement! Thanks to each and every one of the families/sponsors that have signed up to invest in the club development so far – it's because of you that our girls have this amazing facility.
If there are some of you out there that have been holding off, we still need one final push to complete the plans – now is the time to invest! Go to our club website "Club Development" page to sign up!
U-8 Hurling:
Well done to all the U-8 boys and girls that picked up their hurleys, put on their helmets and went into battle with Bruff on Friday 28 April 2023. Some great games played and good skills on show, to improve on these skills the trick is to keep practicing.
U-13 Football:
Mungret St. Pauls 1-3 Bruff 3-3
On Monday 1 May 2023 our Division 3 Footballers who are mainly our U-12 group travelled to Bruff to take on the hosts. We had a slow start but did not let Bruff get too far ahead, they ended with just two goals separating them.
They next play Cappamore in two weeks time.
Senior Hurling:
Mungret St. Pauls 0-11 Kildimo Pallaskenry 0-11
It was a very wet night on Thursday 4 May 2023 when Mungret St. Pauls hosted Kildimo Pallaskenry, this was not the best game for Mungret St. Pauls and were lucky to get a draw by the full time whistle. There is one last game to play against Na Piarsaigh at the end of May as we sit in third position on the group table.
U-13 Football:
Mungret St. Pauls 5-3 Pallasgreen 1-0
The division one U-13 Footballers travelled to Pallaskenry on a very wet night. Mungret St. Pauls proved too strong for the hosts. This was only the second game in the group with one win and one loss they are next due out in two weeks.
Junior B Hurling:
Mungret St. Pauls 2-10 Caherline 2-15
It did not stop raining on Sunday 7 May 2023 when our Junior B Hurlers took on Caherline at home. This was not the cleanest of games as Mungret St. Pauls took an early lead and held it the lead throughout the first half with a two point lead by the break. It did not take long for Caherline to level the game and take a strong lead in the second half. Mungret St. Pauls came back close but Caherline took another few scores and finished five points ahead. This was a second loss in three games for this team with another two to go, they are next out near the end of May.